Nigeria's First Lady Denies Reports Linking Her To Abuse Of Privileges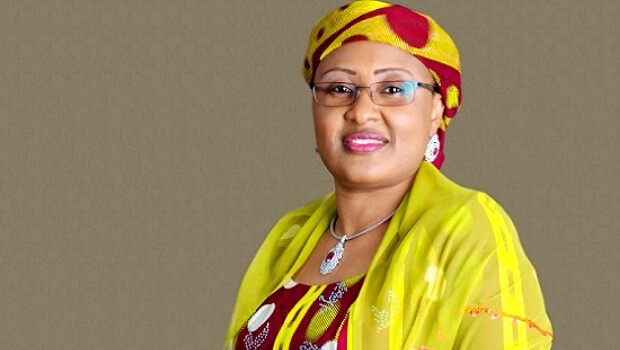 Wife of the President, Mrs Aisha Buhari, has described as baseless and mischievous, a report on Saharareporters platform linking her with allegations of abuse of privileges at the Nigerian High Commission in London.
Aisha made this known in a statement by Mrs Adebisi Olumide-Ajayi, her Special Assistant on Media in Abuja on Friday.
The statement reads in part: "It was not in the interest of Mrs Buhari to join issues with anyone, but necessary to put the record in proper perspective.
"This is necessary as it concerns her trip to UK and the Nigerian High Commission in London. Mrs Buhari had never traveled with a large entourage to London as reported by the Saharareporters.
"The Nigerian High Commission in London had never offered any favor either in cash or material to Mrs Buhari".
She said that the record was not hidden for non-mischievous reporter, who intends to inform the people and not to disparage the president's family.
"Mrs Buhari would have ignore the publication like all such baseless accusations, but for the angle with which the report was presented has a corruption and abuse of privileges connotation.
"This, however, negate the fundamental principles upon which Buhari's administration thrives.
"It is on record that the Nigerian High Commission in London did not receive Aisha Buhari at the Airport with any official distinction or privilege as it was accorded other first ladies before her.
"She never complained or raised dust about any of these act by the High Commission because of the understanding as clearly spelt out and practiced by her husband.
"That public office must be separated from the private lives of the occupants.
"Even her drivers are privately arranged without any recourse to embassy for staff," she said.
Aisha had always advocated for good governance where government officials were responsive and appalling to their constituents.
She, however, said that it was unfortunate to believe that she would corroborate with any government official at home or abroad to shortchanged Nigerians.
She, therefore, challenged Saharareporters and any other embassy staff to provide concrete evidence to contradict her for the sake of Nigerians, who deserve to know the truth at all times.