Nigeria's Anti-Corruption War: Strange Places Looted Monies Are Hidden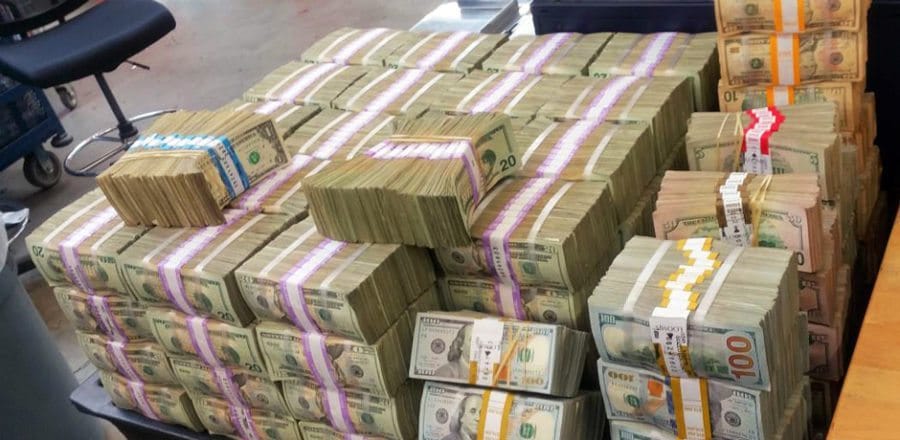 One of the cardinal promises believed to have made Muhammadu Buhari win the heart of Nigerians was his promise to curb corruption at all costs if elected. You will recall that the President said we have to kill corruption before corruption kills us. This corruption war has been continuously been waged since Buhari's assumption of office and has of course, been yielding results through the effort of the Economic and Financial Crimes Commission (EFCC).
This however has continued to send jitters down the spine of many looters as many of them seek alternative ways of keeping their loot in strange places, away from the eagle lenses of the anti-graft agency, since local and foreign banks are no longer options. Some of these illicitly acquired public money have been traced to havens like unoccupied private residences, bunkers, overhead and underground water tanks, septic tanks, refrigerators, warehouses, tombs, shops, with the recent one been a market.
Just recently, the anti-gravity agency recovered a large sum of N250,558,670 from a Bureau de Change operator in Balogun Market, Lagos, following information that the cash was being moved somewhere in the market for conversion into foreign currency. The BDC operators found in possession of the monies claimed they were acting on behalf of their boss who sent the money to them from one of the Northern states in Nigeria.
Three days prior to this, the sum of 400million Naira was tracked to an abandoned bureau de change shop in the Nigerian Air Force complex, Legico, Ahmadu Bello Way, Victoria Island supposedly said to have been closed for almost two years.
On March 16, the Economic and Financial Crimes Commission at the newly upgraded Kaduna Airport intercepted another sum of N49 million cash as the huge sum was about being ferried out through the airport. The bags were found to contain fresh crispy Naira notes of N200 denomination in 20 bundles totaling N40 million and N50 denomination in 180 bundles totaling N9 million with seal purportedly emanating from the Nigeria Security and Minting Plc. Although the owner of the cash is yet to be named, there were suspicions that it was related to illegal activities considering the EFCC was involved and on hand to intercept it.
Consequently, another large sums of $9.8m and £74, 000 were traced and found in a former Managing Director of NNPC, Andrew Yakubu. These sums, he however claimed to be gifts from unmentioned sources. Wilson Uwujaren, EFCC spokesperson, who disclosed in a statement, said the monies were found in a hidden fireproof safe. The raid of the facility was sequel to an intelligence, which the anti-graft agency received "about suspected proceeds of crime believed to be hidden in the slums of Sabon Tasha area of Kaduna state".
In mid 2015, a large sum of 37 billion Naira was recovered from a farm owned by a former Minister of Information, Labaran Maku. The money was carefully put in various water head tanks with pipe linking it to make it look like a water storage to water the farm.
Every of these recovered funds has however been made possible as a result of the newly introduced whistle blowing policy. The Minister of Information and Culture, Lai Mohammed, disclosed recently that it had recovered another $151 million and N8 billion looted funds from three sources through whistleblowers. The whistleblower policy has started yielding fruit, few months after its adoption by the government. The whistle-blower policy is barely four months old but its impact is already been felt by Nigerians as to how a few people stole public funds to enrich themselves. This bringing to the forefront that, there may be more laundered funds within the country than abroad.
In charging looters to court, the federal government is been urged to carry out extensive investigation so as not to continue losing its cases in court. The federal government, last week lost three major cases thereby receiving backlashes from several citizens. There has been no major conviction secured so far against looters to serve as deterrent to others.
A social media user, hedonistic said "Why should we sensationalize the mere inconsequential fact that money was found somewhere? Why these media trials and all the rubbish? Why not tell us how the owner of the money got the money (establish the ways and means) and how it constitutes corruption? The news shouldn't be that money was found, the news should be that ABC did XYZ to illegally acquire so so money which we found in so and so location". Other Nigerians have insisted that the reason for the lost case bothers on the perception of how EFCC picks and chases only members of the opposition with typical example of the President's own man, the Secretary to the Government of the Federation.
The Human rights advocacy group, Socio-Economic Rights and Accountability Project, also expressed concern that the Buhari anti-corruption fight would soon be rubbished if only petty offenders are successfully prosecuted while high-profile corrupt individuals escape punishment and justice.
Consequently, the Speaker of the lower legislative house, Hon. Yakubu Dogara also reiterated in an interview that, there was need to reassess the way the anti-graft war was being waged to ensure the rule of law was followed.
It is therefore important for the Federal Government and it's anti-corruption agencies to tighten their belt; conduct in-depth investigation, present unbiased and undisputed evidence so as to win the corruption war by successfully convicting looters both big and small fries.
Zaynab Mohammed – Caracal Reports