POLICE BRUTALITY, REIGN OF TERROR IN EDO STATE UNIVERSITY, NIGERIA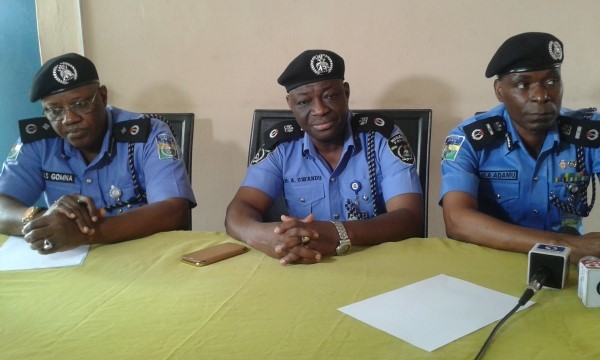 This story is part of an investigation by Caracal Reports into police misconduct and extortion, and unsubstantiated allegations.
Police allegations and arrests run rampant in Nigeria, but more often than not, charges are never upheld in court.
The reign of police brutality can be traced to the Commissioner of Police (CP) in Edo State, Mr. Haliru Gwandu. His style of intimidation, harassment, and extortion maligning innocent citizens is nothing short of a reign of terror. But for fear of wrong and unlawful detentions that is unfortunately typical of the Nigeria Police, students and lecturers at the Ambrose Alli University, Ekpoma, Edo State could have gone on the streets for long with placards reading "student lives matter" "Lecturers Not Safe; Professors' lives matter", given their experience particularly since January 2017.
Police brutality has terrorized the lives of students and lecturers at the Ambrose Alli University, Ekpoma, Edo State. Their nightmare began when CP, Haliru Gwandu got posted to Edo State in 2016. A muslim Northerner, Haliru is reputed to be on a mission to the South and without blinking, he has set up a repressive system, with extortion and blackmailing machinery throughout the state.
The egregiousness of Haliru's leadership came to a head when one lecturer who recently acquired a Phd, Dr. Oboh, was accused by police for gun running. It was alleged that based on a tip off and a search,  police revealed guns in Dr. Oboh's possession -a double barrel, a single barrel and a pump action gun. While Oboh was licensed to carry the barrel guns, his pump action was not. Since it was illegal, money must have exchanged hands before an online registration was carried out to enable him to hold on to the pump action gun.
The matter was concluded earlier this year and never reported to the Ambrose Alli University (AAU), but then for CP, Haliru Gwandu, it became a perfect alibi when he set up under an Assistant Superintendent of Police (ASP) Ojo, an Anti-cultism Crack Team.
Cultism was rampant in AAU some twenty years to 10 years ago, but not in recent times. In search of a bounty, CP Haliru Gwanda, with his anti-cultism crack team brutalized an AAU Professor and Dean of the Faculty of Law, Sunday Edeko.
On the 14th of April 2017, Edeko went to social media to accuse the police of brutalization. CP, Gwandu Haliru rebutted on the 18th of April 2017 in a Press Briefing, accusing the Professor of obstructing Justice when their men sought to arrest some students involved in cultism.
Haliru then went on to make weightier allegations. The Commissioner of Police alleged that senior lecturers in the school were apprehended with firearms – and when they were searched, they found one pump action gun, a double barrel and a single barrel gun and that lecturers and students were involved in cult activities leading to the discovery of 14 beheaded corpses. From Caracal Reports investigations, the story turned out to be nonexistent.
The Lecturers' associations felt concerned about their image and were incensed as the accusations were patently false.
The Association of University Lecturers Union (ASUU) has taken the CP to court through her counsel, Chief, Barrister A.B Thomas Esq. after giving the CP, Gwandu, a seven days ultimatum to make a recant. The ultimatum has since passed and the case filed by ASUU is slated for 13th July 2017 in the High Court sitting in Ekpoma. The lecturers' union is demanding N2 billion as damages cost, in the suit.
In a rage of anger, on interview, the Chairman AAU ASSU President, Dr. Lewis Igbafen said – "Let the CP tell the world the truth. There is no record of any semblance of what the CP has alleged. He just sat in Benin and created a dangerous scenario. None of our members has been arrested nor in detention for cult related activities".
When the CP refused to make a retraction, the University of Ekpoma ASUU addressed a Press Conference and refuted Haliru Gwandu's accusations. In that Press Conference, ASUU asked – What are the names of the Professors and Lecturers who were arrested and from which Departments? When and where were these arrests made? Where are the dead bodies? Were they those of students and staff of Ambrose Alli University or other residents of Ekpoma town? How come the Commissioner's disclosure of alleged discovery of 14 dead bodies is coming on the heels of the protest by ASUU, AAU, Ekpoma over the brutalization of Professor Sunday Edeko?
Since the N2 billion claims slammed on the Police Commissioner, Haliru Gwandu has been making surreptitious moves and overtures through some prominent and wealthy Ekpoma Chiefs to the Lecturers to have the case settled out of court. The ASUU of Ekpoma, though not adamant for peace overtures, according to Dr. Lewis Igbafen, "Let the CP just retracts his allegations. Let him apologize. Let him say, he is sorry".
For now that is not coming and July 13th is fast approaching. What makes the allegations more spurious on investigating further, is that neither the Ekpoma students Union President, Comrade Cletus Oribhabor nor the Dean, Students Affairs, AAU, Professor Don Akhirimen found any merit or truth in the CP's allegations.
Prof. Akhirimen, said "In the last one year, the University has not recorded any case of cultism. Hence, it is unfortunate that the Police in trying to address the excesses of their overbearing staff, would want to throw mud at AAU, as an institution".
In his reaction, the Student Union Government, AAU, President, Comrade Oribhabor said, when the CP's allegations were made, they wanted to mobilize the students to go on their usual rampage, but were cautioned to try alternative crisis resolution methods. Hardly containing himself, he added, "I would know if any of the allegations are true. I have no information of any student in any detention. I have never heard of any site called Malaysian Bar or Rambo Secretariat".
"What I am most angry about is the constant harassment of students who on trumped up charges are taken to the police station and have to pay as much as N100, 000 bribe for bail. The students who are unable to pay that much, have to cough up N20, 000 to N30, 000. Students have been locked up while writing their semester examinations." Little wonder, the anti-cultism squad was set up. It is Haliru Gwandu's extortion and blackmail machinery. Similar loud cries have been made even in the state capital Benin City, against the CP by Civil Societies Organization – two of whom, Curtis Ugbo and Kola Edokpayi have been put in prison custody without proper trial on the grounds of treason for having a private military ring – an accusation that is not substantiated.
What seems patently clear from the Edo CP's issue is that it is the way of the Nigeria Police, more drawn from an Islamic jurisprudence – where it is always inquisitorial- contrary to the Nigerian Common law system as derived from the English Common law in which you are innocent until proven guilty in a court of law. This explains why we have more media trials from the EFCC (Economic and Financial Crimes Commission) in Nigeria and little convictions, as the Police never have factual evidence to prosecute. This no doubt has played out in the recent cases of Judges of the Supreme Court who after a sting operation were accused of massive corruption but now have been cleared and are being recalled to resume duties by the NJC (Nigerian Judicial Council).
July 13th is the date to watch out for, in the case between AAU, Ekpoma versus CP Haliru Gwandu. With a N2 billion damages claim on him and the Police Institution, the CP may bite the humble pie before that date.
Tony Abolo, for Caracal Reports