Charlottesville Mayor Places Partial Blame on Trump for Violent Protest
Michael Signer, Democratic mayor of Charlottesville, Virginia said on Sunday that Trump should take a bit of responsibility for the protest that turned deadly on Saturday morning.
He essentially alluded to the fact that Trump has indirectly encouraged organized white supremacists and far-right activists who caused the racially charged violence in the city.
"Look at the campaign he ran," Signer said in a statement to CNN. "Look at the intentional courting, both on the one hand of all these white supremacist, white nationalist, and anti-semitic groups, and then on the other hand of all the repeated failure to step up, condemn, denounce, silence, put to bed all those different efforts just like we saw yesterday. This is not hard. There is two words that need to be said over and over again: domestic terrorism and white supremacy; that is exactly what we saw on display this weekend and we just aren't seeing leadership from the White House.
We certainly are going to see leadership from cities like Charlottesville from Mayors, from leaders all around country — left and right, republicans and democrats — if there's an issue that can unite this country, that this can be a turning point for this democracy, I can think it just happened right now this weekend in Charlottesville. To be honest..[Trump] is already on the sidelines of so many issues. But the country is going to move ahead. This will be a turning point for the country to overcome this stuff just like we've overcome these challenges in our past and I think it's happening right now as we speak."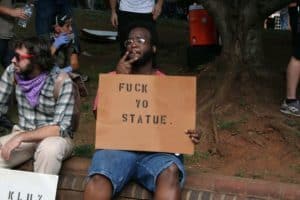 Three deaths were confirmed and dozens more injured in the violent protest. The rally was set to be the latest in a string of events that united white nationalists and right-wing activists from around the country to a normally democratic-voting town. The city's decision to remove symbols and artifacts of its confederate past was the catalyst for developments such as this.
Before flying conducting a press release, trump tweeted a statement saying: "We ALL must be united & condemn all that hate stands for. There is no place for this kind of violence in America. Lets come together as one!' He also added that it is now vital to restore law and order and to protect the lives of innocent individuals; while emphasizing that No matter our color, creed, religion or political party, we are ALL AMERICANS FIRST.
The president is being criticized for not using words such as "white supremacy" as a label for this tragic event.
Charlottesville, the city that was once home to President Thomas Jefferson, is known as a fairly progressive city of about 47,000 people. In fact, during last year's election 80% of its voters sided with Hillary Clinton.
However, in recent months, far-right activists and members of the Ku Klux Klan have moved in voicing their opposition to the city's intention to erase traces of its ties to the confederacy and pro-slavery views. This included plans to remove a statue of Robert E. Lee, a general known for commanding the Confederate Army of Northern Virginia in the American Civil War. To this day, it is debated whether or not General Lee opposed slavery.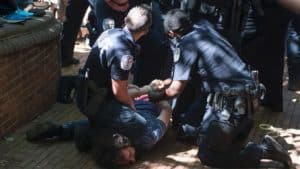 The effort to remove such a history from public property was implemented by the push from communities across the south after the tragic 2015 killings of nine black churchgoers in Charleston, South Carolina. The perpetrator was Dylann Roof, a self-ascribed white supremacist.
Tensions flared between the far-right activists and counter protesters prior to Saturday's planned rally when a white nationalists — some of whom held what appeared to be backyard tiki-style torches — made their way onto the University of Virginia's campus on Friday.
They were chanting "blood and soil" and "you will not replace us" before surrounding a statue of Thomas Jefferson and subsequently clashing with counter protesters. The group vacated university grounds when police arrived and deemed their gathering an unlawful assembly.
Larry, Sabato, director of the university's Center for Politics, tweeted ""In my 47 years of association with @UVA, this was the most nauseating thing I've ever seen. We need an exorcism on the Lawn."
Signer also condemned Friday's rally by saying it was a "cowardly parade of hatred, bigotry, racism, and intolerance march down the lawns of the architect of our Bill of Rights. Everyone has a right under the First Amendment to express their opinion peaceably, so here's mine: not only as the Mayor of Charlottesville, but as a UVA faculty member and alumnus, I am beyond disgusted by this unsanctioned and despicable display of visual intimidation on a college campus."
Jason Kressler, who organized Saturday's rally said that while he does not consider himself a white nationalist, the protesters are going to stand up for their history.
"The statue itself is symbolic of a lot of larger issues. The primary three issues are preserving history against this censorship and revisionism — this political correctness", he said. "The second issue is being allowed to advocate for your interests as a white person, just like other groups are allowed to advocate for their interests politically. And finally, this is about free speech. We are simply trying to express ourselves and do a demonstration, and the local government has tried to shut us down."
In February, the city council voted to remove the statue of Robert E. Lee, but the removal has since been put on hold pending litigation. Emancipation Park, formerly known as Lee Park, which was due to be the site of Saturday's rally, is one of two parks that have been renamed in conjunction with the city's desire to remove links to its confederate history.
James Alex Fields Jr., the driver who previously went unidentified as the man behind the vehicle that deliberately plowed into a crowd of counter protesters, is now being held on suspicion of second-degree murder, malicious wounding, failure to stop for an accident involving a death, and hit and run.
In an interview with the Toledo Blade, Samantha Bloom, the mother of Fields, said "I told him to be careful. [And] if they're going to rally to make sure he's doing it peacefully."
She appeared to not understand the motivation behind the rally, nor about far-right activism, but did indicate that her son did possesses an alt-right ideology.
"I don't really talk to him about his political views," she said. "He just — so I don't really understand what the rally was about or anything, so… I just know there was — he did mention it was 'albright'? What is it? Al–?"
She was then interrupted by a reporter who corrected her by saying "No, alt-right. It's like alternative right."
Former president, Barack Obama took to twitter to respond to the tragic event by tweeting a quote made famous by Nelson Mandela: "No one is born hating another person because of the color of his skin or his background or his religion. People must learn to hate, and if they can learn to hate, they can be taught to love. For love comes more naturally to the human heart than its opposite."