Nigeria: More Trouble For Buhari As Fayose Declares Presidential Ambition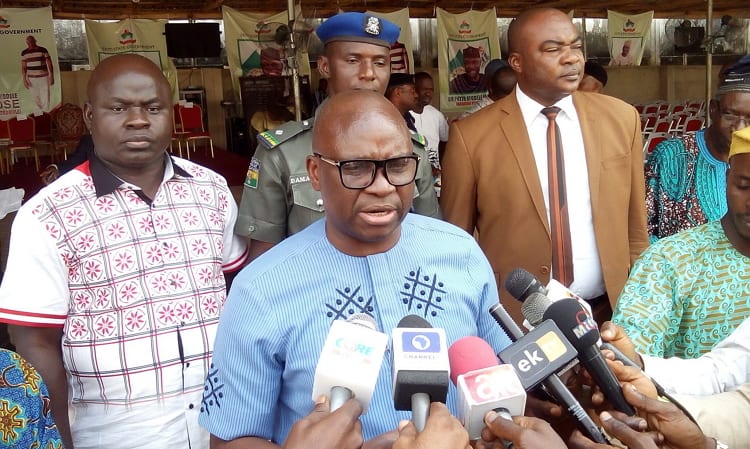 More pressure is currently piling up for Nigeria President Muhammadu Buhari as a leading political opponent in the country who is governor of Ekiti state, Mr. Ayodele Fayose, declared his interest to run in 2019 presidential election.
The president and the ruling party, All Progressive Congress, have continued to decline in popularity due to the Country's economics woes and lack of leadership decisions in some key issues facing the country.
Mr. Fayose is the chairman of governors forum under the umbrella of the major opposition party in the Nigeria, Peoples Democratic Party.
He has been at the forefront of several critics against the president since assumption in office, especially during his trip to London for medical attention.
Fayose, while declaring his presidential ambition in Abuja, vowed to defeat the incumbent president in a free and fear election.
He said Nigerians have already been failed by Buhari's administration, therefore the need for him to ameliorate the ugly situation in the country with his wealth of experience.
"Today I declare my intention to contest the presidential election in 2019 under the aegis of PDP. Nigerians do not need a sick and package president again. Nigerians need a vigorous and young person like me who will not be tribalistic on any issue. Look at different disasters that have befallen our nation since Buhari came into power. I am ready to take them away with my knowledge. Our party needs someone like me to defeat Buhari, and I promise to give him defeat of his life in a free and fair election in 2019.
Meanwhile, various political heavyweights in Nigeria have declared support for Mr. Fayose against the second term bid of president Buhari.
A former aviation minister, Mr. FaniKayode, while declaring support for the aspirant, said Fayose's has already earned himself a national endorsement to defeat the president of the nation.
"Nigerians cannot continue being ruled by a president who is not fit and who is tribalistic in his approach to issues, so we need someone like Fayose to move this country forward. Fayose is a blessing to Nigerians and we are ready to back him on his ambition".
A serving lawmaker from Ogun state, Mr. Ladi Adebutu, said Nigerians having tired of the on-going government in the country were ready to lend Fayose a full backing to defeat President Buhari.
"Nigerians need someone like Fayose as president. We all know his worths and we are all ready to give it all it takes to have him as our president in 2019.
Another lawmaker from Abia state, Mr. Henry Peter also said "It is time we Nigerians take our fate in our hands and choose a true leader like Fayose to help our nation. And for this, the whole South East is ready to back him. We believe he will help us restructure the country and put things in right shape".
A leader from South Kaduna, Alhaji Usman, also lent his voice to the support of the presidential aspirant. He said, "Fayose possesses the needed qualities to rule Nigeria unlike Buhari".
Many analysts in the country believe that Fayose's ambition will pose a big threat to President Buhari's second term bid considering his popularity in the country's politics, especially among the Indigenous People of Biafra and others.
— Peter Ayodele Fayose (@GovAyoFayose) September 26, 2017