Nigeria Police Allegedly Brutalize And Harass Its Citizens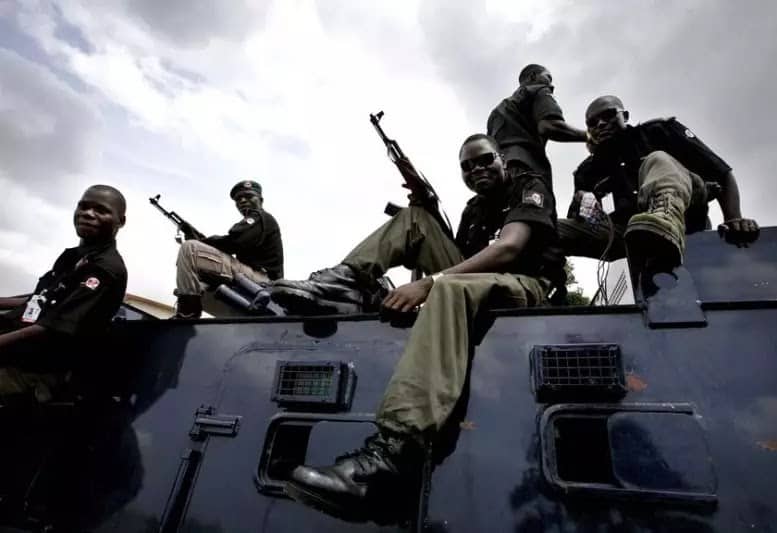 The Nigerian government seems to have lost the battle to tame police officers, especially the Special Anti-Robbery Squad, who are allegedly involved in brutality, killings and harassing innocent citizens as perpetrators of human rights violations are hardly trailed or convicted.
Over the years, the Nigerian government has repeatedly expressed willingness to address the problems in the criminal justice system, improve access to justice, and reform the Nigeria Police Force. But despite several 'Presidential Committees on Police Reform in Nigeria' since 2010, which presented detailed recommendations for improvement, critics and leaders of civil society groups alleged that rate of such crime has increased by over 300 percent between 2015 and 2017
Cases Of Abuse
In Lagos State, the commercial hub of the Nigeria, several officers of both Federal and state-controlled SARS teams appear to be above the law. They position themselves at specific locations like Berger bus stop, the border town of the state; Ikeja, capital of the state; Iyana Ipaja, Alimosho Local Government, state's most prominent LG; Oshodi (by the foot of the bridge), and Yaba among others.
In their usual practice, they operate using private vehicles like Toyota Siena 2005 models, Volkswagen Passat 2000 model, and Volkswagen bus with individual numbers. Most times, they park the cars beside the road and look out for young men between the 18 and 40 years old, walking or driving.
"I was taken to a Sienna parked on Berger Bridge shortly after I alighted from a bus. Two of the police officers pushed me onto the bus, collected my iPhone 5s, went through my call log and email and asked me questions.
"How old are you, who bought this expensive phone for you and what is your relationship with the person that sent the last mail in your box to you? At a point, I was confused and couldn't answer the questions as fast as they wanted me to. Due to the unsatisfied responses, they drove me to their office at Alausa, besides the Governor's residence.
"They collected N100,000 from my mother before they released after alleging I was a fraudster without any evidence," a 28-year-old graduate of Sociology from Redeemers University, Mr. Olu Amoo, narrated his ordeal to Caracal Reports.
Amoo and his mother were lucky to tell their tales alive unlike some SARS' victims in Lagos and other parts of the country.
SARS is a section of the Nigeria police under the Force Criminal Investigation Department and specifically charged 'to combat armed robbery and other heinous crimes nationwide.'
Recently, some police officers from same SARS, Ikeja, allegedly shot Mr. Eze Okoro at close range at the back and he died instantly. The victim was killed near his residence at Meiran Bus Stop, Alagbado, Lagos.
Eyewitnesses in residence informed our correspondent that the policemen, who allegedly perpetrated this act had spent six hours drinking at a nearby Hotel close to the home of the victim before they set out on their operation that led to the unfortunate incident.
"He returned home from work around 8.00 pm on that fateful day, took his bath, had dinner, and we then went to sit out with his friend to get some fresh air. He was only dressed in a pair of shorts and slippers and hung his shirt on his shoulder. Then, suddenly they heard sporadic gunshots, and a policeman accosted Okoro, who had his hands raised up and pleading that he was a resident, pointing to his house. The police shot him in the back, and he fell bleeding profusely. The policemen bundled him into their vehicle and drove away," his girlfriend, who was at the scene, narrated.
For three days, the family traversed several police stations trying to locate him. A few days later, the Divisional Crime Officer, Meiran Police Division, on the directives of the Divisional Police Officer, gave a note to the family to go to SARS, Ikeja to inquire. They met the Officer-in-Charge of SARS, Ikeja, Mr. Abba Kyari who said the police was sorry, 'it was a case of mistaken identity' that Mr. Eze Okoro was 'killed in error' and offered her N5,000 ($14) as funeral support.
For instance, in Anambra State, one of the South East states, the operatives at SARS in the state operates as though they are above the law and beyond legal control and accountability.
The failure of the state government to ensure an investigation into allegations that the team was allegedly responsible for the killing of the people whose dead bodies were found in Ezu River in 2013 is a clear case of abdication of constitutional responsibility.
SARS operatives are known for arresting people for all manner of alleged offenses, torturing, extorting and executing suspects and detainees in their custody and secretly disposing of their dead bodies. They also dabble in civil disputes.
The police in SARS, Awkuzu, Anambra and many other places in the country are allegedly being used by politicians and other influential persons to victimize their opponents or to settle disputes that are purely civil or communal.
In Onitsha, also in Anambra State, a policeman allegedly killed a 28-year-old Anayo Opara at Habo Police Post, Atani Road when he lifted him and hit his head on the ground.
The young man's offense, who became paralyzed and died few day later, was that he went to the station to ask for bail for his elder brother. One Mr. Chizoba Opara (32), who was arrested and detained the previous day by the policeman known as Chijioke because his motorbike had no valid registration papers.
"The Investigative Police Officer demanded N30,000, but we could not afford it. After pleading with the IPO to no avail, my brother left the counter grudgingly. Feeling that he had called his bluff, the IPO went after him, pulled him from behind by the belt, lifted him up and threw him down on his head, and he lost consciousness. The killer policeman was arrested and detained at the Anambra State Police Headquarters awaiting orderly room trial for three years," an eyewitness told Caracal Reports.
Similarly, there are complaints concerning the extrajudicial killing in Benin City, capital of Edo State, where one Mr. Samuel Imaikop (42), a farmer and three laborers he hired to work on his farm at Ute village in Edo State, were allegedly killed on November 24, 2013.
Despite the widespread doubts about the police account of arm robbery, this tragic incident and the strident calls for a proper investigation to determine the actual circumstances leading to the killing of 'the Ute 4', have not been taken seriously by the Edo State Police Command.
"It is disconcerting how senior police officers continue to defend the murder of innocent citizens even when they know the truth or even when they later find out that their subordinate officers in the field have misinformed and misled them," a relative of one of the deceased alleged.
No One Is Left Out In Brutality
It is essential for Nigerians and international organizations to move against the brutality, killings and harassment force down the throat of innocent citizens as nobody is spared of the menace.
In Nassarawa State, a Lawyer, Barrister Chika Udeozor, who went to Mararaba Police Station in Karu LGA to stand for his client who was invited by the police was brutalized and thrown out of the police station for arguing with a police officer.
In Kogi State, since December 13, 2013, when Mr. Yunusa Gabriel Enema, a broadcast journalist and the Media Special Assistant to the Chairman of Ibaji Local Government Area of Kogi State, North-central Nigeria, was assaulted and severely wounded by policemen in Lokoja. His crime was suspicion of taking photographs of a policeman collecting a bribe, the officer in question has not been prosecuted.
SARS, Police Should Be Scrabbed Or Reformed – NOPRIN
National Coordinator, Network on Police Reform in Nigeria, Mr. Okechukwu Nwanguma, told Caracal Reports that the solution to the menace is for the SARS to either be scrapped or reformed.
NOPRIN is a network of 46 civil society organizations spread across Nigeria and committed to promoting police accountability and respect for human rights. It was established in 2000 to provide an opportunity for civil society involvement in police reform and the enhancement of safety, security, and justice.
The group insisted that the Nigerian political authorities endanger public safety by paying lip service to police reform. To NOPRIN, the continued tolerance of massive human rights abuses by the police makes it very difficult to effect the required change across the board, and that is the reason some stakeholders launched the 'change the culture of policing' campaign across Nigeria.
He said, "SARS in all parts of Nigeria have gained embarrassing notoriety tainting the image of the Nigerian Police locally and internationally, and should either be scrapped or comprehensively reformed to conform to modern standards of policing or human rights-compliant policing.
"SARS operatives are known for arresting people for all manner of alleged offenses, torturing, extorting and executing suspects and detainees in their custody and secretly disposing of their dead bodies. They also dabble in civil disputes."
According to him, there have been instances when the courts have convicted and pronounced sentences on police officers responsible for unlawful killing, but the prevailing situation is that these killings have continued unabated.
"In many cases, court orders on the police to pay compensations to victims or family members of victims of abuse have been largely ignored. We do not expect so much from the Police Service Commission because of its composition and the disposition of its members. It is nothing more than an avenue to settle political allies and loyalists rather than an agency established by law and empowered, among other things, to ensure discipline and accountability within the police," he added.