Nigeria: PDP has lost its sanity- Chief Olabode George, PDP chieftain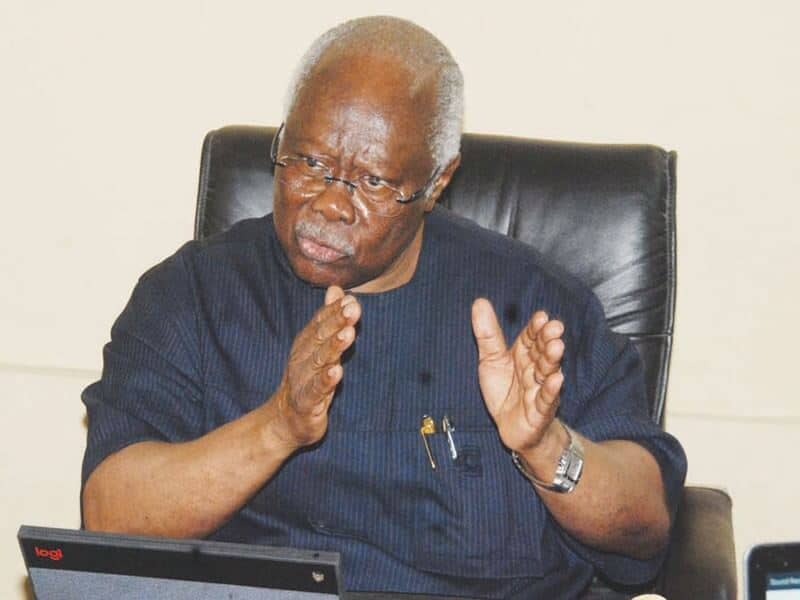 Interview
Chief Olabode George is the former Deputy National Chairman of Peoples Democratic Party and one-time military administrator of Ondo State. In this interview, he lamented over alleged deceit and aberration within the principal opposition party and tribalism in the nation. Excerpts:
Why didn't you participate in the last Peoples Democratic Party's convention?
I could not participate in the Congress on Saturday because it was apparent that the event would be a charade.
How do you mean?
It was wrong for the party not to "micro-zone" the office of the national chairman, as against the zoning principle reinforced in Port Harcourt last year. The party has lost its soul. It has lost its principled beginning and the predictions of righteousness. It has traded the more exceptional principles of democratic guidance and equity for the squalid, dirty and shameful resort to mercenary agenda, where nothing matters save the putrid, oafish gains of the moment.
I cannot be part of this screaming aberration. And as the Atona of Yorubaland, I do not expect any well-meaning, well disciplined, forthright, sincere Omoluabi of Yorubaland to continue with this deceit and shameful theatre. The Peoples' Democratic Party has now mangled and distorted its soul and spirit. There is no morality here anymore. There is no sanity or any sense of enlightened civility.
As a result of these observed aberrations wherein the position of the National Chairman has been apparently sold and auctioned to the highest bidder, I as an Omoluabi and as an authentic Atona of Yorubaland, I will not partake in this charade.
It was reported that Governor Wike of Rives State alleged that the South-West does not deserve to be the next national chairman of PDP. As one of the regional leader, what is your take on this?
Wike's comments is unfortunate because without any meaningful position, the South-West, which played a huge role in the victory of President Muhammadu Buhari in 2015, would not be eager to support the PDP in 2019. I have removed myself from the charade, but I did not step down for any individual. Governor Wike insulted the South-West badly today. What does he take the Yoruba people for?
He said there is no micro-zoning and then went ahead to say we have nothing to bring to the table. How do you want the Yoruba people to feel? He implied that the South-West is not a critical zone and that we should play second fiddle. It is not fair at all. We have been spending so much money campaigning all over the country. What do we tell our people when we return home? That the South-West didn't get it because we are not considered significant?" The Yoruba people demand an apology from Wike over his comments.
 The President Muhammadu Buhari led-administration has ruled for over two years, how would you access the government?
Are we going back or forward? It should be a period of introspection. What are the things inhibiting the progress of our country? Let's not see ourselves as a Yoruba man or Igbo, but as one Nigeria; these are the things hindering our progress. One other thing I stumbled upon was on the Television, a Supreme Court justice sitting in the dock of a criminal offense; nowhere in the world would they have done that.
Do you mean this administration does not have respect for the sanctity of the judiciary?
People seem to forget respect, it's like you grab an Oba (Yoruba traditional ruler) who is a symbol of a village and you throw him into detention, that's an evil sign. I am justifying this because of what is going on in this country. Let's give respect to whom it is due. The Supreme Court Justice is a Nigerian, and for him to have risen to that level, he can still be handled by the Chief Justice of Nigeria and the disciplinary body of judges.
Considering several challenges of our 18 years democracy, would you say the worst democracy better than the best military administration?
I would advise the military constituency to steer clear of politics because it is very mucky and uncharted. When we came into the government, of course, we left the military for politics…and the essence of the army, the togetherness and the love you have for your comrade didn't matter to you. When you are on an assignment, your neighbors, friends, no matter what will come and take good care of your family. There is nothing like tribalism. The moment we drifted to the uncharted water because of politics, things are not the same again because there are too many 'politicians'.
For me, all that camaraderie is the reason for a military man's existence. You share love like no other place. You are not concerned about the tribe. You are always with various tribes with one goal of saving and serving your nation. During the war, you don't look at it as if this Hausa man is dead; you must carry your comrade. Love is what matters in the military. What I will just tell the military is that don't let any politician come and trick you. The world is not vested in any "I" anymore; but "we."
How will you assess the administration of Governor Ambode in Lagos state?
I have not met him before, but I would say he has done what his predecessors could not do in 16 years. I am not bribing him neither do I want to join APC. I would instead go to my house and sleep rather than joining APC, never!
Bola Tinubu was there for eight years; he didn't do anything. Fashola, yes, he is from Surulere, and all the road networks to Surulere are perfect. There are 20 local governments in this state, so are we going to wait for everyone to be governor? This young man is not only doing his village, Epe; he also touched every place. But even at that, they should go and prepare for 2019 because we, PDP, will come with a better candidate and defeat them like never before in their lives.