Former First Lady Barbara Bush Dies At 92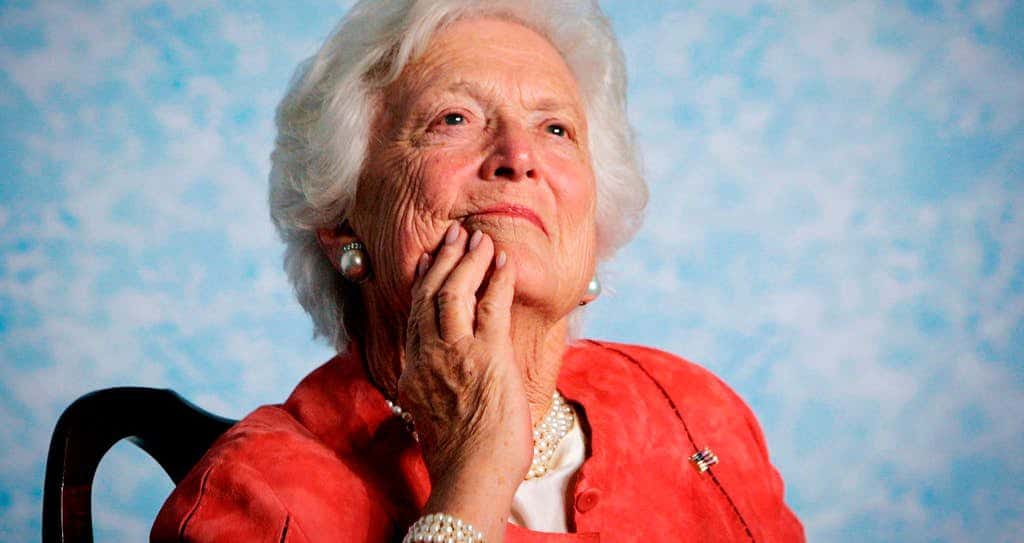 Barbara Bush was the wife of the 41st US president, George H.W. Bush, and the mother of the 43rd president, George W Bush. Her son Jen Bush who is the former governor of the state of Florida also ran for president but lost the race to Donald J. Trump.
Barbara Bush has reportedly been suffering from a chronic obstructive pulmonary disease for several years. On Sunday, her family released a statement saying that she was "in failing health" and that she would no longer seek medical treatment but would focus on "comfort care."
Her son, George W Bush, issued a statement, saying,
"My dear mother has passed on at age 92. Laura, Barbara, Jenna, and I are sad, but our souls are settled because we know hers was. Barbara Bush was a fabulous First Lady and a woman unlike any other who brought levity, love, and literacy to millions. To us, she was so much more. Mom kept us on our toes and kept us laughing until the end. I'm a lucky man that Barbara Bush was my mother. Our family will miss her dearly, and we thank you all for your prayers and good wishes."
President Trump tweeted that his thoughts and prayers were with the Bush family. He called Barbara Bush an "advocate of the American family" and r praised her work on literacy programs.
By the time of her death, Barbara Bush had become an iconic figure. She had a grandmotherly presence and a full head of white hair which earned her respect from Americans on both sides of the political divide.
Former US President Bill Clinton, who defeated George H.W. Bush in the acrimonious 1992 elections, said today on Twitter,
"Barbara Bush was a remarkable woman. She had grit & grace, brains & beauty. She was fierce & feisty in support of her family & friends, her country & her causes. She showed us what an honest, vibrant, full life looks like. Hillary and I mourn her passing and bless her memory."
Born in 1925, she grew up in a wealthy family in Rye, New York, a leafy suburb of New York City. She was athletic and loved swimming and tennis. When she was 16, she met her future husband, George H.W. Bush, at a dance. They married when she was 19 after he returned home from a stint in the Navy. This January they celebrated their 73rd anniversary.
Mrs. Bush was a long-time advocate for childhood literacy and strong education programs. She was also the author of several books, including a best-selling memoir,"Barbara Bush: A Memoir."
She is survived by her husband, five children, seventeen grandchildren, and seven great-grandchildren.