Israeli Warplanes Struck Dozens Of Iranian Target In Syria Overnight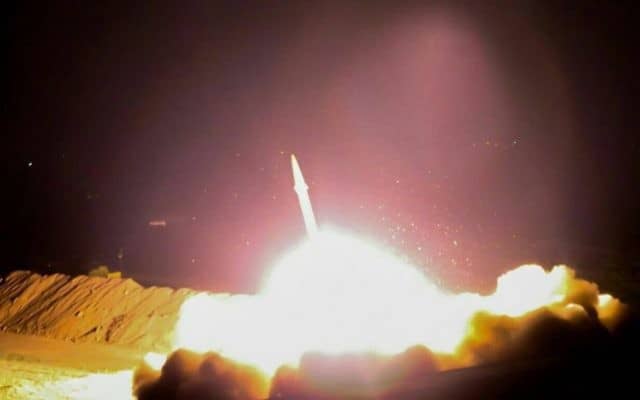 Syrian officials say three people have died after a massive Israeli air strike on military targets in Syria. Some news reports put the death toll much higher, at 23 or more.
The Syrian Observatory for Human Rights said that 23 were killed and that 18 of those killed were foreign fighters.
An Israeli military spokesman said the attacks – the most extensive strike that Israel has carried out against Syria in decades — came in response to overnight rocket fire coming from Syria into the Israeli-occupied Golan Heights. Israel says Iran was behind the attacks. Israel has often accused Iran of backing anti-Israel aggression, but this is the first time that Israel has directly accused Iran of striking Israeli territory.
The spokesman said that Israeli had retaliated by firing at 70 positions in Syria which are thought to be affiliated with Iran's special Quds forces.
Nobody has yet claimed responsibility for the rockets.
Israel's defense minister, Avigdor Lieberman, told reporters that the Israeli army had "hit almost all of the Iranian infrastructure in Syria."
He added, "They must remember that if it rains here [in Israel], it will pour there. I hope that we have finished this chapter and that everyone got the message."
Israelis said Iran fired 20 missiles across the border but that none of the missiles hit their mark.
A spokesman for the Israeli Defense Force said that most of the missiles had fallen short and hadn't reached Israel. He said Israel's missile interceptor system, known as "Iron Dome," had stopped the remaining four missiles. "There are no injuries, and no damage was caused to IDF positions," said the spokesman, Brigadier General Ronen Manelis.
Israeli military officials said their fighter jets had hit 70 military targets in Syria. They said that they had attacked military compounds and ammunition warehouses used by Iran's elite Quds forces near Damascus. They said they also had fired on Syrian air defense targets after Syria took aim at Israeli jets.
Iran responded to the attack with belligerent language.
"Wherever Iran has confronted its enemies, it has advanced; we have gained our power through difficult battles," said Brigadier General Hossein Salami, the head of Iran's Revolutionary Guard Force, according to the Fars News Agency.
Over the past month, tensions have been at a peak along the border between Israel and Syria. The Israeli Defense Force has stepped up its Iron Dome system along the border.
On Wednesday, the Syrian Observatory for Human Rights said that an Israeli air strike carried out overnight had killed eight Iranians and seven foreign fighters.
The Israeli government has expressed concerns that Israel would become a target for Iran after US president Donald Trump announced that he was pulling out of the Iranian nuclear agreement. Israeli said they were anticipating that Iran would retaliate, but stressed that they did not anticipate a full-fledged war to break out.