Week In Review: England Prince Harry Marries US Actress Meghan Markle
Posted:
May 20, 2018 at 2:30 pm / by
A.L. Long
/
Britain's Prince Harry and American Meghan Markle marked a page in history on Saturday exchanging vows in a ceremony littered with many firsts. 
The wedding ushered in a historic new ideal of royalty as it embraces a vocal biracial, American, divorcée into its ranks. 
Meghan walked down much of the isle unchaperoned followed by her ten bridesmaid's and page boys, notable mark to her feminist ideals. 
Harry was accompanied by his brother William as best man for the ceremony. 
Reaching the chapel Quire, Meghan was escorted to the altar by Prince Charles, Harry's father.
Drawn in a carriage of Windsor Grey horses, the couple now fashioned as the Duke and Duchess of Sussex rode in an open carriage en route to Windsor Castle for their reception at St. George's Hall. 
The Queen's conferred the titles Duke of Sussex and Earl of Dumbarton and Barron Kilkeel on Prince Harry, thus making Meghan the first Duchess of Sussex. 
The couple invited 2,640 members of the public as well as 1,200 ordinary people from around Great Britain to watch within inside the palace gates as the couple arrived for the reception. 
Ten dead after Texas high school shooting
The United States has become a nation littered with an inconceivable amount of mass school shootings occurred in the early morning hours on Friday leaving ten people dead. 
The incident left nine students, and one teacher dead in the small southeastern Texas town of Sante Fe located approximately 35 miles outside of Houston. 
Two law enforcement officers were also injured along with several others. 
Gunfire is said to have erupted inside the art room shortly after school began around 7:30 a.m. Student reports stated the fire alarm had been set off before the gunfire erupted. 
The suspect, identified as 17-year old Dimitrios Pagourtzis arrived with a shotgun and a 38 caliber pistol believed to be those of his father. 
Law officials later confirmed pipe bombs and pressure cookers were located in and around the school grounds. 
The shootings on Friday mark the 22nd high school shooting of 2018. Local police audio depicts active fire once they arrived on the scene. 
In an affidavit written by a Galveston County Sheriff's Office investigator stated Pagourtzis waived his right to remain silent and gave "a statement admitting to shooting multiple people."
According to the report by J. Roy, Mr. Pagourtzis said: "he did not shoot students he did like so he could have his story told."
The assault on this rural community of approximately 13,000 was allegedly well planned and reportedly the deadliest since the February shooting that left 17 dead in Parkland, Fla.
Investigators note Mr. Pagourtzis had given no signs he was planning a mass shooting, unlike Parkland and Sutherland Springs. 
He reportedly surrendered shortly afterward as he was taken into custody along with another suspect. He is being held without bond on charges of capital murder and aggravated assault of a public servant. 
During a brief court appearance on Friday, he requested a court-appointed lawyer and was asked not to enter a plea.
What remains to be seen will be how President Trump handles his promise to do "everything in our power" to protect schools and keep guns away from those who should not have them as he spoke from the East Room of the White House shortly after the incident occurred. 
Mr. Trump has yet to press for action from Congress on his previously vocalized initiatives for more strict background checks and raising the minimum age for buying an assault weapon, statements he made after the Parkland shooting.
Cuban Airliner Crash leaves more than 100 dead
Marked as the worst in Cuban history, a state airliner crashed and burned moments after takeoff from Havana on Friday. The wreckage killed all but 3 of 114 passengers aboard the nearly 40-year-old plane.
According to State television the plane, a Boeing 737 was leased by Cubana de Avación, a state-run airline and was headed to Holguín on the eastern area of the island. 
According to the United Nations Agency known as the International Civil Aviation Organization, the plane was said to have first gone into service in 1979. 
The plane crashed after departing at 12:08 p.m. and carried 105 passengers, including at least five children. Also on board were nine crew members. 
The long-standing economic embargo imposed by the United States has been partly to blame as the air fleet has been operating with a rather decrepit number of planes. 
Senate approves first female CIA director
Confirmed in a 54-45 vote on Thursday, Gina Haspel, a 33 year-veteran and current director will become the first woman director of the Central Intelligence Agency. 
Haspel's confirmation, which only required a majority vote, moves forward despite stark opposition over her links to the CIA's use of harsh interrogation methods, including waterboarding, a type of simulated drowning widely considered torture, during the Bush administration and post 9/11 attacks. 
In 2002 Haspel served as CIA station chief in Thailand, where the agency conducted interrogations at a secret prison using methods including waterboarding. Three years later she drafted a cable ordering the destruction of the videotapes of those interrogations. She served as an undercover officer for most of her CIA career. 
Haspel had strong support from Republican President Donald Trump's administration, current, and former intelligence officials as well as support from about a dozen Democrats. 
Senator Mark Warner, the top Democrat on the Intelligence Committee, which oversaw the nomination, supported Haspel.
"I believe she is someone who can and will stand up to the president, who will speak truth to power if this president orders her to do something illegal or immoral, like a return to torture," he said in a Senate speech before the vote.  
President Trump's financial disclosure walks back his previous omission of knowledge
Financial disclosures released on Wednesday show repayment by President Trump to his attorney Michael Cohen, his personal attorney. These disclosures raise questions whether Mr. Trump improperly omitted the debt a year ago.
On Wednesday, the Office of Government Ethics made the Justice Department aware of the omission telling Rod J. Rosenstein, the deputy attorney general, that the ethics office had determined "the payment made by Mr. Cohen is required to be reported as a liability."
The financial disclosure did not specify the purpose of the payment. Mr. Cohen has paid $130,000 to a pornographic film actress, Stephanie Clifford, who has said she had an affair with Mr. Trump. Mr. Cohen has said he made the payment shortly before the 2016 election as hush money for Ms. Clifford, who goes by the stage name Stormy Daniels.
According to a footnote in the filing, Mr. Trump repaid Mr. Cohen $100,001 to $250,000 in 2017.
According to lawyers, the letter is not an official referral and does not constitute a finding of wrongdoing. 
Mr. Trump who initially said on Air Force One that he was unaware of the payment to Ms. Clifford later acknowledged it in a series of tweets earlier this month. This has been a wide source of controversy over the last several months as a suggestion of the payment by Mr. Cohen could be interpreted as a campaign contribution. 
An official who "knowingly and willfully falsifies information" on financial disclosure, under federal law could face criminal charges. 
Crossfire Hurricane
In the summer of 2016, the Federal Bureau of Investigation opened an inquiry into the Trump campaign's ties to Russia, dispatching a pair of agents to London on a secret mission. 
Not previously reported, their assignment was to meet an Australian ambassador with reported evidence that one of Donald J. Trump's advisers knew in advance about Russian election meddling. 
Breaking with diplomatic protocol, top Australian officials allowed ambassador, Alexander Downer, to sit with F.B.I. Officials and interview about his meeting with the campaign adviser, George Papadopoulos.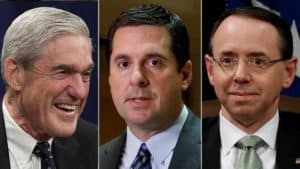 At the time only a small ring of officials was aware of the investigation then named Crossfire Hurricane. The name comes from a Rolling Stone lyric, "I was born in a crossfire hurricane," seems a prediction of a storm still flooding the bureau. 
Merely days after the agency closed their investigation into Hilary Clinton's use of a personal email server the two cases have become linked to one f the most consequential periods in the history of the F.B.I.