Nigeria: IBB, Northern Forces Tackle Tinubu Over Role In June 12 Declaration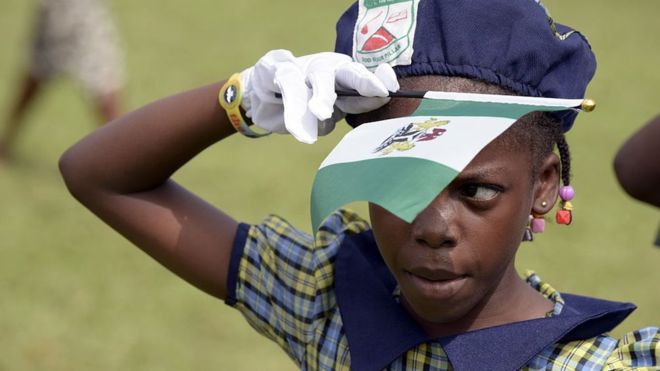 There are indications that more enemies have been listed for the national leader of All Progressives Congress (APC), Bola Tinubu over President Muhammadu Buhari's decision to declare June 12 as Nigeria's new Democracy Day and also conferred Moshood Abiola with a Grand Commander of the Federal Republic (GCFR) honor.
Before now, Democracy Day- a day set aside to commemorate Nigeria's return to democratic governance in 1999, after years of military rule- had been on May 29th of every year. However, many had argued that June 12 should have been the country's ideal democratic day, considering its historic nature, which they contend, has more relevance than May 29th.
The matter has been generating heated arguments in the country, but successive governments in the country have allegedly turned a blind eye to it.
In a shocking move, however, President Buhari recently announced June 12 as the new democracy day of the country even as he conferred a GCFR honor on the acclaimed winner of the annulled 1993 presidential election, Moshood Abiola.
The development, it was learned, was the brain-child of Tinubu. Sources close to the president confirmed to our correspondent that Buhari's decision on June 12 was a result of Tinubu's advice as the best way to redeem his (the President's) fast dwindling image in Nigerian political landscape, especially as the 2019 election closes in.
Following the declaration which drew applause of many, the president was said to have secretly extended sincere appreciation to Bola Tinubu, for his political advice which yielded him landmarks applause since his resumption in office as president of Nigeria.
It was gathered that President Buhari barely yields to Tinubu's advice because some cabals in his cabinet who are not pleased with his ally with Tinubu asked him not to yield to the former Lagos governor's counsel on June 12.
"For this development which had saved Buhari's head, he is ever grateful to Tinubu. At initial, he didn't want to yield to Tinubu's advice because of cabals in cabinet advised him against it, but later, has to consider the advice and took a risk of it. But when he saw the fame it has brought him he has been appreciating Tinubu in a big way. He also apologized to Tinubu for neglecting him in his first two years when he assumed office," a source from presidential villa who did not want his name mentioned said.
It was further learnt that Buhari, having seen how his image was redeemed in the country following the June 12 announcement has promised not to underrate Tinubu's political sagacity.
More trouble for Tinubu from cabals, IBB
However, while Tinubu's political tactics in the June 12 declaration had won him the President's commendations and strengthened his relevance in the country on one side, it has drawn the wrath of some of his northern political foes that feel more threatened with his close relationship with Buhari.
According to findings, Kaduna state governor, Nasir El-Rufai, Kogi state governor, Yahaya Bello, among other governors with some close member of Buhari's cabinet allegedly are not happy with the development masterminded by Tinubu.
For this, pundits said more trouble might loom for Tinubu as the northern force that saw him as a threat may double their efforts to hunt him down in politics.
It was also gathered that former head of state that annulled 1993 June 12 presidential election, Ibrahim Babangida was not also pleased with Tinubu having seen the game that played itself on the June 12 issue.
Sources close to Babangida said Buhari's announcement had brought Babangida and other former heads of state to ridicule in the country.
And on this, Babangida is not pleased with Tinubu whom he knew must have masterminded the plan.
He said; "Babangida was not also pleased with Tinubu over the June 12. He knew it was Tinubu's advice to Buhari and you know that at the end, his image dwindled more as Buhari earns more fame."
Meanwhile, when our correspondent contacted Babangida's spokesperson, Kasim Afegbua, he insisted on saying nothing on the development. Afegbua told our correspondent that his boss is yet to speak on the matter, thereby no comment.
"I cannot say anything to you on this matter because my boss is yet to say anything. He is yet to tell me his view on the whole matter, and for this, I cannot speak behind him. We may come out later on that, and by then our stand will be known," he told CARACAL REPORTS.
Meanwhile, some prominent Nigerians have insisted that Buhari's decision to honor Abiola is nothing but a political scam.
A human right lawyer, Olisa Agbakoba, SAN, said President Muhammadu Buhari didn't do late Moshood Abiola and family any favor with the GCFR honor conferred on him on Tuesday.
Speaking in a chat with our correspondent during the 26th anniversary of June 12 celebration at the residence of the late Abiola in Lagos, the legal luminary noted that Abiola was more than an honorable person before his death, hence deserved the honor.
According to him, "The honor today in Abuja is institutional. It's not because of the president; Abiola is entitled to it, why will you be rejoicing for somebody who is entitled to what he is entitled to? I don't praise the president for anything because this election was won some 25 years ago, so there is nothing to thank President Buhari for".
In the same vein, a presidential aspirant in the country's forthcoming 2019 elections, Omoyele Sowore, has warned the South Westerners to beware of Buhari's antics, especially on June 12. Sowore stated the June 12 honor to MKO has been in Nigeria history, adding that Buhari only used it to score a cheap political mark.
He said: "South West people should be careful with Buhari. He only used this June 12 to score a cheap mark. People should beware of his antics. Abiola remains the icon of democracy in Nigeria while June 12 is already our recognized democracy day. He just confirmed what we already know and believed in".