Kennedy to Retire from the Supreme Court In July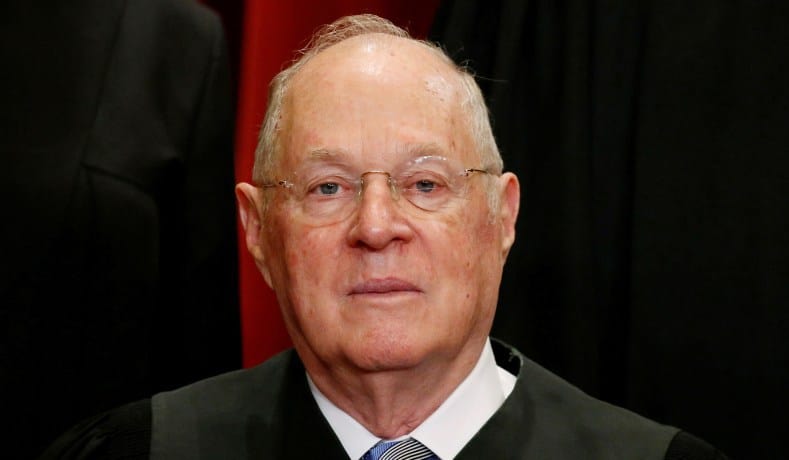 Supreme Court judge Anthony Kennedy announced his retirement on Wednesday in a letter to President Donald Trump.
Kennedy, a moderate conservative who is also SCOTUS's swing vote will leave the court on July 31.
The 81-year-old Ronald Regan appointee voted with conservative justices to toss out campaign finance restriction and with liberal justices to legalize gay marriage.
In his resignation letter, Kennedy wrote, "Please permit me by this letter to express my profound gratitude for having had the privilege to seek in each case how best to know, interpret and defend the Constitution and the laws that must always conform to its mandates and promises."
Bloomberg reported on Wednesday that Trump could leave a generations-long legacy on the court. "By naming his successor, Trump could leave an enduring mark on the court, giving it a solid five-justice conservative majority," according to Bloomberg.
The court's shift to the right could affect future outcomes for gay rights cases, death penalty litigation, racial discrimination and the contentious abortion debate.
Bloomberg reported that Brett Kavanaugh, a Washington-based federal appeals court judge and a former Kennedy law clerk is a top replacement contender.
"Trump could also consider three federal judges he interviewed before selecting Neil Gorsuch to fill an earlier vacancy: William Pryor of Alabama, Thomas Hardiman of Pennsylvania and Amul Thapar of Kentucky," according to Bloomberg.
In 1992 Kennedy frustrated conservatives on the court when he co-authored the majority opinion "reaffirming the constitutional right to abortion."
Without a moderate swing vote, conservatives could chip away at abortion rights, gradually gutting Roe vs. Wade or overturn the decision entirely.
Just after Kennedy's announcement Trump said the search his replacement would begin immediately. Trump said he would nominate a successor "as quickly as possible."
Senate Majority Leader Mitch McConnell said the upper chamber will vote on Kennedy's replacement before the midterm elections. "Its imperative that the President's nominee is considered fairly and not subjected to personal attacks," McConnell said. "The Senate will vote to confirm Justice Kennedy's successor this fall."