Macron Pledges Support For Nigeria During Historic Visit To Fela's 'Africa Shine'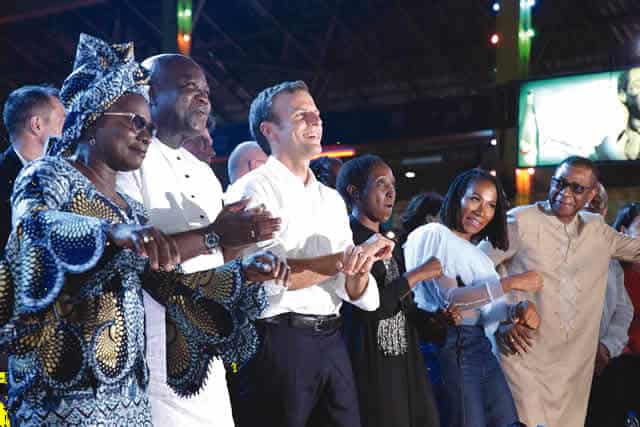 France President, Emmanuel Macron has reiterated his continued support for Nigeria, saying regardless of the many challenges confronting the nation, it is still one of the best countries to be in the world.
Macron, recently beat people's imagination when he paid homage to the late Afrobeat legend Fela Kuti's music venue widely known as 'shrine' in Lagos state, Nigeria.
While speaking at the 'Africa Shrine,' the French President expressed his delight to be part of history with his visit. "I'm very happy to be here with you tonight," said Macron, addressing the crowd who gathered at the event.
The 40-year-old former investment banker, who speaks fluent English, spent six months as an intern at the French embassy in Abuja early 2000s.
Macron had also expressed his love for Nigeria before he arrived country. "I like Nigeria a lot. It's an appealing country. I've got a lot of memories… that hasn't left me."
Recalling his days in Nigeria, Macron said he never imagined he would return to Nigeria as President of France.
"First, because I wanted to find a good occasion to come back there. I know the place, and I have some memories, I have to confess at a time that there was no president around, I hope I will not spoil the party.
"First, I think that is such an iconic place for a lot of African people and African culture. And I think very often when you speak of the African culture in Europe, those who are successful in Europe and in France, which is different most of the times are not dramatically very famous in Nigeria or Africa. And there is a bias because you know people are absolutely not the same.
"I mean Fela, Femi, Seun Kuti are obviously very famous in France and Europe, I mean they are big successes but the Shrine is a cultural hub, an iconic hub and it is very important for me first on a personal level, and that is why I want to say with a lot of humility that I recognize the importance of this place, I recognize the place of culture in this current environment," he said.
The recent visit which was described as historic is believed to be one of Macron's moves to forge closer ties with English-speaking Africa.
Macron had earlier visited Mauritania where he attended the final day of an African Union summit dominated by security issues in the restive Sahel region.
Later, he met Nigeria President Muhammadu Buhari at Aso Rock residence in Abuja on the edge of the capital.
He visited Ghana last year and Nigeria — Africa's economic powerhouse and the continent's leading oil producer — was the next logical step. Nigeria, a country home to over 180 million people, produces nearly two million barrels of crude oil per day and is a crucial economic partner for France. – Security talks – Macron said en route from Mauritania that "regional security and the fight against Boko Haram" would be high on the agenda in talks with Buhari, calling him a "key player."
The nine years of violence in the remote northeast has spread across the wider Lake Chad area. As a result, Macron said, "the mobilization of African states is fundamental."
Nigeria and its French-speaking neighbors Cameroon, Chad, and Niger are involved in a joint military force to combat the jihadists, whose violence has killed at least 20,000 people. Nigeria is also currently gripped by a resurgence of violence between nomadic cattle herders and farmers, which has claimed some 1,000 lives since January this year. Amnesty International last week said some 1,813 people have been killed in all types of violence since the start of 2018 — more than double that during the previous 12 months alone.
That has put former military ruler Buhari, 75, under pressure as he looks towards securing a second term at elections in February next year. In Nouakchott, Macron held talks with the leaders of the French-backed five-nation military force fighting Al-Qaeda-linked jihadists in the Sahel. Niger and Chad, where France has a sizeable military presence, are part of the "G5 Sahel" group, which has faced a rise in attacks in recent days. – Homage at the Shrine – Late Tuesday, Macron touched down in Lagos and went directly to the Shrine, where he praised Nollywood — Nigeria's massive film industry — and the country's music. Describing the concert hall as "iconic," Macron said that "we have to build a new common narrative" in Africa.
"You have to recognize the bad and negative pages of this history, but you have to move forward," he said to applause.
He launched the African Cultural Season which will take place in France in 2020, at an event showcasing music, fashion, and theatre. The choice of location surprised many Nigerians given its association with the anti-establishment musician. No elected president is believed to have previously officially visited the spiritual home of the so-called "Black President," which is more synonymous with marijuana smoke and gyrating dancers than diplomatic niceties.
When asked about life as an intern in Nigeria, Macron was tight-lipped about his past. "Obviously I will not share all those memories because what happens in the Shrine remains in the Shrine," Macron said to huge cheers and laughter of the participants at the event.