UN Hails 'Wind Of Hope' As Ethiopia And Eritrea Declare End Of War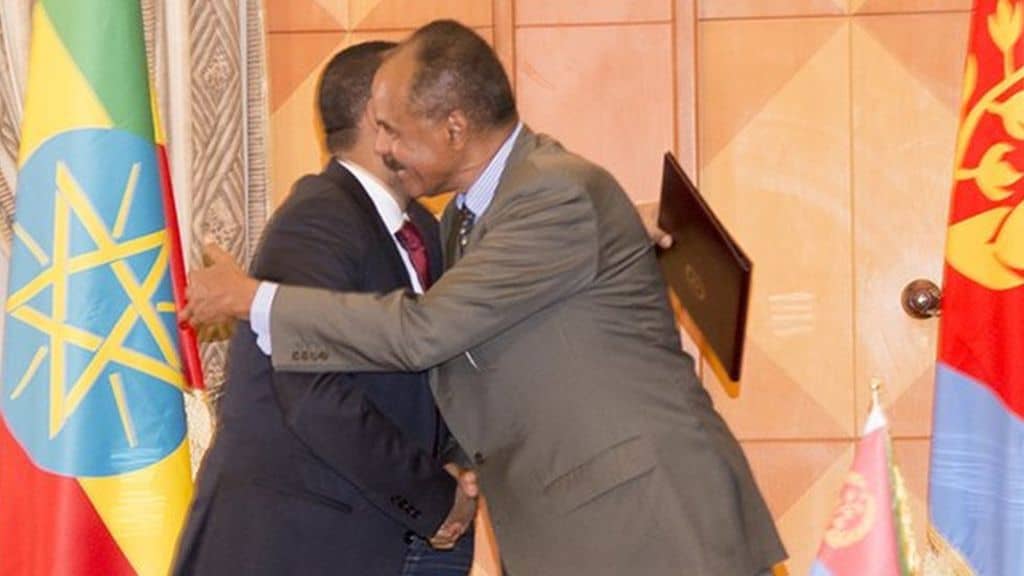 Posted:
July 10, 2018 at 4:05 am / by
James Ojo
/
After several deliberations, Ethiopia and Eritrea finally signed a declaration to end the lingering crisis between the two nations on Monday. This followed an unprecedented summit between  Eritrea's President Isaias Afewerki and Ethiopia's Prime Minister Abiy Ahmed in Asmara, Eritrea's capital.
At the summit on Monday, both leaders declared that the war between the two neighboring countries is finally over.
Eritrea's Information Minister, Yemane Meskel disclosed this in a Twitter post. Meskel tweeted: "Joint Declaration states, inter alia, i) State of war that existed between the two countries has come to an end. A new era of peace & friendship has been ushered; ii) Both countries will work to promote close cooperation in political, economic, social, cultural & security areas."
He had added in the tweet: "Eritrea and Ethiopia have signed a Joint Declaration of Peace and Friendship today. The Agreement, which specifies five pillars, was signed this morning at State House by President Isaias Afwerki and Prime Minister Abiy Ahmed."
Also, Mr. Abiy's chief of staff, Fitsum Arega, tweeted that the two countries "are determined to close a costly chapter."
On Sunday, Abiy led Ethiopian delegation in a surprise visit to Eritrea for a meeting which is the first time leaders' of both countries would be meeting for about two decades.
Both countries have endured a frosty relationship since a two-year war between 1998-2000 broke out which killed about 10,000 persons and left many families displaced, according to reports.  The conflict started over Badme, a disputed land in the border between the two countries, though many said the crisis has political undertones.
Previous efforts aimed at ending the crisis have ended without any achievement. A peace deal known as Algiers Accord was signed in 2000 by both countries to end the war. Similarly, a border commission constituted under the peace agreement ruled that the town of Badme be handed over to Eritrea, but Ethiopia had continually claimed ownership of the land. Due to this, the two countries have been in a state of "no war, no peace". The war has cost both countries huge economic and human loss.
However, the emergence of Abiy restated hope of a seeming end to the lingering crisis between the countries. During his inaugural address as Ethiopia's Prime Minister, Abiy declared his government's determination to ensure full compliance and implementation of the Peace Accord which granted Badme to Eritrea.
The development stirred controversies, but Abiy's determination paid off in the long run with the latest peace agreement. Aside from the peace deal with Eritrea on Monday, the countries have also agreed to improve political, economic and diplomatic ties.
The fear now is what happens next after the recent declaration that war is over between the two nations. It is yet to be seen if Ethiopia will withdraw its troops from the disputed territories following the latest development.