US President Trump Calls Former Senior aide Omarosa A 'Dog'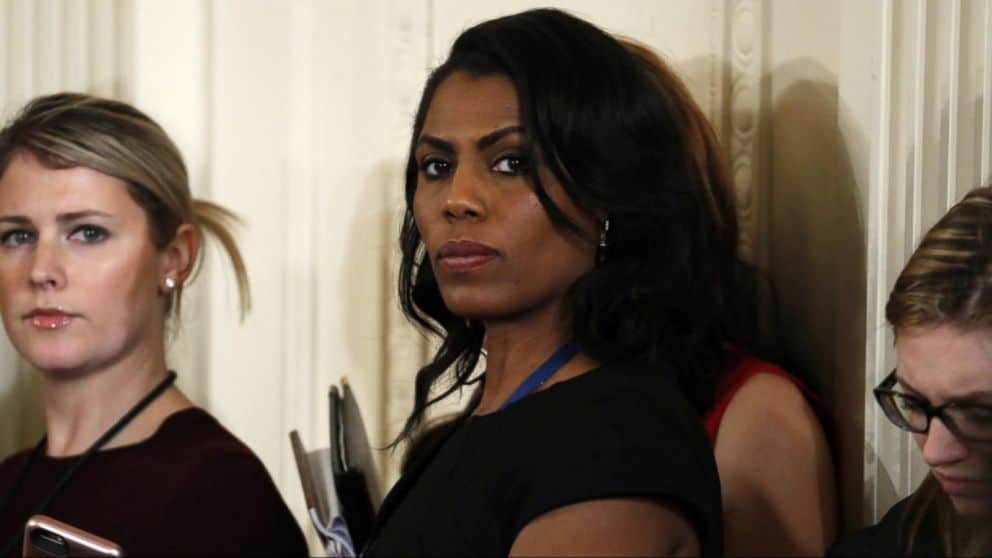 President Donald Trump called his former senior aide and Apprentice protégé Omarosa Manigault-Newman a lowlife and a dog.
Trump wrote in a late afternoon tweet on Tuesday;
When you give a crazed, crying lowlife a break, and give her a job at the White House, I guess it just didn't work out. Good work by General Kelly for quickly firing that dog!

— Donald J. Trump (@realDonaldTrump) August 14, 2018
While promoting her upcoming book, Unhinged, about her experience in the Trump campaign and administration Manigault-Newman released secretly recorded audio clips of her firing by Chief of Staff John Kelly, of a follow up phone call Trump made to her after the termination and of a strategy session with campaign colleagues about how to handle potential fallout from Trump's alleged use of the n-word.
The recording of Manigault-Newman's firing led to bipartisan criticism of oval office security protocols. Pundits, legislators, reporters and the Twitterverse questioned how Manigault-Newman was able to defy security requirements by bringing a cellular device into the White House Situation Room, a SCIF (Sensitive Compartmented Information Facility).
The audio clip of Trump's alleged call to Manigault-Newman, the day after her firing, indicates the President was completely unaware of the incident and that he was unhappy with the outcome. Trump said, "I don't love you leaving at all."
The third recording documents what appears to be a strategy session between Manigault-Newman, Katrina Pierson, a spokeswoman for the Trump campaign; Lynne Patton, assistant to Eric Trump; and Jason Miller, chief spokesman for the Trump campaign. The four advisors discussed how they might spin potential fallout if a tape surfaced of Trump using the n-word on the set of his reality show, The Apprentice.
On Sunday Pierson told Fox News that a conversation about Trump's use of the racial slur never happened.
"That did not happen," she said Monday night on Fox News Channel. "It sounds like (Omarosa is) writing a script for a movie. I've already been out there talking about this. That is absolutely not true. I have no sources with that tape. I have no connections to anyone at Celebrity Apprentice, other than Omarosa."
The recording released by Manigault-Newman confirms that Pierson not only participated in the conversation but appeared to suggest Trump said the offensive word. "He said. No, he said it. He is embarrassed by it," Pierson said.
In the past 24 hours, Trump tweeted about Manigault-Newman eight times calling her wacky, deranged, a low life and a dog.
In one of the tweets, Trump claimed that Mark Burnett, producer of The Apprentice, called him to confirm that there are "no tapes.
"@MarkBurnettTV called to say that there are NO TAPES of the Apprentice where I used such a terrible and disgusting word as attributed by Wacky and Deranged Omarosa. I don't have that word in my vocabulary and never have. She made it up. Look at her MANY recent quotes saying….," Trump wrote.
The President's campaign filed for arbitration on Tuesday against Manigault-Newman alleging her book violated a non-disclosure agreement.
According to a Trump campaign official a claim has been filed with the American Arbitration Association in New York City against Manigault-Newman "for breach of her 2016 confidentiality agreement with the Trump Campaign."
Manigault-Newman told MSNBC's Katy Tur on Tuesday she would let attorneys determine if she violated the terms of the agreement and told the Associated Press she "will not be intimidated."
In the Tur interview, Manigault-Newman said she intended to expose Trump campaign corruption as well as his administration's wrongdoing.
"There's a lot of corruption that went on both in the campaign and in the White House, and I'm gonna blow the whistle on all of it. I'm very interested in exposing what was happening behind the scenes and while, as you saw with Katrina Campin's statement, much, she really, I mean Katrina Pierson's statement, she really lied one day and then she turned around and lied the next day. That's really the pattern of this organization," Manigault-Newman said.
Manigault-Newman also told Ker that Trump knew about damaging Hillary Clinton emails during the 2016 presidential election before they were released by Wikileaks; an allegation that Trump has denied.
Tur asked, "Did Donald Trump know about those emails before they came out?" Manigault-Newman replied, "Absolutely." Tur pressed the question, "He knew what was coming out before Wikileaks released them?" Manigault-Newman replied, "yes."
Tur asked if Manigault-Newman was "saying Donald Trump had a backchannel?" Manigault-Newman laughed and said, "I didn't say that you did."