Ford, Kavanaugh: Contrasting Opening Statements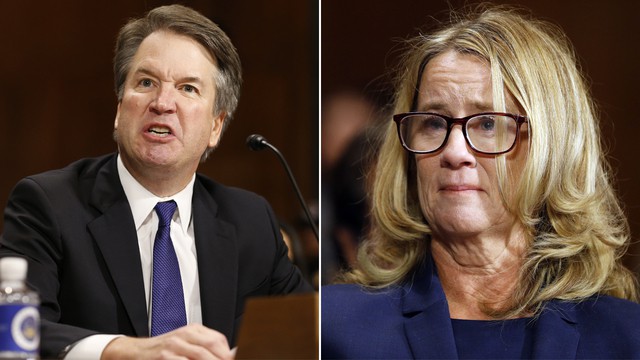 Brett Kavanaugh and Christina Blasey Ford testified before a panel of 21 Senators on Thursday. 
Ford accused Kavanaugh of sexual assault three decades ago when they were in high school. The first to testify on the matter, Ford delivered an opening statement detailing the allegations. 
At the beginning of her testimony, Ford acknowledged that she was "terrified." 
In an opening statement, Ford said, "I am here today not because I want to be. I am terrified. I am here because I believe it is my civic duty to tell you what happened to me while Brett Kavanaugh and I were in high school".
Ford said she attended a "small gathering" where Kavanaugh and his friend Mark Judge were "visibly drunk."  She said she went to the second floor of the home to go to the bathroom. At that time, she was pushed into a bedroom.
"I went up a narrow set of stairs leading from the living room to a second floor to use the bathroom. When I got to the top of the stairs, I was pushed from behind into a bedroom," Ford said.
According to Ford, she was then pushed onto a bed. Kavanaugh got on top of her. Believing she was about to be sexually assaulted, she yelled. Ford said that Kavanaugh muffled her scream, putting his hand over he mouth. She feared for her life.
"Brett groped me and tried to take off my clothes. He had a hard time because he was so drunk and because I was wearing a one-piece bathing suit under my clothes. I believed he was going to rape me. I tried to yell for help. When I did, Brett put his hand over my mouth to stop me from screaming. This was what terrified me the most, and has had the most lasting impact on my life. It was hard for me to breathe, and I thought that Brett was accidentally going to kill me," Ford said.
Ford said that Judge "came over and jumped on the bed twice" while Kavanaugh was on top of her. She was able to escape and hid in a bathroom until she heard Kavanaugh and Judge "pin-balling off the walls on the way down" the stairs, laughing.
During her testimony, Ford held back tears several times but was measured in her delivery.
Kavanaugh, on the other hand, came out swinging. During his opening statement, Kavanaugh's emotional demeanor vacillated from anger to tears. He surprised members of the Judiciary committee, diverting from previously submitted remarks. 
In his opening statement, Kavanaugh attacked the process, blaming Senate Democrats for the situation.
"This whole two-week effort has been a calculated and orchestrated political hit, fueled with apparent pent-up anger about President Trump and the 2016 election, fear that has been unfairly stoked about my judicial record, revenge on behalf of the Clintons," Kavanaugh said.
Kavanaugh said he "would not withdraw" from the nomination process and accused Democrats of an effort to "destroy" his family.
"You have tried hard. You've given it your all. No one can question your effort," he said. "But your coordinated and well-funded effort to destroy my good name and destroy my family will not drive me out. You may defeat me in the final vote, but you'll never get me to quit. Never," Kavanaugh said.
Categorically denying Ford's allegation, Kavanaugh opened said that potential witness to the incident did not recall it.
Kavanaugh said, "Less than two weeks ago Dr. Ford publicly accused me of committing wrongdoing at an event more than 36 years ago when we were both in high I denied the allegation immediately, categorically and unequivocally. All four people allegedly at the event including Dr. Ford's longtime friend Ms. Keyser have said they recalled no such event. Her longtime friend Ms. Keyser said under penalty of a felony that she does not know me, and does not believe she ever saw me at a party ever."
Kavanagh said he was "not questioning that Dr. Ford may have been sexually assaulted by some person in some place at some time," but insisted that he has never "done that to her or anyone."
Kavanagh went on to discuss his high school calendar in great detail and suggested that he had the "summer of 1982", the alleged year of the alleged incident, "documented pretty well."