Criminalizing Racism; How Tunisia Is Leading The Revolution Across Arab Countries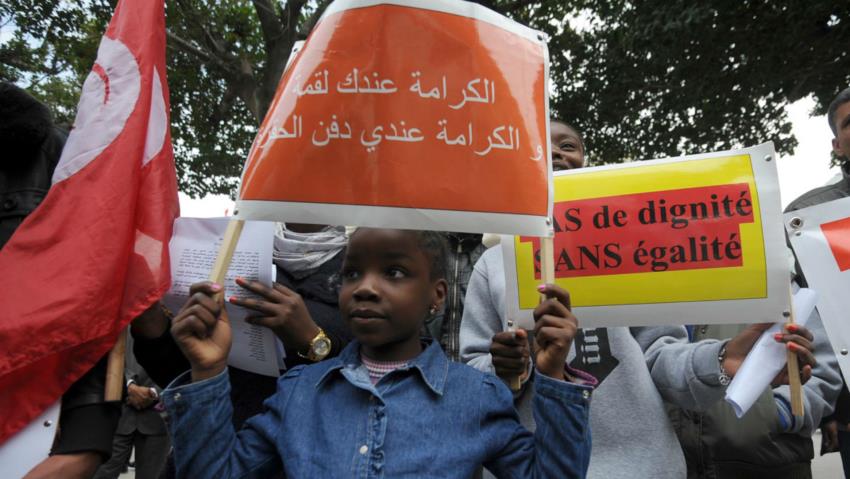 Posted:
October 21, 2018 at 7:20 pm / by
James Ojo
/
Tunisia is seemingly leading a revolution across Arab nations with strings of reforms, the latest of which is the passing of a law criminalizing racial discrimination.
Tunisia recently passed a bill into law, known as the "Elimination of All Forms of Racial Discrimination" Act; criminalizing racial discrimination- one of the significant challenges the North African nation had had to grapple with for decades.
Racial discrimination is rife in Tunisia, permeating virtually all institutions in the country, with black Tunisians and migrants enduring torrents of assault from their white counterparts. An Al-Jazeera documentary titled "Tunisia's Dirty Secret" chronicled the various forms of racial discrimination encountered mostly by black Tunisians on a daily basis.
Part of the film follows Hamza, who wore a hidden camera in his glasses. "Slave, have you been kicked out from your house?" one passerby sneers. "Have a shower you lazy bastard."
Aside from enduring various assaults on a daily basis, it's pretty difficult getting basic information about black Tunisians, with no official statistics detailing their population, socio-economic status.
Unofficial estimates peg the population of blacks in the country at 10 to 15 percent of the nation's total of 11.5 million.
More so, black Tunisians are also largely excluded from the country's politics and other public spheres. For instance, there is only one black member of parliament- Ennahdha's Jamila Debbech Ksiksi- and the first black newsreader on state-run TV just appeared this year.
Some towns in the south of Tunisia, such as Sidi Makhlouf in Medenine, even have separate school buses for black children, showing how ingrained racism was in the country.
The law, passed by the country's parliament on October 9 was yet another first for Tunisia and is seen as a significant move in protecting the rights of black Tunisians as well as the country's 600, 000 sub-Saharan African immigrants.
The law prescribes one to three months in prison for racist language, and one to three years for inciting hatred, disseminating ideas about racial superiority, or supporting a racist organization or activity. The law also commits the state to undertake awareness and training campaigns and creates a National Instance against Racial Discrimination to present an annual report to the parliament.
The recent law in the country is mostly believed to have been fueled by the case of Sabrina, a black Tunisian who had been verbally abused on Habib Bourguiba Avenue in downturn Tunis and other developments that occurred in 2016.
Rankled by the abuse, Sabrina had reportedly made an effort to report the crime at a police station, but she had been allegedly turned away on the grounds of "the lack of a specific law" against racism.
The development had sparked widespread controversies across the country, but while the heat caused had yet to die down, the stabbing of three Congolese students on the eve of Christmas in a train station in Tunis, the capital, further stirred the people's rage, with thousands thronging the streets to register their anguish in various protest spearheaded by civil society organizations.
While these events sparked a national debate, activists said none of them resulted in prosecutions, with authorities citing a lack of laws or a lack of witnesses.
But the recently passed anti-racism law is seeking to address the situation.
Championing a revolution across Arab countries?
The recent anti-racial law in Tunisia is another indication of ongoing reforms taking place in Tunisia, a model; many believe likely to rob in other Arab countries. The Arab World consists of 22 countries in the Middle East and North Africa: Algeria, Bahrain, the Comoros Islands, Djibouti, Egypt, Iraq, Jordan,Kuwait, Lebanon, Libya, Morocco, Mauritania, Oman, Palestine, Qatar, Saudi Arabia, Somalia, Sudan, Syria, Tunisia, the United Arab Emirates, and Yemen.
Tunisia's Human Rights Minister, Mehdi Ben Gharbia had in April predicted that the country would be the first to outlaw racial discrimination among Arab nations.
The Minister had been quoted as saying by The Arab Weekly in an interview in April:
Racism is not entrenched in Tunisia because the state had never had a discrimination policy against its citizens in contrast to old democracies in the world which continued to the 1950s and 1960s with racial laws.
Activists give estimates, but we have no figure as we have a population with a beautiful blend of colors. We have a mixture of colors that makes it difficult to tell if Tunisians are black or white or in between.
The state is treating its people and its guests as equals. Citizenship is the only criterion for laws and policy. Since independence, Tunisians have been equal before the law."
Today, many Tunisians, most of them with good intentions and good faith, say that we have no problem with racism but the first act to tackle the issue of racism is to recognize it.
I have the deep conviction that history goes towards one direction, that of the equality between people whatever their race, sex or ethnic origin.
This draft law stems from this vision," said Ben Gharbia, who was the first parliament member to defend a law proposal about the equal rights between women and men in heritage.
The progress in rights and freedoms influences economic growth and social development. When Tunisians feel free and equal, they contribute more and better for growth.
With the development, Tunisia becomes first Arab country and the second in Africa, to South Africa, to criminalize racial discrimination, but this, not the first time the North African will be spearheading a significant reform among Arab nations. In 1846, Tunisia became both the first Arab and the first Muslim country to abolish slavery.
The concerns
While the new law criminalizing racial discrimination in the country has reverberating hopes across the nation, especially among the blacks, its effectiveness has been a significant concern to observers.
Some activists contend that the law, to be valid, must be supported by other reforms to achieve rebirth in racist beliefs which are deeply rooted in Tunisian society.