United States Midterm Closing Arguments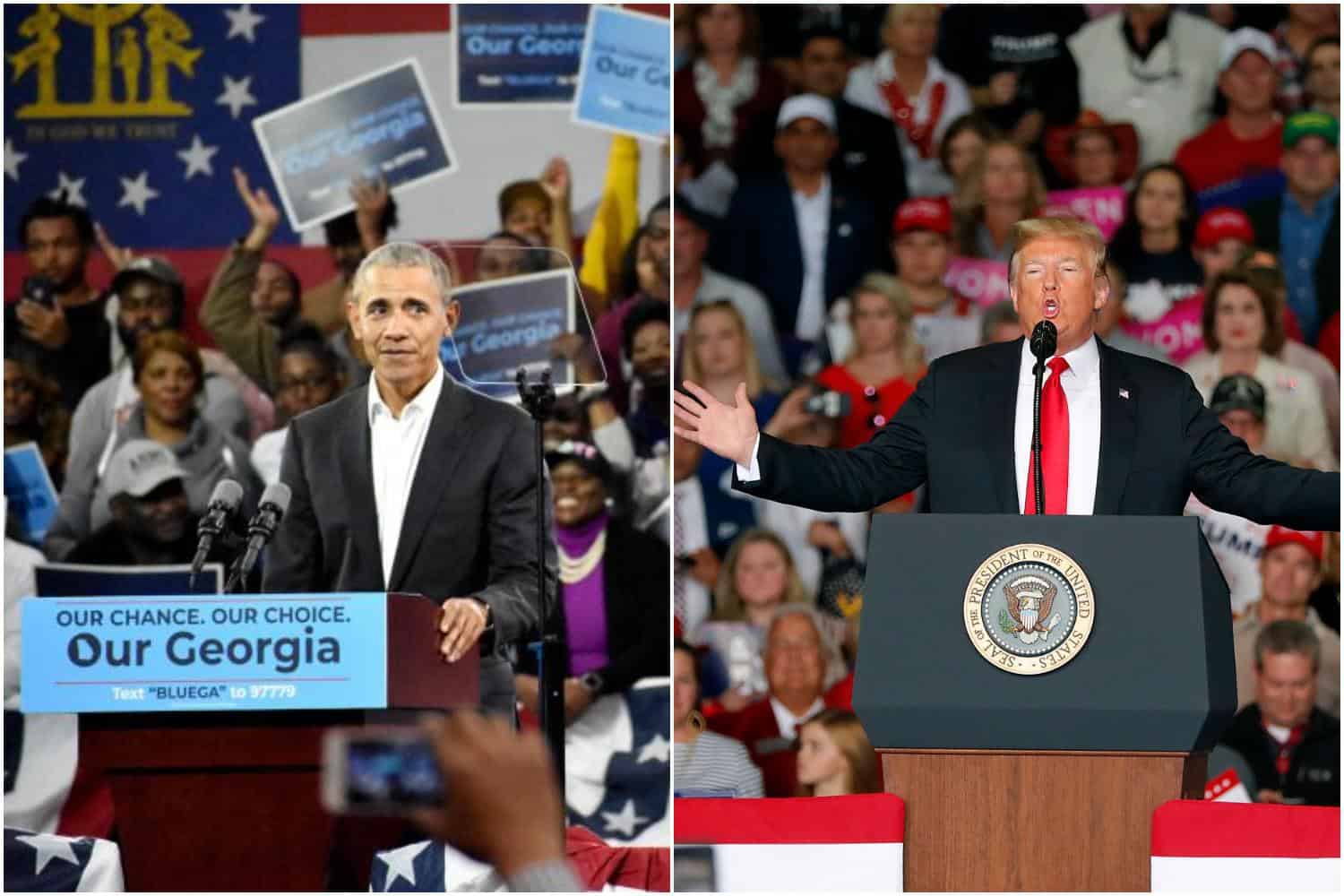 The 2018 United States midterm general elections take place throughout the day tomorrow. Over the past week, polarizing political figures have taken to the campaign trail to deliver final pitches in their get out the vote efforts.
President Donald Trump plans to attend three rallies throughout Monday. According to CNN he will first attend an event in Cleveland, Ohio followed by a stop in Fort Wayne, Indiana, and finally in Cape Girardeau, Missouri — where Fox News personality Sean Hannity will join him.
"There are a lot of people, a lot of people in my opinion – and based on proof – that try and get in illegally and actually vote illegally. We just want to let them know there will be prosecutions at the highest level," President Trump told reporters at Joint Base Andrews on Monday. He did not offer any evidence for the claims; in fact, there has never been evidence to support claims of 'a lot' of illegal voting practices. A commission Trump set up to investigate supposed voter fraud after he claimed '3 to 5 million illegal votes were cast in the 2016 general election,' found no such evidence of fraud.
At the same press conference, President Trump also defended a controversial ad on immigration, which fact checkers have found to be misleading and contain lies concerning a notorious murder of police officers. Networks including CNN and Fox News have refused to air the ad due to the nature of the misinformation it includes.
"America is at a crossroads, the character of our country is on the ballot," former President Barack Obama stated on Sunday during a rally in Indiana. The former President also went an extra step stating that Republicans are 'lying' concerning their desire to protect individuals with pre-existing conditions. He also accused Trump of fear-mongering around the asylum seekers who are currently on their way to the United States border.
President Obama was also campaigning in his home state of Illinois on Sunday and has been active during the past month in his effort to help Democratic candidates. During his time in office, the Democratic party lost nearly 1,100 electoral seats across the country. Yet, the party has the opportunity to retake the United States House of Representatives, if turnout is high on Tuesday.
Vermont Senator Bernie Sanders is attending rallies in New Hampshire and Vermont and has been active on the campaign trail in efforts to help progressives and third-way Democratic party members defeat their conservative opponents on Tuesday. Sanders is expected to win his re-election bid in Vermont by a landslide and is a top contender for the 2020 Democratic Party nomination for United States President.
Sanders was an early supporter of Andrew Gillum during the Flordia Gubernatorial primaries on the Democratic ticket. Since winning the nomination; President Obama, Secretary Hillary Clinton, and other establishment Democratic party members have thrown support behind Gillum.
Despite President Trump stating that violence would be likely if Republicans were to have bad results on Tuesday, such statements are unlikely to keep voters from the polls. Over 2.3 million voters under 30 turned out for early voting during this election cycle, compared to just over 800 thousand during the 2014 midterms. Younger generations are far more progressive than others, making a Democratic surge in Congress more likely than not.