Voting Issues In Georgia's 2nd Largest District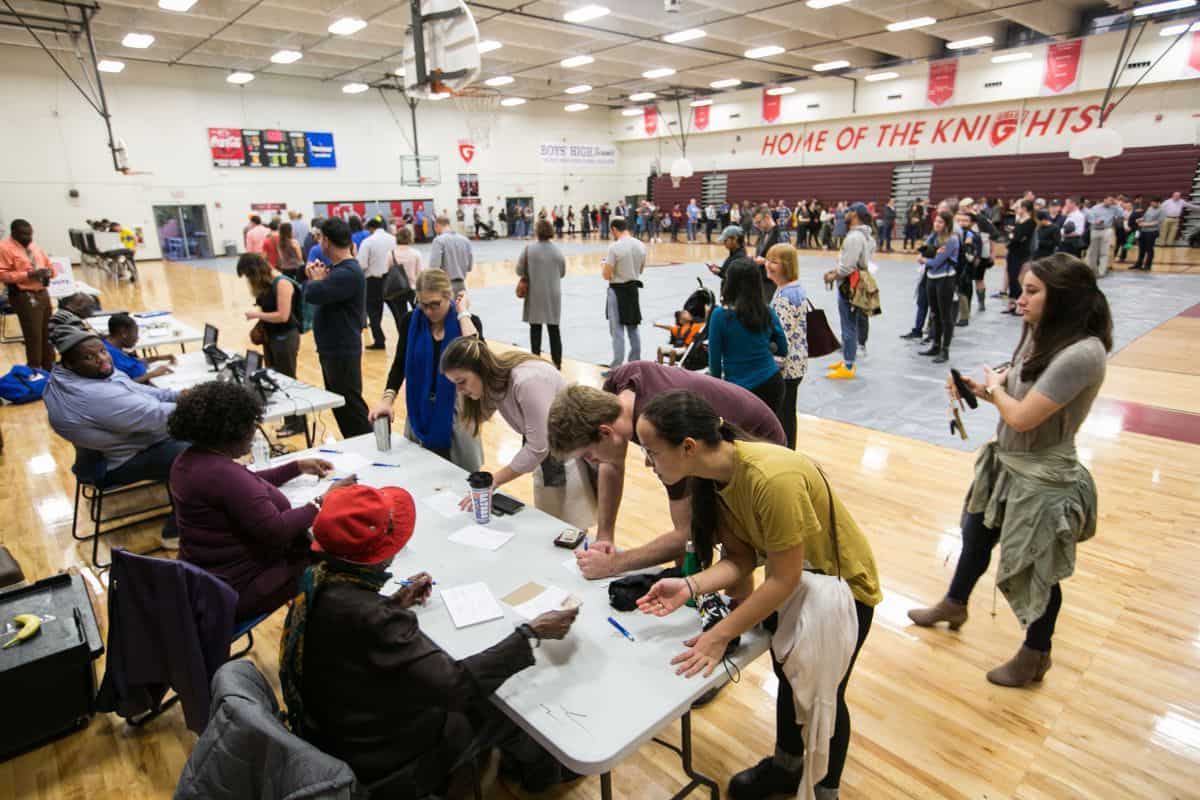 Voting machines at Anderson Livsey Elementary School in Gwinnett County, Georgia ran out battery power 45 minutes after the polls opened. The machines couldn't be immediately restarted because poll workers neglected to pack power chords. 
Some voters were offered paper ballots for about 15 minutes while hundreds of others waited in a line that stretched the full length of the building. 
Dysfunctional polling machines at another voting location in the same town resulted in a short delay. 
A judicial order, later in the day, mandated the polling location remain open for an additional 25 minutes. The Annistown location in Gwinnett County will not close until 7:25 pm.
At a press conference District 55, Senator Gloria Butler encouraged frustrated voters to come back later. 
"Make your vote count. Make your voice heard. It's yours. You own it. So come back," Butler said.
The Associated Press reported that nearly two dozen people left the poling site. 
According to the Atlantic Journal-Constitution another polling station in the same area, Gwinnett Public Library Branch, experienced problems with Express Poll. The system checks voters into their precincts. 
Joe Sorenson, Gwinnett County Spokesman, said the issue wasn't electrical and poll workers used paper rolls while voters filled out paper ballots. 
The newspaper reported that Gwinnett County has faced "extra scrutiny in a contentious — and litigious — election season across the state."
The county, a longtime Republican stronghold currently shifting left, was recently sued for rejecting an inordinate amount of absentee ballots. 
Gwinnett County is the second largest country in the state, and its demographics are changing. 
The Washington Post reported that 67% of the county's residents were white in 2000. In 2017, 62% of the residents were non-white. 
Democrats have worked efficiently to mobilize the new, majority demographic.
The Georgia race for Governor has been in the national spotlight for weeks. Democrat Stacy Abrams and Republican Brian Kemp are facing off in, what could be, a historic election. 
Kemp, Georgia's current Secretary of State, is a firebrand Republican. The subject of controversy, Kemp is both running for high office while overseeing his own election. 
Democrats accused Kemp of disenfranchising voters and intentionally suppressing the vote.
Without sighting evidence, Kemp, a Trump surrogate, accused Georgia Democrats of "potential cyber crimes" on Monday.
Abrams is the former minority leader of Georgia's House of Representatives. If she wins the election, she would be the first female African American governor in the nation and the first Democrat to hold the state office since 2003.