Weekend Review: Trump Pulls U.S. Out of U.N. Arms Treaty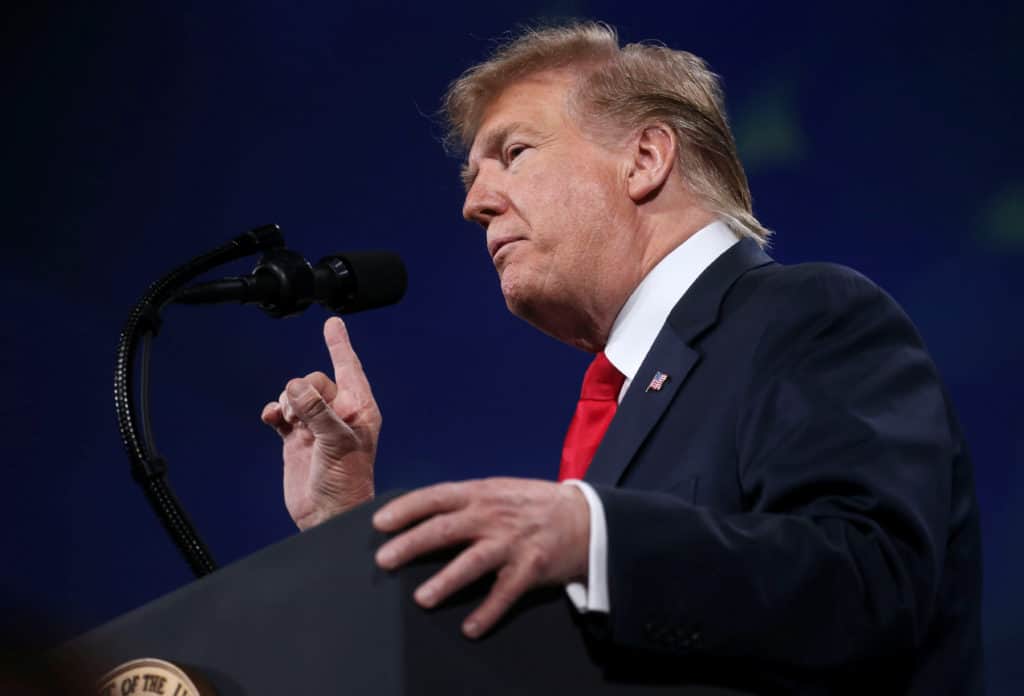 At the National Rifle Association's (NRA) annual convention on Friday, President Trump operatically unsigned the United Nations' Arms Trade Treaty (ATT) — an agreement which has frequently been targeted by the NRA as a threat to Second Amendment rights.
Trump used the convention stage to explain that he was nullifying the Obama administration's signature on the international treaty and announced, "we're taking our signature back."
Trump produced the executive document on stage, signed it, held it up to show his audience from the podium, and then threw his pen into the crowd after signing.
The president was quoted as saying that his "administration will never ratify the U.N. Arms Trade Treaty" before telling attendees, "I hope you're happy."
The ATT was designed as an agreement to regulate the international arms trade and 101 States worldwide have ratified the treaty. It was signed in 2013 and effected in 2014, but was never ratified in the U.S.
Frederica Mogherini, who serves as High Representative of the European Union for Foreign Affairs and Security Policy, said the "decision by the U.S. to revoke its signature would not contribute to the ongoing efforts to encourage transparency in the international arms trade, to prevent illicit trafficking and to combat the diversion of conventional arms."
Biden Enters the 2020 Presidential Race
Joe Biden, former Vice President to Barack Obama, announced on Thursday that he will join the field of primary candidates for the 2020 presidential election Democratic nomination.
There are now 20 candidates competing — including Senators Bernie Sanders and Elizabeth Warren, as well as Indiana mayor Pete Buttigieg and former Texas Congressman Beto O'Rourke.
Biden's candidacy has already been embroiled in controversy. He was recently accused of making a woman uncomfortable through inappropriate touching.
While visiting The View on Friday, he was confronted with long-standing allegations that he had treated Anita Hill poorly when she accused Supreme Court Justice Clarence Thomas of sexual harassment.
Hill accused Thomas when he was a Supreme Court nominee in 1991 and Biden was chairman of the Senate judiciary committee.
"I don't think I treated her badly," Biden argued, though he did say he was "sorry she was treated the way she was treated."
On Thursday, The New York Times published an interview with Hill in which she revealed Biden had recently contacted her in preparation for his presidential announcement.
Hill disclosed she was not satisfied with Biden's apology to her. She said, "there needs to be an apology to the other witnesses, and there needs to be an apology to the American public," who she believes "really have lost confidence in our government to respond to the problem of gender violence."
Hill argued that Biden's behavior during her 1991 hearing set the stage for Brett Kavanaugh's confirmation to the Supreme Court in 2018.
"I hold him responsible certainly for what happened in 1991, and to the extent that many of the same things that happened in 1991 followed in 2018, there is a connection," she said.
In spite of the discussion, President Trump welcomed Biden to the race in a tweet that did not reference the issue.
Hate Crime in San Diego: 1 Killed, 3 Others Injured in Synagogue Shooting
A 19-year-old suspected white nationalist entered the Chabad of Poway Synagogue outside San Diego during a Passover celebration on Saturday morning and opened fire.
One woman is dead and three other victims were reported to be in stable condition with injuries.
According to San Diego Sheriff Bill Gore, the shooter carried an AR-style assault weapon and fled the scene when an off-duty border patrol agent shot at him. He was quickly apprehended shortly after.
The suspect reportedly posted an anti-Semitic open letter on a far-right message board — 8chan — only hours before the attack.
In the manifesto, the suspect asked himself: "If I won't defend my race, how can I expect others to do the same?"
He wrote, "I willingly sacrifice my future — the future of having a fulfilling job, a loving wife, and amazing kids. I sacrifice this for the sake of my people. OUR people. I would die a thousand times over to prevent the doomed fate that the Jews have planned for my race."
8chan users — who were referred to in the letter as "the most honorable men of this age" — left comments of encouragement on the post.
The author gave direct credit to the message board and others similar to it for radicalizing him. He also wrote that he was inspired to action by the man who shot and killed 50 people in a New Zealand mosque last month.
The story is the latest in a trend of attacks on religious worshipers carried out by white supremacists.
This shooting comes exactly six months after 11 people were shot to death in a Pittsburgh synagogue and less than two months after the New Zealand mosque shooting. Both of those attacks were carried out by self-claimed white nationalists.
More Deaths in Sri Lanka
A gun battle broke out in Sri Lanka on Friday when troops and police located a safe house where Islamist militants were hiding.
The forces were met by explosions and a shootout ensued.
After the gunfire had ceased, 15 bodies were recovered from the house — including those of six children and three suicide bombers. A large number of explosives were also removed from the house.
The suspects were sought for involvement in the Easter Sunday suicide bomb blasts.