Could Hollywood Accept Marianne Williamson As President?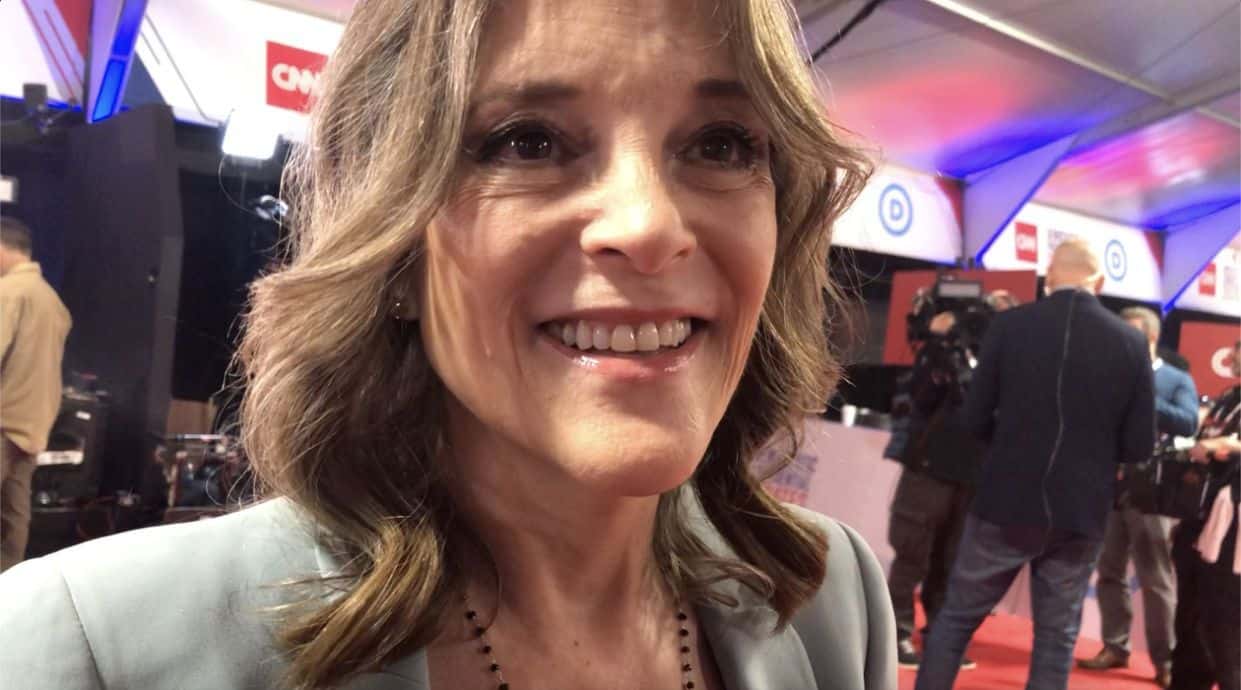 There are many underdogs running for the Democratic presidential nomination. One in particular has been successful at seizing the spotlight with her spiritual, strange quips and radical policy. Love her or hate her, Marianne Williamson, the spiritual author and socialite, is rapidly gaining notoriety.
As Williamson scrambles to gather more donors, the odds are not looking good. She needs more individual donors to make it to the next debate stage. Her poll numbers skyrocketed in the last debate–from 0% to 1%. And while the jokes and the memes continue to orbit online, her supporters are hard to find.

For an author endorsed by Oprah, Hollywood has been somewhat silent on Marianne this time. But little rumblings under the surface reveal a much more frustrated outlook.

Williamson's Successes
Famous supporters for her now include names like Marcia Cross and Jeff Bridges. An actress best known for her role in Titanic, Frances Fisher, is her strongest ally. Meanwhile, TBS late night show host Samantha Bee so far seems to be her greatest enemy. Bee made a whole segment inviting Williamson to "drop out on her show," mocking her persona with "soft cashmere pillows."

Williamson purposefully avoided appearing on Bee's show. Instead, she chose to appear on Real Time with Bill Maher, Trevor Noah's The Daily Show, Russell Brand's podcast, and even Alyssa Milano's podcast, "Sorry Not Sorry." Maher, who once begged Williamson to drop out of the race, cozied up to her onscreen, telling her "I agree with everything."

A handful of lesser known television actors denounced Williamson when she promoted the group American Descendents of Slavery (ADOS). Community actress Yvette Nicole Brown tweeted that the candidate had promoted an "alt-right" group.

Some Failures for Williamson
The media does not like Williamson much either. Daily Beast editor Marlow Stern dubbed her "a cross between a becrystaled Goop disciple from Monterey and the deranged dance mom in Donnie Darko." Vogue invited all the female candidates to participate in a photo-shoot for its magazine cover, but mysteriously forgot to invite Williamson. Numbers had nothing to do with it, either. Senator Amy Klobuchar (D-MN) polled lower than Williamson. She was still invited.
But Williamson is too similar to Texas candidate Beto O'Rourke. She had already been feted by Hollywood in years past, only to lose her bid at a congressional seat. In 2014, Williamson ran for representative of her district. She received donations and testimonies from Kim Kardashian, Katy Perry, and Nicole Richie. Williamson spent almost $2 million, only to come in fourth place.

While neither Kardashian nor Perry have resurfaced to help Williamson, Richie has officially endorsed and donated. Underground, Hollywood has given B-list aid, with Beverly Hills fundraisers and New York City fundraisers. One such event will be hosted by former Red Hot Chilies band member Dave Navarro.

But it is surprising that a progressive female candidate is not gaining traction even among the stars. She embodies most of what Hollywood calls for on a regular basis. Her policies include a Department of Peace, a massive plan for affirmative action that calls for a billion dollar budget, free college, Medicare for all, and a climate change plan. Yet that's not enough to bring out the endorsements or the cash.
It's not that her policies fall short. Actor Jeff Goldblum said in an interview, "some of what she said…seems sound."
Alyssa Milano opened herself up to criticism by having Williamson on her podcast. The actress even said that listeners "would love" some of the candidate's proposed ideas.
Hollywood Doesn't Want Another Trump
Hollywood already saw one of their own become President. Ever since then, if you believe Twitter, no one has been happy. The shining star of Celebrity Apprentice became the big boss in the Oval Office and disappointed most of mainstream Hollywood from day one. It's important to remember, too, that Donald Trump certainly did not start out as a Republican. In fact, he was a huge donor to Democrat politicians for many years. They also viewed him as an ally.
As of August 7, Williamson announced that she needed 17,000 more donors to make it to the September debate. Williamson might be able to get the donors but not the cash. A New York Times reporter, Thomas Kaplan, discovered that Williamson's donation average was the smallest of the candidates. Donations averaged only $33 per donor. However, size may not matter, since candidate John Delany has the largest average.
Some Hope on the Horizon for Williamson
Celebrity endorsement might also not matter. In the 2016 election, the entertainment world rolled out the big guns for Hillary. Beyonce, Jay-Z, Katy Perry, Lady Gaga, and George Clooney all stood behind the Democratic nominee, only to see her lose.
Hollywood votes and Hollywood money are mercurial at best. Perhaps Williamson has a chance with the unknown supporters she's amassed. InStyle reported that the women who support Williamson find her "authentic" and believe she really does understand them. At the end of the day, celebrities only make up a miniscule percentage of voters.