Impeachment Inquiry Shines Light on Trump's Shady Deals
Gordon Sondland, US Ambassador to the European Union and a key witness in the impeachment inquiry against Donald Trump, will testify under subpoena before House committees next week according to a statement from his lawyer.
Sondland was blocked by the State Department when he volunteered to testify earlier this week regarding Trump's conduct and relations with the Ukrainian president. Sondland was subpoenaed on Tuesday to provide testimony as well as documents related to the impeachment inquiry.
Sondland's lawyer, Robert Luskin, said on Friday, "Notwithstanding the State Department's current direction to not testify, Ambassador Sondland will honor the Committees' subpoena, and he looks forward to testifying on Thursday."
The impeachment inquiry was catalyzed by a whistle-blower complaint which read, "In the course of my official duties, I have received information from multiple U.S. Government officials that the President of the United States is using the power of his office to solicit interference from a foreign country in the 2020 U.S. election."
The anonymous complaint was made in regards to Trump's phone call with the president of Ukraine during which he requested that the foreign leader looks into previously debunked rumors about a political rival, Joe Biden, and his son, Hunter. 
Not only did Trump explicitly request assistance in investigating Biden, he personally decided to cut U.S. funding to Ukraine shortly before making the request. The timeline showing Trump's actions before and after the phone call with the Ukrainian president is very telling.
The Defense Department announced in June that $250 million in aid would be provided to Ukraine. Trump's attorney, Rudy Giuliani, tweeted days later that it was "time for leadership" in Ukraine and suggested they look into "alleged Biden bribery" and interference in the 2016 election. The impeachment inquiry is gaining momentum as recent polls show more voters in supports of impeachment.
In July, just weeks after Giuliani's tweet, Trump made an executive decision to block the aid which was meant for Ukraine. Less than a week later, and only a day after Robert Mueller's testimony in front of the House Judiciary and Intelligence committees and Trump's public gloating over it, the U.S. president called the president of Ukraine and explicitly requested "a favor" in the form of an investigation into allegations against Biden.
The funds were subsequently held in a state of limbo for months. Text messages reveal that foreign officers perceived the aid was suspended as leverage, though that has been dutifully denied by Trump and his administration. One message to Sondland from a foreign ambassador read, "As I said on the phone, I think it is crazy to withhold security assistance for help with a political campaign."
Pressure from lawmakers to release the funding for Ukraine increased and the aid was eventually dispersed in September. No explanation was provided as to why the timing was appropriate to release the funds or what had changed since the president's initial decision to block them.
In spite of strong evidence to the contrary, Trump has strongly rejected allegations that he was attempting to make a quid pro quo deal or asking for foreign assistance in the upcoming election. He again claims that the accusations and impeachment inquiry are part of a witch hunt on the part of Democrats seeking an advantage in the 2020 presidential race. 
Rudy Giuliani Under Investigation
A report by the New York Times claims that Rudy Giuliani is now under investigation by the F.B.I. and N.Y. prosecutors for alleged violation of campaign finance laws. Two of Giuliani's clients were arrested on Thursday and he is reportedly under legal scrutiny for his financial dealings with them. Reports suggest he may be part of a bigger effort to use foreign funds to influence U.S. policy and elections.
The two men were apprehended while trying to leave the country with one-way tickets and had lunch with Giuliani at a Trump Hotel only hours before they were arrested, according to The Wall Street Journal. Giuliani has declined to comment on that report.
Allegedly, Trump advisors are urging the president to fire Giuliani because of the optics of this most recent scandal. When asked by reporters if Giuliani is still his attorney, Trump claimed, "I don't know." Reports later clarified that he is but he will not be able to advise Trump on Ukraine.
Turkey Brings War to Northern Syria
Last Sunday, following a phone conversation between Pres. Trump and Turkish Pres. Recep Tayyip Erdogan, the White House press secretary released a statement announcing "Turkey will soon be moving forward with its long-planned operation into Northern Syria."
The statement went on to explain that the U.S. will not be involved without making any mention of what it would mean for Kurdish forces in Syria who have been allies to the U.S.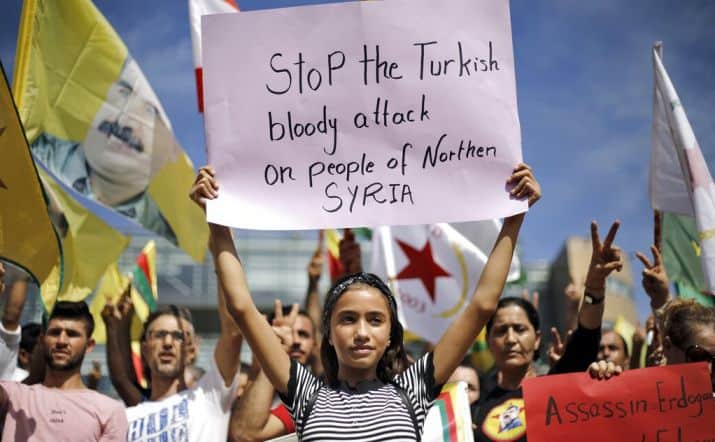 Trump eventually made an announcement via Twitter to claim that he would "destroy and obliterate the economy of Turkey" if they did anything he considered "off-limits" in his "great and unmatched wisdom." He implored Turkey to carry out the operation "in as humane a way as possible" and assured Syrian Kurds that they were not forsaken by the U.S. 
By the time Trump offered that assurance, the Kurds in Syria were already being slaughtered.
Trump's choice to passively allow the offensive by Turkey found many unlikely critics, including Republican Senator Lindsey Graham from South Carolina. He tweeted that the "decision to abandon our Kurdish allies and turn Syria over to Russia, Iran, & Turkey will put every radical Islamist on steroids."
Trump ran on a campaign promise of vanquishing ISIS and the Kurds have been strong allies to the U.S. in fighting the organization within Syria. Nevertheless, Trump downplayed the importance of the U.S.'s recent relationship with the Kurds and instead suggested they were of no help to the U.S. in World War II. The Kurds actually did fight against Nazi sympathizers.
Reports claim that Trump made the decision to remove U.S. troops from Syria on little advice from anyone else. In spite of the sacrifice of U.S. allies, the president gloated that "we did our job perfectly" in doing nothing.
He claimed at a campaign rally that his reason for removing troops from Syria prior to the Turkish assault was that the U.S. had "won" and no longer needed to have any presence there. Somewhat contradictory to that, Trump claimed on Twitter that the troops were removed not because of a complete victory over ISIS by the U.S., but because the conflict in the area was part of an "endless war."
Instead of defending our military allies, the Defense Department announced that over a thousand more U.S. troops will be dispatched to "ensure and enhance" the security and defense of Saudi Arabia. Interestingly, Trump previously claimed that the Kingdom of Saudi Arabia was behind the 9/11 attacks which killed more than 3,00 people on U.S. soil, but now targets ISIS as America's terrorist enemy.
If ISIS is America's biggest terrorist threat, the Turkish operation in Syria is only making it worse. Militants jailed in a Syrian prison were released by a bomb which was claimed by the Islamic State.
Without any assistance from the U.S., Kurdish forces reportedly thwarted a second attempt to free ISIS members from a separate facility while sustaining a devastating strike from Turkey.