Weekend Review: Pelosi Announces Impeachment Charges Against Trump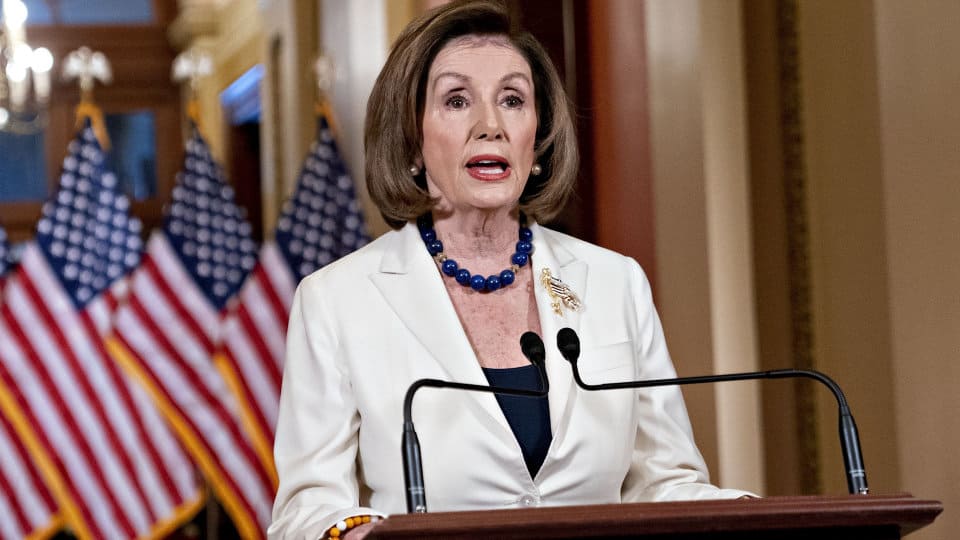 U.S. Speaker of the House Nancy Pelosi has requested that the House of Representatives move forward in filing articles of impeachment against Pres. Donald Trump for abuse of power.
At a news conference on Thursday morning, Pelosi said, "the president abused his power for his own political benefit at the expense of our national security, by withholding military aid and a crucial Oval Office meeting in exchange for an announcement for an investigation into his political rival."
The day before Pelosi's announcement, three constitutional law experts provided testimony to the House Judiciary Committee arguing that Trump's actions were impeachable. A fourth expert said that his actions were worth condemnation, but not impeachable.
Trump made a request through Twitter and wrote, "If you are going to impeach me, do it now, fast, so we can have a fair trial in the Senate, and so that our country can get back to business."
If charges are approved by the House, the Senate will hold a trial where the impeachment is expected to be even more greatly contested by the Republican majority.
National Workers' Strike in France Ongoing
On Thursday, hundreds of thousands of people took part in protests in France to oppose a pension overhaul proposed by President Emmanuel Macron. The strike has disrupted metro, train, and bus stations, impacted a portion of incoming and outgoing flights at several major airports, and closed schools.
Unions have encouraged workers to continue the strike through the weekend and into Monday.
Gunmen Target Protesters in Iraq, 25 Dead
On Friday, gunmen who were reportedly targeting anti-government protesters killed 25 people and wounded 130 others taking part in Baghdad protests. Three were police officers died and the rest of those killed were taking part in demonstrations.
Witnesses said that the electricity in the area where the shooting occurred was cut before the gunfire started. Iraqi militias have carried out similar strikes against protesters before, including a series of knife attacks on Thursday and previous use of sniper fire to target demonstrators.
Tens of thousands of citizens have been taking part in protests calling for political reform in Iraq since October and have specifically demanded freedom from Iran's influence over the country. Iran has been found to be backing some of the militia groups found to be responsible for other attacks on protesters.
Shootings at Florida Navy Base and Hawaii Shipyard Leave 8 Dead
On Friday, a man reported to be a second lieutenant in the Saudi Arabian military shot and killed three people and injured several others at Naval Air Station Pensacola. The gunman, who was reportedly involved in a three-year flight training program, then shot and killed himself.
Two days earlier, an active-duty U.S. sailor shot and killed two people and injured another before killing himself at Joint Base Pearl Harbor-Hickam in Honolulu.
More details in both shootings, including motives, are still being investigated.
Democratic Primary: Kamala Harris Drops Out
Sen. Kamala Harris dropped out of the Democratic presidential primary contest on Tuesday due to a lack of funds to stay in the race. Harris told supporters in an email that "as the campaign has gone on, it's become harder and harder to raise the money we need to compete. In good faith, I can't tell you, my supporters and volunteers, that I have a path forward if I don't believe I do."
There are still plenty of choices for the party's nominee but there appear to be a few frontrunners. A survey by the UC Berkeley Institute of Governmental Studies found that Sen. Bernie Sanders is in the lead in California after former V.P. Joe Biden and Sen. Elizabeth Warren both slipped from the lead. The poll found that voters in the state trust Sanders on important attributes like bringing good change to Washington and sharing values with and understanding the problems of voters.
Biden made news after he engaged in a heated exchange with a retired Iowa farmer this week during which he called the man a "damn liar" after he asked Biden about his son's ties with Ukraine.
Primary voting and caucuses for the Democratic party's 2020 nominee will begin in February.