Hong Kong Protests Will Continue Through The Holidays, Hong Protests For Uyghur Muslims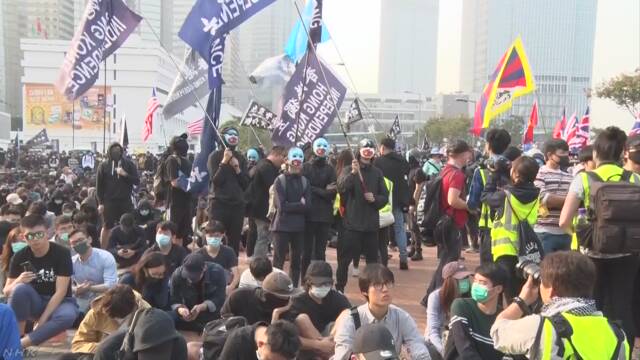 Over the weekend, over a thousand protestors in Hong Kong took to the streets to show solidary with the Uyghur Muslims who are in re-education camps in the Xinjiang province of China. The Chinese government claims the camps offer voluntary education and training, yet document leaks to the International Consortium of Investigative Journalists (ICIJ) show otherwise. 
The ICIJ China Cables reporting details the secrecy measures and indoctrination tactics used within the camps.
… Prevent trouble. Implement inspection systems for key personnel, key parts, key time periods, and key items, discover and dispose of behavioral violations and abnormal situations in classrooms, dormitories and other areas in a timely manner, and evaluate and resolve students' ideological problems and abnormal emotions at all times. Roll out secret forces and bring information officers into play to prevent people from joining forces to cause trouble. Students are not allowed to participate in labor outside class, and may not contact the outside world apart from during prescribed activities. It is strictly forbidden for the students to have their own cellphones or for staff to hand over cellphones to students, so as to prevent the staff from interacting with students and collusion between inside and outside. There must be full video surveillance coverage of dormitories and classrooms free of blind spots, ensuring that guards on duty can monitor in real time, record things in detail, and report suspicious circumstances immediately.
…Adhere to the "three studies." Adhere to the daily concentrated study of the national language (Mandarin), law, and skills, make remedial Mandarin studies the top priority, and ensure time, content, and quality. When studying law and skills, lessons must be taught in the national language (Mandarin), and the national language (Mandarin) should be gradually used in daily life to communicate, to integrate "de-extremification" into national language (Mandarin) teaching. Assign students to classes depending on the students' national language and cultural level, implement different educational classifications. Promote the "Banbantong" video education model. Strengthen teaching research, formulate teaching plans, organize main topics for discussion, presentation, and writing activities, and establish a positive and incentiveoriented mechanism.
Estimates suggest over 1 million Uyghur Muslims are held within these camps; none have been tried for a crime. Protestors in Hong Kong held signs reading "Free Uyghur, Free Hong Kong" and "Fake 'autonomy' in China results in genocide," according to journalists at the rally.
Reuters reports that the demonstrations once again ended in violence between a portion of the rally-goers in black masks fighting with police. An officer drew his firearm but did not open fire on the crowd. However, pepper spray was used. Reuters witnesses reported seeing the masked minority throwing bricks and beating officers.
Protestors have legally planned demonstrations throughout the week, including presenting a presence in five malls on Christmas Eve. According to Reuters an event called "Suck the Christmas" on Christmas Day is expected to bring protests to different districts throughout the holiday.
The protests have taken a toll on business throughout Hong Kong, yet Carrie Lam's administration has yet to give in to the five demands despite pro-democracy candidates winning in sweeping fashion in late November.
The Guardian republished an interview with a Hong Kong protestor over the past week who details why he attends demonstrations week after week.