Weekend Review: Trump and Inner Circle Infected with Coronavirus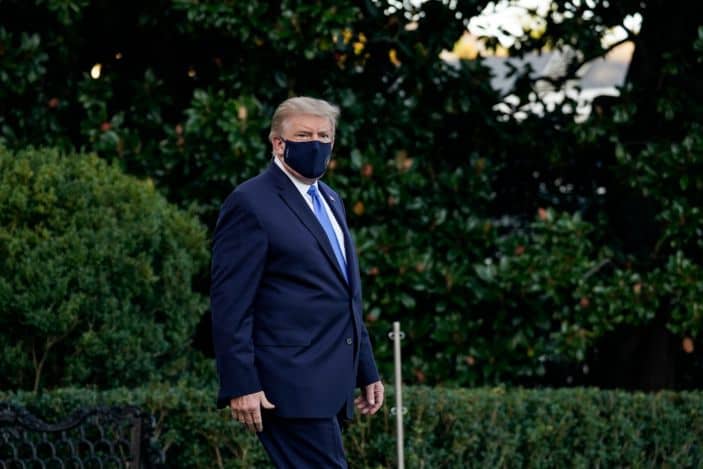 On Friday morning, Pres. Donald Trump announced via Twitter that he and First Lady Melania both tested positive for the coronavirus. Following the announcement, he traveled by helicopter to Walter Reed National Military Medical Center for hospitalization.
The New York Times reported that the president was on supplemental oxygen before leaving the White House but an official statement claimed that both Trumps are only suffering from "mild" symptoms.
There are conflicting reports on the severity of Pres. Trump's condition, but it appears he was diagnosed as early as Wednesday according to statements about his treatment. On Tuesday night, Trump was on stage with Democratic presidential candidate Joe Biden for a debate.
Since arriving at Walter Reed, the president reportedly began treatment with an experimental medicine not yet approved by the Food and Drug Administration. The pharmaceutical company who owns the drug made it available under a compassionate use request, which is intended for "patients with serious or life-threatening conditions who do not have any viable or available treatment options, and are unable to participate in ongoing clinical trials."
On Friday, White House Press Secretary Kayleigh McEnany said Trump will continue to work from his offices on site at the hospital. She claimed the hospitalization came at the recommendation of physicians and other experts, and out of "an abundance of caution."
But a statement provided to the press pool by an unauthorized source at the White House claimed that Trump's vitals were "very concerning" and labeled the president's recovery as "critical" over the next few days.
On Saturday, Trump's doctor's took an optimistic tone while sharing that the president was "doing very well" in the morning. Questions were raised and avoided about how long Trump had been receiving treatment and whether he had been travelling without a mask while aware he was carrying the virus.
Trump provided his own update on Saturday and said he is "feeling well" via Twitter. The president also posted a short video from the hospital, sharing his hope that he will return to the White House soon.
Melania Trump is reportedly recovering at home.
Virus spreads through Trump inner circle
The White House Covid-19 crisis seemed to start mid-week when Hope Hicks, senior adviser to the president, was reported to have tested positive. Hicks had travelled with Trump to and from Tuesday's presidential debate. She was also on his helicopter and seen with his associates, including son-in-law Jared Kushner, all without masks on Wednesday. She tested positive the same day and the president subsequently announced that he and Melania would be entering quarantine.
Since then, former White House adviser, Kellyanne Conway, and Trump's campaign manager, Bill Stepien, have tested positive. Both are reportedly suffering "mild" symptoms, which seems to be a common theme in press statements.
Former New Jersey Gov. Chris Christie also announced via Twitter that he tested positive. Christie helped Trump to prepare for but was not present at the debate.
A group of people who attended Trump's event for Judge Amy Coney Barnett in the White House Rose Garden last week have since tested positive. That event may be where the Trumps and Conway were exposed, as many attendees did not wear masks or practice social distancing.
Trump's presidential rival, Joe Biden, said that he and his wife, Jill, have both been tested and received negative results since the debate.
Chaotic first presidential debate
During Tuesday's contemptuous presidential debate, the 2020 candidates squared off on a stage for the first time. Pres. Trump repeatedly interrupted and attacked former Vice Pres. Joe Biden, who called the president a "clown" and even asked him at one point, "Will you shut up, man?".
Trump stole the show by stating, "Proud Boys, stand back and stand by," instead of condemning white supremacists and other members of violent, self-styled militias. The Proud Boys specifically are a far-right extremist group which aligns with and promotes white supremacy, according to the Southern Poverty Law Center.
Trump also tried to paint Biden as a "radical leftist" like Sen. Bernie Sanders, which is patently untrue. In reality, Biden has faced vocal resistance and pressure from voters who prioritize policies that Sanders championed in his second presidential run, like Medicare for All and a Green New Deal.
By most accounts, Biden won the debate by default even though he missed opportunities to hit Trump on major issues, namely wearing a mask to help prevent the spread of the coronavirus.
A vice presidential debate is scheduled for Oct. 7 and the second presidential debate for Oct. 15, presumably dependent on the president's Covid recovery.