Weekend Review: Trump's Second Impeachment Begins With Frightening Footage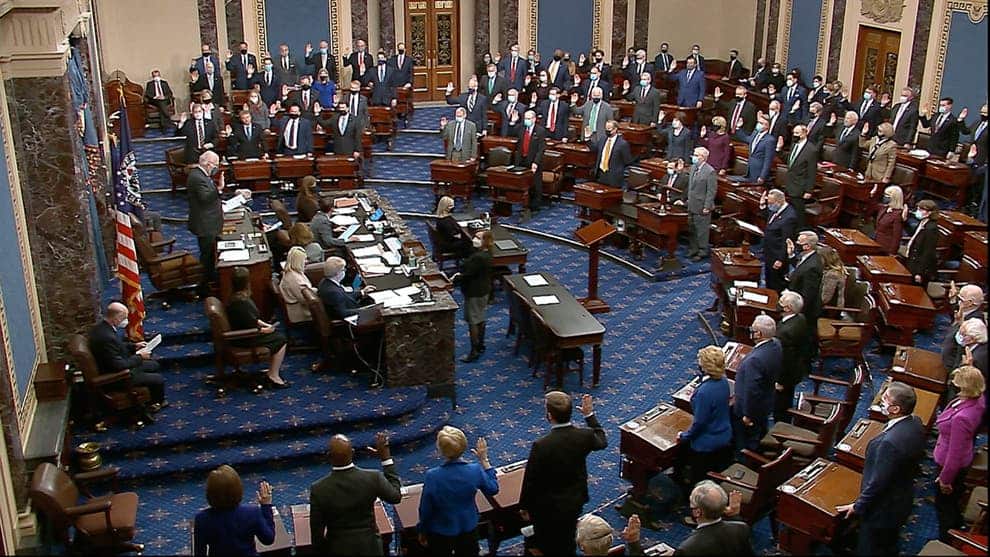 The second impeachment trial of former President Donald Trump began this week, and Democratic House impeachment managers opened with compelling video of the Jan. 6 attack on the Capitol. Some lawmakers were reported to be visibly shocked and shaken to see how close rioters came to them and their staffs.
The managers used years of evidence against Trump, pointing to tweets and speeches where he arguably encouraged violence against political opponents. They ended their argument by tying him directly to the Capitol mob and sharing concerns that he will easily incite more riots if he is not convicted. Lead House impeachment manager Representative Jamie Raskin said that failing to find his involvement to be a "high crime and misdemeanor" would "set a new, terrible standard for presidential misconduct in the United States of America." 
Unfortunate to Trump's defense, former U.S. Ambassador to the United Nations Nikki Haley turned on him in a Politico interview which was published on Friday, just as his rebuttal was set to begin. "He went down a path he shouldn't have," she said. "We shouldn't have followed him, and we shouldn't have listened to him. And we can't let that ever happen again."
Trump's lawyers opened their defense arguments on Friday by citing free speech. They also referenced various contexts in which Democrats used the word "fight" to encourage action from voters. Attorney Michael van der Veen argued that the former president's pro-riot rhetoric was "virtually indistinguishable from the language that has been used by people across the political spectrum for hundreds of years."
The lawyers had up to 16 hours to prove their case, but they reportedly concluded in about two and a half. His lawyers have also publicly argued that he should not be impeached because he is now a private citizen. The trial could conclude with a vote as early as this weekend, depending on how the House managers respond to the defense's argument. 
Biden Announces New COVID Deal to Provide More Vaccines to Americans
President Biden has announced a deal to deliver 200 million more COVID-19 vaccine doses by the end of July. "We've now purchased enough vaccine supplies to vaccinate all Americans," Biden said, adding that his administration is "working to get those vaccines into the arms of millions of people."
Biden has also promised to fund a national vaccine program and to make vaccines free for everyone as part of his American Rescue Plan, a $1.9 trillion budget stimulus package which remains in review.
In related news, Johnson & Johnson has announced development of a vaccine that provides inoculation in a single dose, which is pending approval by the Food and Drug Administration. The company is prepared to provide 100 million doses upon authorization, and a FDA committee meeting is scheduled for Feb. 26 to make a recommendation for emergency use authorization.
Evidence Suggests Live Rounds Are Being Used Against Myanmar Coup Protesters
United Nations human rights investigator Thomas Andrews spoke at a special session of the U.N. Human Rights Council in Geneva, sharing his concern that "growing reports and photographic evidence" pointed to the use of live ammunition against Myanmar coup protesters.
Control of the country was seized by the military earlier this month, citing fraud in the November election. They declared a state of emergency and detained Aung San Suu Kyi and other leaders from the National League for Democracy after challenging the party's victories in 2015 and 2020. Suu Kyi was seen as the country's de facto leader, in spite of a constitutional law which prevented her from becoming president.
An estimated 350 people have been taken into custody. Tens of thousands of people have rallied in protest of the detainments and other military actions. The military has used force to attempt to stop the protests, which continue in spite of growing fear of injury or arrest.
According to a statement from Deputy High Commissioner for Human Rights, Nada Al-Nashif, "Draconian orders have been issued this week to prevent peaceful assembly and free expression, and police and military presence on the streets has grown progressively over the last several days. Following violent clashes with police on 9 February, at least one woman is in critical condition. Pro-military and nationalist groups have also taken to the streets."
May Wong, correspondent for Channel News Asia, reported on Twitter that police were allegedly arresting people at night.
The U.N. has called for Myanmar's military to restore civilian rule as the Biden administration announced sanctions on ten current and retired military leaders involved in the coup.