Traffic Offence: Arise TV journalist apologises as court fines him N70k over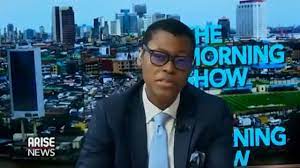 Oseni Rufai, an Arise Television journalist, was fined N70,000 for driving through a bus rapid transit (BRT) vehicle route in Lagos.
Oseni said that a police officer grabbed his automobile at gunpoint for a traffic infraction.
On Monday, the Arise TV journalist issued an alert through Twitter.
In response to Oseni's remark, Lagos police spokesperson Benjamin Hundeyin stated that the journalist disregarded traffic regulations and defied officers.
He stated that Oseni acknowledged to breaking the law by driving into the bus rapid transit (BRT) lane, and that his allegation that he was misdirected by Google Maps is untrue.
The event elicited a range of opinions on social media, with some Nigerians arguing that the journalist should face prosecution while some netizens argued that Oseni was targeted owing to his criticism of the government.
In a tweet on Tuesday, Hundeyin provided an update on the event, revealing that the journalist was found guilty by the court of breaking the Lagos State Transport Law 2018.
According to the Lagos police spokesman, Oseni paid the N70,000 fine and his vehicle was returned to him.
It is a traffic violation in Lagos for drivers of non-BRT vehicles to pass through designated BRT lanes.
"UPDATE: Mr Rufai Oseni was in court earlier today. He was found guilty of contravening Lagos State Transport Law (2018). He was subsequently fined Seventy Thousand Naira Only. He made the payment, after which his vehicle was released to him," Hundeyin wrote.
In response to the event, Oseni apologised on Wednesday during Arise TV's Morning Show, calling it a "very humbling experience."
"As many of you know, I've been in the news for the wrong reasons in the previous two days," the journalist explained.
"This has resulted in needless distraction for my friends, family, members of the public and for all my colleagues here on Arise News Channel.
"I would therefore like to apologise to all parties over what transpired during the incident with the police when I was stopped for driving on a bus lane. I cannot and dare not lay claims to knowing it all.
"Lessons have been learnt from this entire episode and this has been a most humbling experience for me.
"I would also like to use this opportunity to express my gratitude to all those who have reached out to me in the last two days for their guidance and counseling."