It's suicide if you sell land to Fulani herdsmen, IPOB warns monarchs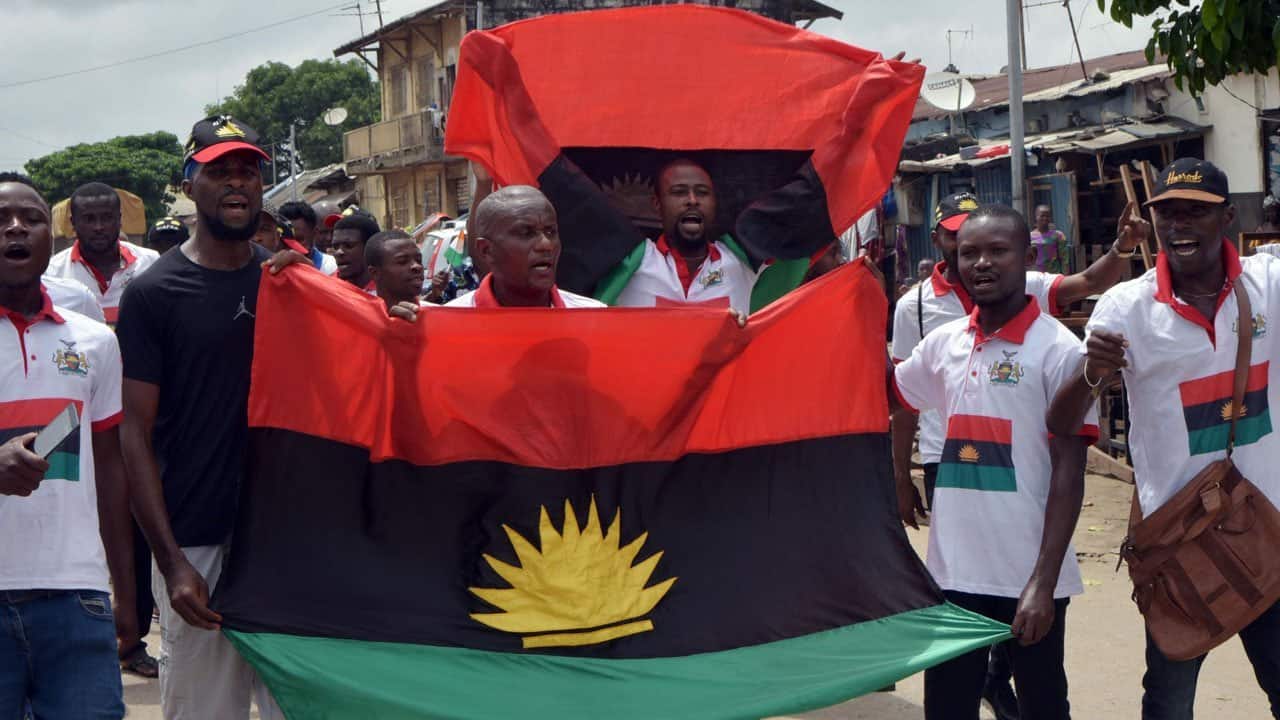 The Indigenous People of Biafra (IPOB) has warned leaders of Southeast Nigeria including traditional rulers and president generals against any plan or attempt to sell any community land in the region to Fulanis.
 
IPOB gave the warning in a statement issued by its Media and Publicity Secretary, Emma Powerful, saying that the warning became necessary as anyone who fails to desist from such a plan or resist such pressure will pay heavily for it. 
IPOB warned that after the warning, if the secessionist group finds out that anyone sold land to Fulani people, who it described as "invaders", it would not allow the new owners or their agents to operate on such land.
 
The group added that the owner of the land will forfeit it forever. 
IPOB stated, "This warning has become very necessary and is mainly for all Igbo Traditional Rulers, PGs, Politicians, Real Estate Agencies and other political jobbers in Biafraland to desist from any attempt to secretly allocate community lands to Fulani herdsmen in the name of Agricultural investment or any project. The marauding Fulanis are not coming for any agricultural business but rather to occupy the land with their cattle and subsequently invite their terrorist relatives from Sahel to occupy our ancestral lands in their land grabbing agenda.
  
"Anyone after these warnings that goes ahead to sell lands to these invaders, and we get wind of it should bear it in mind that we cannot allow Fulanis or their agents to operate on such land. The owner of the sold land will forfeit that land forever. 

"If you have any ongoing negotiations on land sold to Fulanis or their cronies, we advise you to cease forthwith with such arrangements. We cannot hand over our ancestral lands to Fulani invaders whose agenda is land grabbing in disguise and violent takeover in future. If you want to understand what we are preventing, study the history of Hausas in the Northern part of Nigeria." 

It added, "We don't want any RUGA or any such other name they call it in any of our territories. Our people must understand that either free or donations you are going to regret your decision to cede any of our ancestral lands to Fulani for any purpose. 

"At this moment, we don't need any government-sponsored Agricultural project because it may be RUGA in disguise until the Fulanization agenda is buried. Fulanis have masked themselves in deception for many years until IPOB unmasked them." 

"Both Governors and Traditional Rulers in Biafraland should also monitor themselves to ensure this advice and order given by IPOB is strictly adhered to for our future peace.  But if anyone thinks he or she can flout this order, that person(s) should be ready to dance to the music of ESN/IPOB. We assure you that neither you or your family will escape judgment. Outside the judgement, IPOB will convert such land recovered from the terrorist Fulani herdsmen into public use for the benefit of Biafrans. 

"Let this message go round to our people in all villages and communities for maximum dissemination so that no one will say he/she did not hear or did not know. Please inform those getting themselves into this suicide mission of land selling to the Caliphate of the heavy consequence awaiting them," the group warned.