How my training, experience, knowledge can rescue Nigeria – Tinubu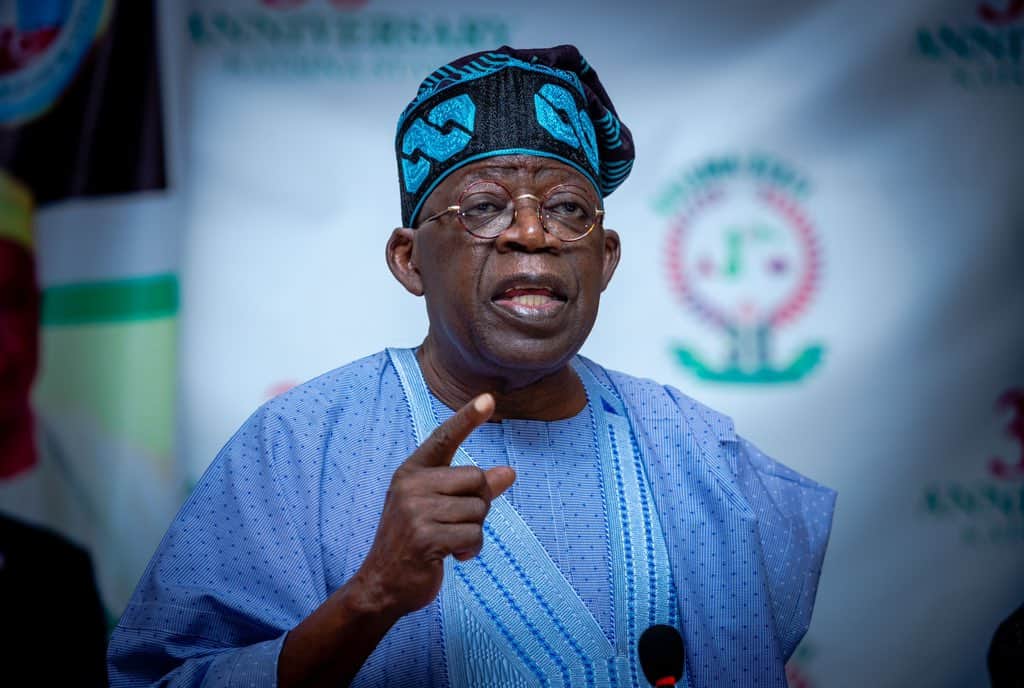 The kingdom of God is subject to violence, and the violent will seize it. That is a biblical proverb, and Tinubu's capture of the All Progressive Party's presidential ticket may be regarded as a forcible conquest.
Or, how else could one explain his massive victory in the party's primaries on June 7 and 8 without reaching that conclusion? More so, in a field of more than ten contenders?
While his rivals went after delegates, Tinubu, who also goes by the pseudonym Alakanbi and the booming moniker Jagaban 'Borgu, went for the candidates themselves; that is, once he had the aspirants in his corner, the delegates were harvested for him. He did it in whichever way he saw fit. Some approaches. Some foresight.
So, having fought the first half of his life's war by accepting the presidential ticket, Tinubu is bracing for the second phase, which is the presidential election proper.
You can't speak about Tinubu without mentioning Emi lo Kan, Eleyi, or O lu'le in this political season… Alternatively,'recruit 50 million adolescents.' Or how about the story of agbado, cassava, and Garri? It would be a great insult and a disrespect to Tinubu's customary romance with theatrics, to say nothing of those. Is it about the way he scoops up the flaps of his agbada in slow motion? He is a drama queen.
Make no mistake about it: Tinubu is a serious man, a very serious man.
Yes, people are allowed to make mistakes when speaking. And erroneous attributions or remarks that are not apt or right in all materials especially are not the franchise of a single presidential contender, as Peter Obi and Atiku Abubakar have both fallen into the muck, as all humans do. As a result, they may all be forgiven.
But, beyond the aesthetics and packaging, Tinubu must deal with certain difficulties. How does it seem when Tinubu claims he would maintain and expand on President Muhammadu Buhari's achievements? Or his choice of running mate, who is also a Muslim, as he is? Or what about his health?
Some of these questions have been answered. At the very least, in 2019, he confronted President Buhari with some unsettling truths about the status of the nation and the path forward. You may only offer advice. He has been asking Nigerians of various religions to trust him based on his similar religious decisions. It is his choice, and whatever the results, the weight is his.
For those who are concerned about his health, it is worth noting that one of the greatest American Presidents, Franklin Delano Roosevelt, FDR, was wheeled into the White House in 1932, after beating Republican incumbent President Herbert Hoover by a landslide electoral vote of 472 to 59. According to TIME's GREAT PEOPLE OF THE Twentieth CENTURY, FDR "suffered from a cold that was misdiagnosed, then the horrifying paralysis of polio," which ensured that he never walked again unaided – with braces or with the aid of a wheelchair. He went on to lead America for an unprecedented four terms. But that was in 1932.
This is the year 2022/2023. Today's difficulties are as massive as those encountered during the Great Depression, which FDR dragged America and, indeed, the entire globe through. Nigeria, yet again, is not America. Nigeria is a country that President Buhari has led for seven years and, if truth be known, has not fared much better in terms of insecurity, the economy, education, corruption, and so on. Tinubu claims to be up to the challenge.
As is customary, we have cobbled together his current views on what he stands for and what he aims to achieve on a variety of problems using publicly available information (in his own words and speeches). A more in-depth interview with the candidate is being explored and will be published later. But we can hold him down to the following statements.