Student apologizes to Aisha Buhari after release from detention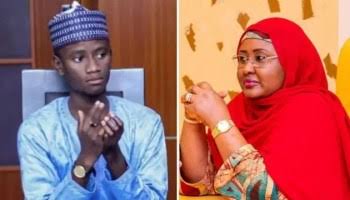 Aminu Mohammed, a final-year student at the Federal University of Dutse, Jigawa State, has apologized to Aisha Buhari for "hurting" her.
Mohammed made the apology after he was release from prison.
The student had in a tweet in June this year claimed that Mrs. Buhari was getting "fat" off the money of the poor.
Security personnel afterwards detained the 500-level student, who was then brought before FCT High Court No. 14 for arraignment.
However, under considerable pressure, the First Lady dropped the case against Mohammed on Friday.
Her defense lawyer, Fidelis Ogbobe, claimed that the withdrawal came as a result of well-intentioned Nigerians' participation.
After being freed, Mohammed responded in a tweet by claiming he didn't mean to offend Mrs. Buhari.
"I would like to use this medium to express my sincere apologies to those I've hurt, especially our mother, Aisha Buhari. It was never my intention to hurt your feelings and insha Allah I will change for the better. However, I'm also grateful for your forgiveness, thank you mama," he tweeted.