Thugs in Kogi destroy PDP billboards despite N11million advert fee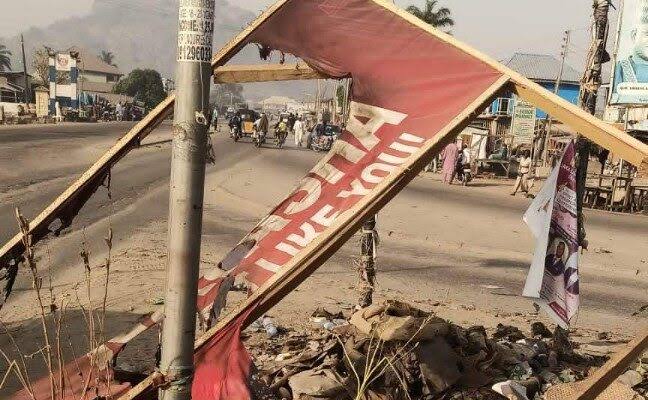 Hoodlums said to be loyal to the Kogi State government have reportedly destroyed the campaign billboards of Natasha Akpoti-Uduaghan, Kogi Central Senatorial candidate of the Peoples Democratic Party in some local government areas.
The Yahaya Bello-led government had asked the PDP and others to pay millions of naira before their candidates could be allowed to paste posters or distribute flyers.
In a letter dated October 24 and addressed to the PDP chairman in the state, the government demanded the payment of the fund within 14 days.
However, despite the payment by Natasha, her campaign billboards across five local government areas were destroyed by hoodlums suspected to be loyal to Governor Bello.
"Despite the fact that Natasha Akpoti Uduaghan paid N11.2 million to the Kogi state government as signage fee, her billboards across five local governments were destroyed by All Progressives Congress' thugs working for the governor," a source said.
"This was carried out in Okene and Adavi local government areas in particular."
There has been a clampdown on members of the opposition parties in Kogi State.
It had been reported how thugs loyal to Bello attacked the campaign flag-off of Akpoti-Uduaghan in the state.
One person was shot while two other persons were macheted before the police repelled the attackers.
Bello had openly threatened to use firepower on members of the opposition political parties in the state ahead of the 2023 general elections.
He also said political opponents in the state that trespasses would never see the sun again, ahead of the 2023 general elections.
Speaking in Ajaokuta after inaugurating a vigilance group in October, Bello said he was standing on the initial threat he made to deal decisively with anyone saying bad things about his administration in the state.
"Be it in the state or the federal level and you think you have connection that you can use here in Kogi, unless it's not I, Yahaya Bello that's in charge of this government. I want to reinstate that the 'Ira Chenyin' I said the other time is something I mean," the governor said.
"For that, everyone should caution his or her child and every child should caution their parents. I mean what I said the other time, firepower. Whoever thinks that the firepower I mentioned the other time is a joke, I'm well prepared. Talk is cheap.
"It's time for elections, all the candidates, all our party flag bearers, from Senate, to Reps, to Assembly, they are not the ones contesting, I, Yahaya is the one contesting. So those contesting against them are contesting against me who have chosen them."