FGN IFAD VCDP Distributes Farm Inputs, Equipment To Flood Affected Farmers In Anambra State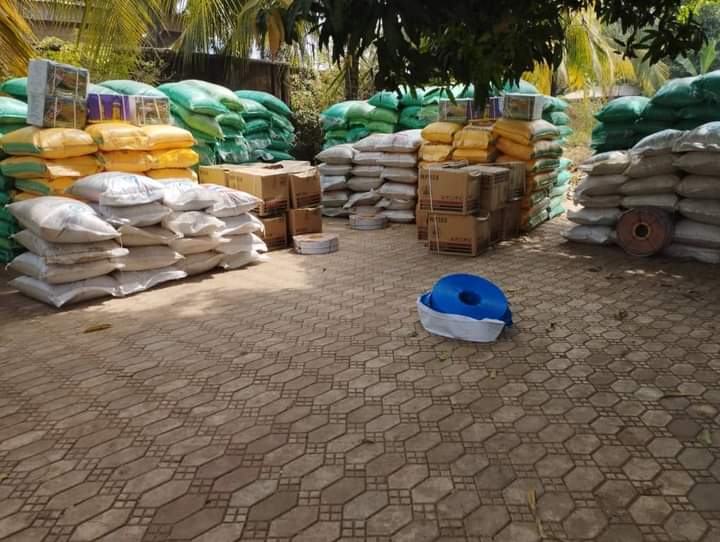 Over fifty-nine million naira worth of farm inputs and implements have been distributed to about two hundred Anambra State Farmers, profiled for the 2022/2023 dry season rice farming.

The inputs, which included water pump and its asseceries, selective and nonselective herbicides for rice farming, improved certified rice seeds, NPK and Urea Fertilizers, were distributed by the FGN/IFAD VCDP to farmers under "Flood intervention strategy." 
Flagging off the distribution excercise at ADP in Awka, the Commissioner for Agriculture, Dr. Foster Ihejiofor, described the excercise as hope to the hopeless.
Dr  Ihejiofor affirmed that with the mega inputs into Anambra State economy, there will be multiple creation of wealth as the average rice production per heactre will result to over one thousand, nine hundred tons of rice into Anambra Markets. 
The Commissioner for Economic Planning and Budget, Mrs. Chiamaka Nnake, who disclosed that they have been looking forward to the inputs, defined it as one of numerous assistances for farmers which they are not taking for granted. 
She promised the release of Government Cash Counterpart Contribution since Agriculture remains Governor Chukwuma Soludo's number one priority. 
The National Programme Coordinator, FGN IFAD VCDP, Dr Fatima Aliyu, said in response to the effects of flood and in an effort to provide sucour to participating states, the VCDP reallocated funds and set aside two hundred and fifty million naira to provide agro inputs and equipment to affected farmers to carry out dry season farming.
Dr Aliyu, represented by the Knowledge Management and Communication Advisor, IFAD VCDP, Mrs. Vera Onyeaka-Onyilo, said further to this support and more, the VCDP will deploy climate adaptation strategies to reduce the effects of future floods on farmers. 
She commended Governor Soludo for his commitment and support to the VCDP in Anambra State while appealing for the continuous payment of Government Cash Counterpart and assured their unwavering support and collaboration to improve the livelihood and income of state farmers.
The state Programme Coordinator, FGN IFAD VCDP, Mr. Nnamdi Agwuncha, who frowned that they lost about fifteen of their farmers to the deluge, announced that the inputs are for one hectare of rice farm each, and charged beneficiaries to put them into good use as a monitoring team from Abuja will come next year to monitor the usage, progression and yields.
For some of the beneficiaries, including Chief Clement Onwuachu and Mrs. Bridget Orji, the inputs reawakened their spirit as they promised to put them into good use to achieve food sufficiency in the state.
Dr. Aliyu and her entourage had on arrival paid a courtesy visit to Commissioner Ihejiofor, who appealed to FGN IFAD VCDP to integrate it's activities into the state agenda of regenerative agriculture for a healthier living.