G-5 govs maintain position on Atiku, set for Makinde's campaign rally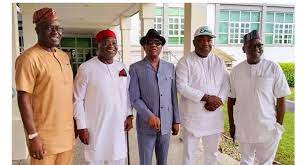 On Monday, there were signs that Udom Emmanuel, the governor of Akwa Ibom State, had failed in his attempts to convince disgruntled PDP governors to accept peace.
Emmanuel met with Samuel Ortom, the governor of Benue State, and Nyesom Wike, the governor of Rivers State, a few days ago in Port Harcourt as part of his efforts to persuade the resentful governor to back Atiku Abubakar, the PDP presidential candidate.
Emmanuel had characterised the meeting as a brotherly visit in the spirit of Christmas, but many perceived it as a last-ditch effort by the governor to persuade his counterparts to give peace a chance, despite the fact that
This came to light on Monday because the disgruntled governors were due to travel to Ibadan on Thursday to launch the campaign of their counterparts from Oyo State, Seyi Makinde.
After Atiku, a northerner, won the party's presidential nomination, Wike, Ortom, Makinde Okezie Ikpeazu, Abia; Ifeanyi Ugwuanyi of Enugu State, and some other political heavyweights from the South broke off their relationship with the PDP presidential candidate over his alleged refusal to pressure Iyorchia Ayu, the PDP National Chairman, to resign.
The governors argued that Ayu's departure would ensure that the main opposition party's leadership was balanced.
There was no turning back in the five disgruntled governors' choice to desert the party's presidential candidate, according to an acquaintance of the governor of Benue State who spoke candidly to The PUNCH.
However, a close confidant of Ortom's claimed in an exclusive interview with the newspaper correspondent that the Akwa Ibom State governor had previously visited with his Benue State counterpart in Makurdi, with the latter quickly informing his visitor that working with Atiku was no longer viable.
He said, "Governor Ortom told him that Atiku had burnt his bridges. He also told him that there was nothing he alone could do and urged him to meet with the other four governors that make up the Integrity Group.
"The PCC knows the importance of the governors as far as elections are concerned and as chairman of that council, Udom Emmanuel took it upon himself to intervene. This is what took him to Port Harcourt.
"I can't speak for Wike but Governor Ortom assured him that while he would not campaign for Atiku, he would also not campaign against him. He also promised not to stop anyone desirous of campaigning for the former Vice President in the state from doing so."
The flag-off of Makinde's second-term campaign rally will take place on Thursday in Ibadan, the capital of the Oyo state, with the five governors present.
It was gathered that all five of the governors had committed to attending the event.