G-5 govs are confused, losers in waiting, disregard them, Nabena tells Tinubu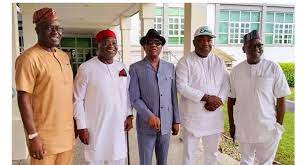 Yekini Nabena, a senior member of the ruling All Progressives Congress, APC, has characterised the five disgruntled governors of the Peoples Democratic Party, PDP, led by Rivers State Governor Nyesom Wike, as disoriented, disabled, and unable to influence the outcome of the presidential election scheduled for next month.
Nabena urged political figures to reconsider their relationship with the five governors, especially those in the APC.
The leaders of the governors are Ifeanyi Ugwuanyi of Enugu, Samuel Ortom of Benue, Seyi Makinde of Oyo, Okezie Ikpeazu of Abia, and Wike.
In the wake of Wike's defeat to Alhaji Atiku Abubakar in the PDP presidential primary and his exclusion from consideration for the vice presidential position of the party, which was offered to Governor Ifeanyi Okowa of Delta State, the "G-5" was formed.
The group hasn't yet declared Atiku as its preferred presidential candidate, but it is insisting that Iyiorcha Ayu, the PDP's national chairman, be removed before it can endorse him.
With the exception of Governor Wike, the other four governors, according to the former APC spokesman, have not lived up to the expectations to deliver respectable votes for any presidential candidate, he stated during a brief interactive session on Friday in Abuja.
Nabena asserts that the upcoming general election will be out of the reach of some underperforming serving governors, such as Ortom, Ikpeazu, Ugwuanyi, and Makinde, with the exception of Wike, who has some infrastructure to demonstrate to the electorate, unless INEC directly delivers election materials to the state government house and permits them to manipulate the process.
The Bayelsa-born politician said when asked if his party would support the G-5 if they chose to support Asiwaju Tinubu:
"The G-5 governors are confused and handicapped whether as PDP men or as supporters of any opposition party.
"We have been hearing all manner of things. Today they are with Asiwaju, tomorrow they are with Peter Obi and next tomorrow they may work for Atiku. Which one do we believe?
"If they support our party and we win in the February presidential election, our members won't see the G-5 governors as an ally to be trusted. Again if they change their minds and work for Atiku, and (God forbid) PDP wins after all they have told Nigerians, they will still be treated like pariahs. The same treatment will befall them in Labour Party. Therefore, give or take, these governors are losers in waiting."
Nabena urged Nigerians to ignore the "noise making-governors", adding that no serious presidential candidate is still counting on their support to win in February.
He said: "The new Electoral Law has reduced dramatically, the influence of seating governors to do magic during election unless the electoral umpire decides to handover the process to them. The less-performing governors are the worst for it because electorates won't listen to them on election day.
"Again, the innovations as introduced by INEC, if religiously followed, is another challenge for those who think they can sway the vote. This BVAS is not anybody's mate. People will decide and not governors any longer.
"I will advise those who are still waiting on the G-5 governors to shift their attention to the real voters because these governors won't be at the polling unit on election day," Nabena said.
When asked about his assessment of ongoing APC campaign rallies across the state of the federation, Nabena said: "Tinubu's candidacy is nationwide accepted, that's why you see massive support wherever the campaign train goes.
"By God's grace, victory is certain for the APC and that's why I don't think we need the support of these paperweight G-5 governors because it will be unfair to our leaders in these five states who are working hard and mobilizing for our candidate (Bola Tinubu) to be relegated for the PDP governors."
The APC chieftain, however, called for more inclusion in the ongoing process to deliver Tinubu/Shettima presidential ticket.
"I will call on our leaders to bring more people on board. There are certain people who are still aggrieved because of one thing or the other, especially as a result of primary elections that produced various candidates at all levels. The APC national leaders should do more to ensure genuine reconciliation across the board," Nabena said.