Obi pledges to use oil discovered in Bauchi to develop North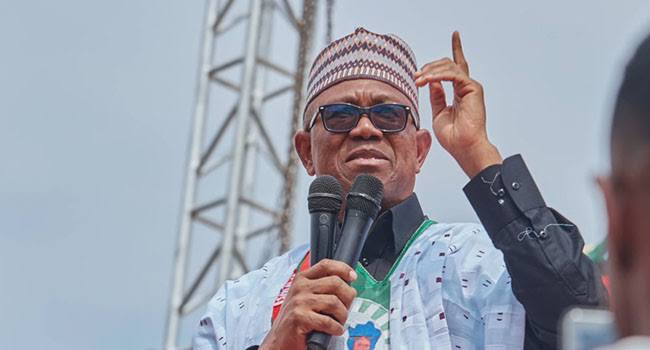 Peter Obi, the Labour Party's presidential candidate, promised Thursday that the oil found in Bauchi State would be used to develop both the state and the surrounding area.
He made the commitment during a presidential rally at the Tafawa Balewa Stadium in Bauchi.
Obi said, "We know what is happening in Bauchi today. We want the oil discovered in Bauchi to be used to develop Bauchi, and to give you jobs. We will make sure that oil is used to develop Bauchi, to develop the North, to make sure everything is working, not that somebody will steal the money and everybody is hungry.
"Go out on the 25th [of February], go and vote for Labour, go and look for LP and vote for LP, and then you will start seeing a new Nigeria."
He said that Bauchi serves as a constant reminder of the once-united and peaceful Nigeria that existed, thanks to the state's production of former Nigerian leader Abubakar Tafawa Balewa, who set the nation on the path to greatness.
Obi bemoaned that the nation's current leaders have turned it into a place where poverty breeds, even if he acknowledged that Tafawa Balewa was a fine leader who believed in Nigeria.
Nigeria would have been better, according to Obi, if current Nigerian leaders had used their borrowed cash in the same way that Balewa had when constructing the Kainji Dam.
Along with the presidential flagbearer, other prominent Party figures who were in attendance at the gathering were vice presidential candidate Yusuf Datti Baba-Ahmed, national chairman Julius Abure, and Pat Utomi.