Alaba Market In Lagos Embarks On 'No Voters Card, No Entry' For Traders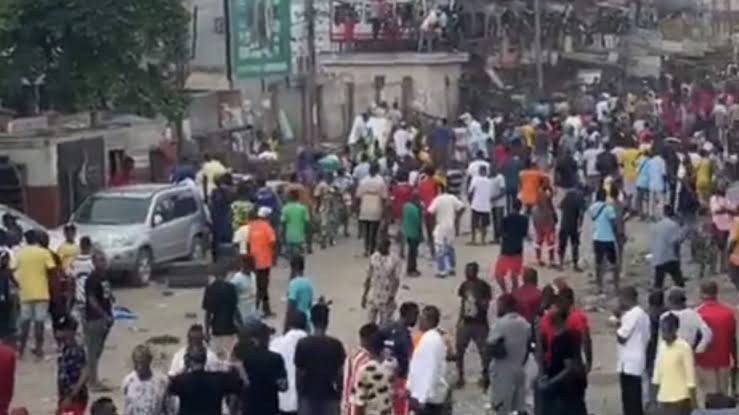 With barely a month to the general elections, the leadership of the Electrical Dealers Association of Nigeria, Alaba International Market, Lagos State, has embarked on no Permanent Voter Card (PVC), no entry.

According to a video footage seen, all the business owners in the market were locked outside by the leaders with only those who were able to show their PVCs allowed entry into the market.
A witness, who explained what was going on in the video, said that the action of the market leaders including the Public Relations Officer who were secured by a well-armed operative of the Nigeria Security and Civil Defence Corps, was in line with what they planned.
According to the narrator, the market leaders were making sure that every business owner in the market who is eligible to vote is able to vote in the forthcoming elections.
The witness said, "Looking at this place, you will understand that what is going on is what was agreed on. This is the Electrical Dealers Association of Nigeria, Alaba International Market, Lagos State. You can see that they are trying to make sure that anyone entering this market has his/her PVC (Permanent Voters Card).
"The officers of the market are doing everything possible to make sure that before you enter inside the market, you are with your PVC. This time around, the market has taken upon itself to make sure that things go as they are planned. They are doing the work as it was planned.
"You can see the PRO (Public Relations Officer) of the market making sure that everything is going well as it is supposed to be. These ones inside the market are with their PVCs already."

While the Independent National Electoral Commission (INEC) has insisted that the general elections must hold as scheduled with the Presidential and National Assembly elections taking place on February 25, many Nigerians have reportedly not collected their PVCs from the electoral umpire.