Revised Travel Ban Went Into Effect Yesterday 8 PM; Advocates Preparing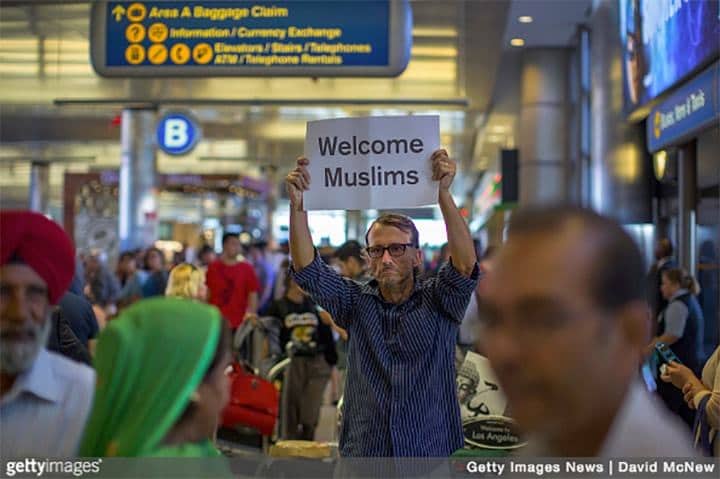 After Monday's Supreme Court ruling reinstating part of President Trump's March 6th travel ban, the State Department confirmed that the revised travel ban would go into effect at 8 PM on Thursday night.
The order will ban citizens of Libya, Iran, Syria, Yemen, Somalia and Sudan without a provable 'bona fide relationship' to the United States from entering the country for ninety days. Refugees from any country will be banned for 120 days.
A bonafide relationship, according to reports, would be a relative living in the United States, or an institution such as school or a job. If the relationship is a relative, they must be a close relation. According to the Washington Post, relatives who count as 'significant' would be a parent, child (regardless of age), spouse, sibling, son or daughter-in-law, step-parent, step-child, and step-sibling. Other relations are explicitly not covered. Fiances are not exempt from the ban, despite specific visas for those relationships.
Many human rights and advocacy groups have already condemned the guidelines, including Johnathan Smith at Muslim United, who called the rules, "extremely disappointing and troubling."
American citizens, permanent residents, dual citizens, visa applicants already present in the United States, anyone granted asylum, and refugees already admitted are exempt from the ban. Consular officers may be able to grant further exemptions if they have, "previously established significant contacts with the United States", "significant business or professional obligations", if they are traveling for business with the American government or a recognized international organization, legal residents of Canada, children, and those in need of urgent medical care.
At least a dozen attorneys are expected to volunteer at New York City's John F. Kennedy Airport, to assist those who may be affected by the ban. Lawyers are also scheduled to volunteer at Seattle's Sea-Tac Airport, Los Angeles International Airport, 
In response to the policy released by the State Department, the ACLU tweeted, "It remains clear that President Trump's purpose is to disparage and condemn Muslims. […] The reported guidance does not comport with the Supreme Court's order, is arbitrary, and is not tied to any legitimate government purpose."
Goldie Poll, Caracal Reports