Hundreds Dead In Powerful Mexico Earthquake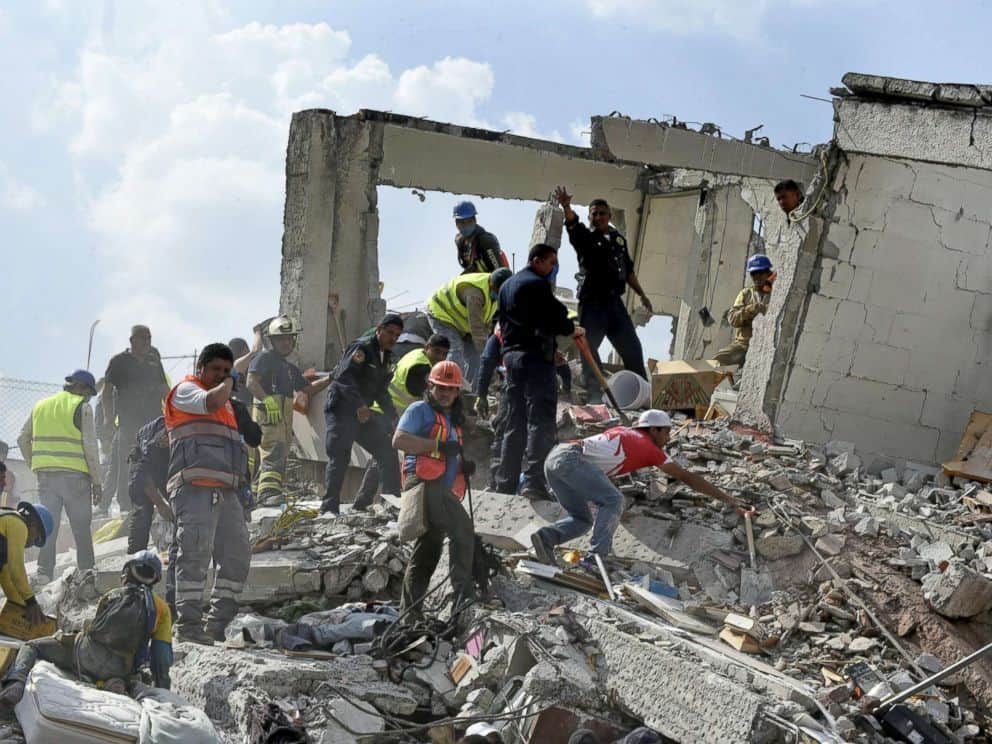 Posted:
September 20, 2017 at 2:47 pm / by
Conor Baker
/
For the second time in a month, Mexico has been struck by a powerful and devastating earthquake. According to Mexico's civil protection agency, the death toll stands at 225 as rescue efforts continue. Central Mexico was hit by  7.1 magnitude earthquake yesterday evening. The head of the agency, Luis Felipe Puente, said 94 are dead in Mexico City, 71 in Morelos state, 43 in Puebla, 12 in the State of Mexico, four in Guerrero and one in Oaxaca.
Yesterday's was the deadliest earthquake in Mexico since 1985. Eerily, that earthquake struck on the same date 32 years ago and killed thousands. This comes less than two weeks after another earthquake struck Mexico's south, which killed 90 people. The earthquake has prompted the Mexican Federal Government to declare a state of disaster. This means that emergency funds are available to help respond to the devastation.
Hours before the earthquake, authorities held a citywide drill on the anniversary of the 1985 earthquake. That earthquake was one of the country's worst natural disasters, as roughly 9,500 were killed in and around Mexico City.
Dozens of buildings were felled by tremors during the powerful earthquake. Included in these buildings was a school, wherein at least 20 children have been killed. Rescue efforts began quickly as groups of police, firefighters with trained dogs, and neighborhood volunteers began digging through the school's rubble with their bare hands. The rescue effort continued throughout the night as people tried desperately to dig for survivors and listen for any faint cries for help.
More than 2,000 public schools in Mexico suffered damage in the earthquake, the education secretary said. Sixteen of Mexico City's 212 schools suffered severe damage including the collapsed school. Four people were killed and another 40 injured at the Monterrey Institute of Technology in Mexico City.
The earthquake struck very close to the town of Raboso in the central state of Puebla, roughly 76 miles southeast of Mexico City. Roughly four million people are believed to be without electricity, as 40 percent of Mexico city has lost power. On top of this, roughly 60 percent of Morelos State, to the city's south is without power as well. An unaccounted number of people are displaced amid the destruction. Many have been forced to relocate to shelters as their homes were damaged or destroyed. Schools have been closed indefinitely. According to Mexico's Secretary of Public Function, the country has declared three days of mourning for those killed in the deadly earthquake.
The death toll from yesterday's earthquake in #Mexico has risen to 225. @CruzRoja_MX is working around the clock to save lives. pic.twitter.com/yycoMkbc1w

— ICRC (@ICRC) September 20, 2017