Trump Claims Republican Standing Ovation In Wake of Flake Criticism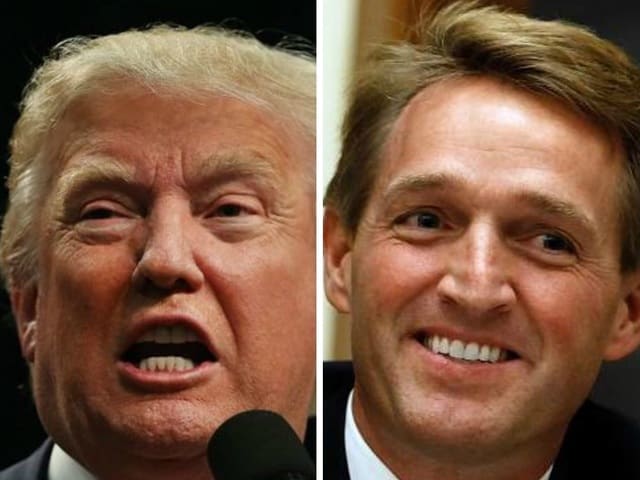 Donald Trump tweeted again this morning about his popularity with Republican Senators after receiving criticism from Arizona Senator Jeff Flake on the floor of the Senate yesterday.
President Trump insisted on Twitter this morning and last night that Republican Senators had given him a "standing O" in a meeting on Tuesday night, and that Senator Flake was only speaking out now because he had "an 18% approval rating in Arizona".
Jeff Flake, with an 18% approval rating in Arizona, said "a lot of my colleagues have spoken out." Really, they just gave me a standing O!

— Donald J. Trump (@realDonaldTrump) October 25, 2017
This is true of a poll taken in August, though more recent polls before President Trump tweeted this figure, pollster Morning Consult had sent reporters a poll of its own showing Senator Flake hovering closer to the 30% mark.
President Trump also slated Senator Bob Corker, who is the Chair of the Foreign Relations Committee and had also criticized the President this week, saying that he was "utterly untruthful" and that "the debasement of our nation is what he'll be most remembered for" in an interview with CNN yesterday.
Both Mr. Corker and Mr. Flake announced this month they would not be seeking re-election when their respective terms are up. Both men will see their terms expire in early 2019, and had been threatened with primary challenges coming from what is often referred to as the Trump wing of the Republican Party, though it has also been called the Bannon wing, after the Breitbart editor who ran Candidate Trump's campaign and was President Trump's Senor Counsellor before being let go in August of this year.
It has been reported that Bannon took the news of Mr. Flake's retirement well, and this seems to be reflected in Breitbart's social media yesterday.
WINNING
WINNING
WINNING
WINNING
WINNING
WINNING
WINNING
WINNING
WINNING
WINNING
WINNING
WINNING
WINNING
WINNING
WINN https://t.co/XOT6IO0K3r

— Breitbart News (@BreitbartNews) October 24, 2017
The two senators have used their newfound freedom from strict party loyalty to take aim at the President, with both men criticizing the President in recent week. President Trump then escalated the feud by attacking both senators on Twitter, and thus the war of words continued.
Mr Flake said in his resignation speech that the President should be challenged on what he perceived as reckless behaviour, stating, in reference to Trump's 'Twitter diplomacy' that, "the notion that one should stay silent as the norms and values that keep America strong is undermined, and as the alliances and agreements that ensure the stability of the entire world are routinely threatened by the level of thought that goes into 140 characters, the notion that we should say or do nothing in the face of mercurial behaviour is ahistoric and I believe profoundly misguided."
.@JeffFlake: "The alliances that ensure the stability of the world are threatened by the level of thought that goes into 140 characters." pic.twitter.com/jwmsSN33mU

— Channel 4 News (@Channel4News) October 24, 2017
Bob Corker has also made his own feelings known about the President's recklessness, and suggested that there is a very real risk that President Trump could put the U.S. on course to start World War III.
All of this Republican infighting may, apart from anything else, pose a problem for President Trump's political agenda, as personal squabbles may affect his party's ability to pass legislation.
Republicans currently hold 52 seats in the Senate, and can only afford to lose two votes from within the party on any legislation to still see it pass. President Trump's repeated attacks on members of his own party may affect its own success, as along with Corker and Flake, he has also criticized Senators McCain and Murkowski in recent weeks.