The Latest On The Spain-Catalonia Political Crisis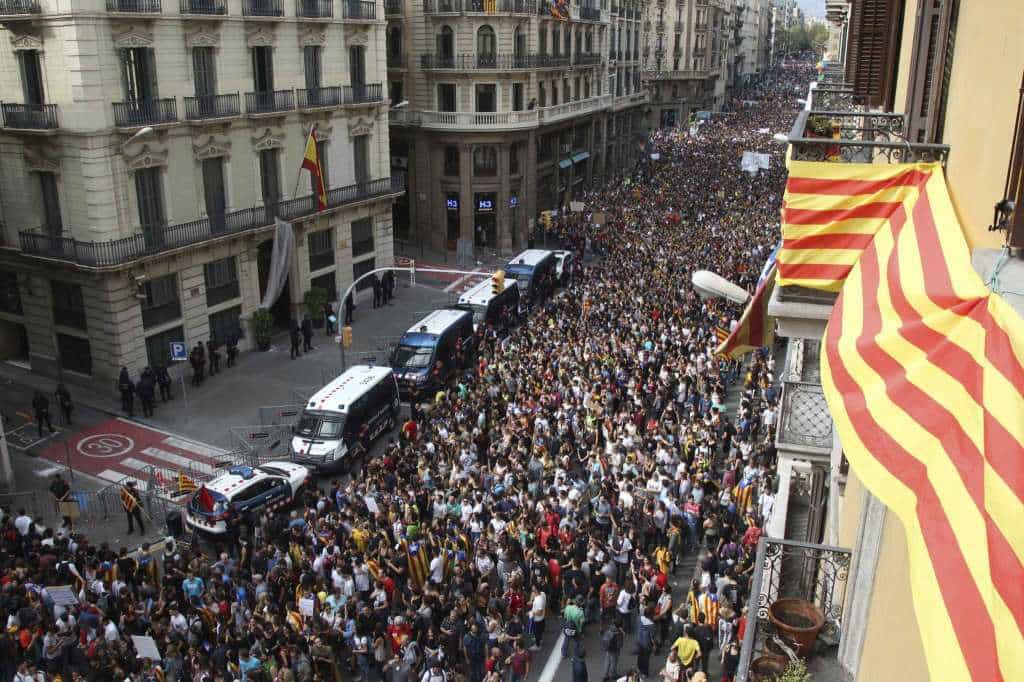 Posted:
October 27, 2017 at 4:09 pm / by
A.L. Long
/
Spain's Senate approved proposals Friday morning to take control of Catalonia shortly after Catalan parliament voted for Independence.
Earlier, Spain's prime minister urged all citizens to remain calm after Catalonia's parliament passed a motion declaring the wealthy region a republic independent from Spain after an acrimonious debate.
The vote in Barcelona came after Spanish Prime Minister Mariano Rajoy delivered an impassioned speech in Madrid, urging the country's Senate to grant his government special constitutional measures allowing it to take control of Catalonia's autonomous powers and thwart the regions independence bid.
In a tweet on Friday, Rajoy made an appeal; minutes after the regional parliament, which has 135 seats, voted in a secret ballot opposition Catalan lawmakers boycotted. The motion was passed by a 70-10 vote with two blank ballots.
Pido tranquilidad a todos los españoles. El Estado de Derecho restaurará la legalidad en Cataluña. MR

— Mariano Rajoy Brey (@marianorajoy) October 27, 2017
"I call on all Spaniards to remain calm. The rule of law will restore legality to Catalonia," said Rajoy.
Rajoy's tweet came as the Spanish Senate in Madrid prepared to approve government proposals to take direct control of Catalonia. A majority of senators were expected to give Rajoy the go-ahead to apply unprecedented measures including sacking Catalan regional President Carles Puigdemont and his cabinet.
Separatist lawmakers in the regional parliament erupted in applause and changes when the chamber's main speaker, Carme Foracadell, announced the passing of the motion declaring the region's independence as thousands of people gathered outside Catalonia's parliament building in support cheering and dancing.
Crowds watched the voting process and the counting live on big screens.
Regional President Carles Puigdemont and Vice President Oriol Junqueras exchanged congratulatory embraces and handshakes after the vote, which saw 70 out of 135 votes in favor of independence, 10 against and 2 blank ballots. The two leaders were among the members of the regional government who cast votes in the parliamentary chamber.
The passing of such a motion calls for beginning an independent process that includes drafting Catalonia's new top laws and opening negotiations "on equal footing" with Spanish authorities to establish cooperation.
Why does the referendum matter?
Catalonia, an area in northeastern Spain of 7.5 million people, accounts for 15 percent of Spain's population and 20 percent of its economic output.
About 1.6 million people live in Barcelona, Catalonia's capital, which is a major tourist destination.
The previous ballot, a non-binding vote in November 2014, returned an 80 percent result in favor of an independent Catalan state. However, less than half of the 5.4 million eligible voters participated.
The Spanish government rejected the Generalitat's, Catalonia's regional government, proposal to hold a binding ballot on the grounds that it was unconstitutional.
Catalonia has a distinct history, culture, and language and was first referenced in the 12th century, is a defined region of Catalonia existed for more than 250 years before it joined Spain during the country's formation in the 16th Century.
As such, identity plays a large role in the debate surrounding independence.
Under the military government of Francisco Franco, from 1939-1975, Catalan culture was suppressed.
Symbols of Catalan identity such as the castells, or human towers, were prohibited and parents were forced to choose Spanish names for their children.
The Catalan language (also spoken in Valencia and the Balearic islands) was also restricted, said Sergi Mainer, a lecturer in Catalan culture at the University of Edinburgh.
"With Franco Catalan was banned publicly, publishing was controlled under censorship, after the coming of democracy the only official language was Castilian," he told Al Jazeera.
"There was repression everywhere in Spain, but extra repression was felt in Catalonia."
However, support for independence among Catalans isn't universal.
"It's a false referendum and many think if there's no legal guarantee then it's better not to vote," Jorge Amado, president of Catalunya Somos Todos, a pro-union organization for Catalans living outside the region (who aren't eligible to vote), told Al Jazeera.
"It's a manipulation. Manipulation of history, of the media, and of the Catalan people to promote this sense that Catalonia can't be united with Spain."
Why Now?
The push for full autonomy appears to have gathered pace in recent years, most notably since Spain's 2008 debt crisis.
Pro-independence supporters claim Catalonia, which is one of Spain's wealthiest regions, offers more financial support to Spain than it receives from the central government in Madrid.
Many view the region's strong economy as an indicator that it would be viable as a sovereign state.
Catalonia has some power; in 1931, when Spain became a republic, Catalonia was given greater political autonomy within the confines of the state.
However, by 1939 its powers had been revoked following the Nationalists' victory in the Spanish Civil War.
Following Franco's death in 1975, Catalan autonomy re-emerged and flourished.
In 1979 a new Statute of Autonomy of Catalonia was issued, which restored the Catalan parliament.
Elections for the 135-member body were held the following year, on March 20.
The region, which forms one of Spain's 17 "autonomous communities", has its own police force and powers over affairs such as; education, healthcare, and welfare.
There are also provisions in place to protect Catalan identity, including joint language status for Catalan and Castilian and a law that requires teachers, doctors, and public sector employees to use the Catalan language in their places of work.