Trump Blocks Release Of Hundreds Of JFK Assassination Records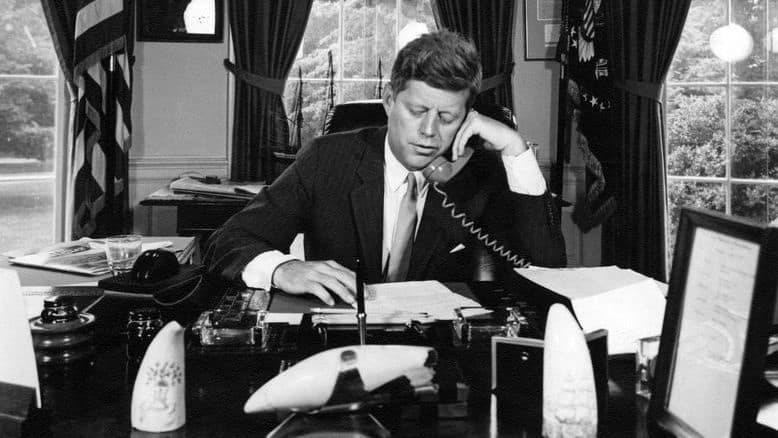 Posted:
October 27, 2017 at 12:41 pm / by
A.L. Long
/
On Thursday eve, President Donald Trump blocked the release of hundreds of President John F. Kennedy assassination records, bending to CIA and FBI appeals, while the National Archives came out with a stockpile of others.
Released in a memo, Trump said, "I have no choice," stating "potentially irreversible harm" to national security could occur if he were to allow all records to come forth. Those files have been placed under a six-month review while 2,800 others have been revealed, in a race to reach a deadline honoring a law mandated release.
The documents capture the chaotic days after the Nov. 22, 1963, assassination of John F. Kennedy during which federal agents chased after tips, juggled rumors, and sifted through leads.
The documents include; cables, notes, and reports stamped "Secret" that reveal the suspicions of the era — around Cubans and Communists, casting a wide net over varied activities of the Kennedy administration, such as its covert efforts to upend Fidel Castro's government in Cuba.
Despite having months to prepare for disclosures set on the calendar for 25 years, Trump's decision came down to a last-minute debate with intelligence agencies — a scuffle the president then prolonged by calling for an additional review.
What is Missing from the Released documents on JFK?
• 338-page file on the head of the CIA office in Dallas
• Dossier on Dallas man who met Ruby before Shooting
• Files on Anti-Castro Cuban Exiles
• Secret Service destroyed 1963 records
• Army and Navy Intel Files
• Part of CIA report on Oswald
As for the unreleased documents, Trump will impress upon federal agencies that, "only in the rarest cases" should JFK files stay secret after the six-month review, officials said.
In the aftermath of the assassination, followed two days later by the murder of the shooter, Lee Harvey Oswald while in police custody, FBI Director J, Edgar Hoover vented his frustration in a formerly secret report found in the files. "There is nothing further on the Oswald case except that he is dead."
Reflecting on Oswald less than an hour after he died, Hoover already sensed theories would form about a conspiracy broader than the lone assassin.
"The thing I am concerned about, and so is (deputy attorney general) Mr. Katzenbach, is having something issued so we can convince the public that Oswald is the real assassin," he said.
"Last night we received a call from our Dallas office from a man talking in a calm voice and saying he was a member of a committee organized to kill Oswald."
Hoover said he relayed that warning to Dallas police and was assured Oswald would be sufficiently protected. Jack Ruby shot Oswald dead the next day.
Much of Thursday passed with nothing from the White House or National Archives except silence, leaving unclear how the government would comply with a law requiring the records to come out by the end of the day — unless Trump was persuaded by intelligence agencies to hold some back.
Trump ordered agencies that have proposed withholding material related to the assassination to report to the archivist by March 12, 2017, on which specific information meets the standard for continued secrecy.
That standard includes details that could cause "harm to the military defense, intelligence operations, law enforcement or conduct of foreign relations," Trump wrote in his order. The archivist will have two weeks to tell Trump whether those recommendations validate keeping the withheld information a secret after April 26.
The full record will still be kept from the public for at least six months — and longer if agencies make a persuasive enough case for continued secrecy.
The collection includes more than 3,100 records — comprising hundreds of thousands of pages — that have never been seen by the public. About 30,000 documents were released previously — with redactions.
Whatever details are released, they're not expected to provide a definitive answer to a question that still lingers: Whether anyone other than Oswald was involved in the assassination.
The Warren Commission in 1964 concluded that Oswald had been the lone gunman, and another congressional probe in 1979 found no evidence to support the theory that the CIA had been involved