Nigeria: Panic Looms In Presidency As Maina Exposes Buhari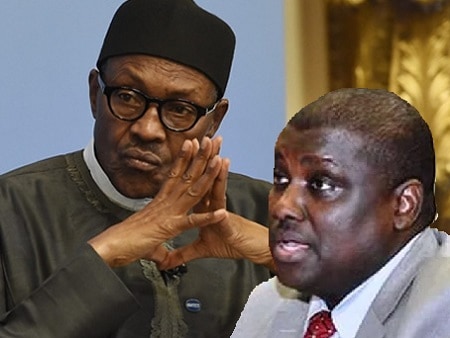 Nigerian President Muhammadu Buhari and workers at the presidency were rattled when the embattled former chair of the Presidential Pension Task Team, Abdulrasheed Maina, said the president orchestrated his reinstatement.
According to him, the president ordered Minister of Justice and Attorney General of the Federation, Abubakar Malami, to meet with him and discuss how he could be absorbed back into his job secretly.
He added that the current administration held meetings with him before he could concur to coming back to the civil service.
Maina's secrete reinstatement was exposed by the media and human right activists who cried foul when he was reinstated after allegedly stealing billions from the pension taskforce team which he chaired.
Nigerian are outraged, and the cloud over Buhari's anti-corruption crusade is gradually eroding.
The president only ordered for immediate sack of Maina from the office just because the secret was already in the open and Nigerians were outraged.
In what appeared to be a payback, Mr. Maina decided to expose the shoddy business of the president and his workers at the presidency whose hallmark is anti-corruption.
In his first public comments since the incident occurred, Mr. Maina indicted the president in his reinstatement, saying his (Buhari) earlier statement that he knew nothing about his restoration was to appease the agitated public.
He added that President Buhari did not only know about his reinstatement but ordered and orchestrated it.
Maina also added that he was cleared to come back into the service with a court order issued to reinstate him.
He said he didn't receive a letter of dismissal from service earlier.
"The letter of dismissal, I didn't even receive a letter. It was when I heard about it (that) my lawyers went to court. They took the Senate to court, and the court quashed whatever was the report of the Senate. The court also removed all the warrant for arrest. The court upheld that I should return to work. That was in April 2013. But the last administration refused to take me back to my job. They refused to obey the court order. The Head of Service was asked not to return me to the office. The Federal Civil Service Commission chairperson at that time did not want me to return to position.
"Now I did not return to office, but when this government came in, the president gave his note that goes and sits down with Maina, I've given you the approval. They sat down with me after the security agencies cleared me of any wrongdoing."
Maina said he was not taken to court over the corrupt allegation leveled against him.
"Nobody has ever taken me to court in Nigeria. I want Nigerians to know. I have never been brought to any court of law. Nobody has ever sued me for anything. I've never been taking to any court of law.
"I have sued all the security agencies that we are talking about, and I have won. I have full court judgments. They place my name on INTERPOL; I went to court and removed it. They did this; I did this I removed it. There is nothing they have not done. Even the one they could not do, they went to immigration, put my name on the no-fly list. I went to the airport. I was in Nigeria that was in 2015. I went to the court; the court granted me N2 million damages for not flying that day."
Maina also shared that he has helped the government to recover N1.3 trillion.
On his reinstatement, he maintained that moves for his reinstatement started after the Attorney General, Mr. Malami's visited him.
"As soon as this present government decided to sit with me, and after sitting with, me, I told them I would not leave you to go back to Nigeria without something in your pocket. I'm going to give you something in your pocket, and the Minister laughed. The Minister of Justice said what are you going to provide us with a gift. I gave him a document, I say go here, here, here, there's N1.3 trillion they are going to steal it because they've been stealing every year. He was shocked; he said not possible. I said sir, with all due respect, could you please try it; this is a gift I'm giving you. I haven't gotten to Nigeria; I'm just giving you a gift. I say try it for you to understand where I'm coming from.
"I'm not a saint, but I try as much as I can to help the system. The minister thought that wouldn't be possible when he got back; he realized I gave him correct information. Now, after giving him this information, he asked me, when are you coming back, I said I would soon be back again. I said I have a court order. So, I asked my lawyer to write a petition. He now wrote a petition to government and the Minister set up a committee to look at the request. They looked at the petition and recommended that this is a court order that there's no question of going back on it, nobody has appealed it since 2013 so government must obey it.
"So, he sent a letter to the Federal Civil Service Commission to say this is the petition I got in my office; I'm attaching the court order which you must respect. I'm hearing people are saying he's directing people to reinstate me. No, he said you must respect the court order; this is the court order because he is the chief officer of the country. Now, the document was taken to the Federal Civil Service Commission. I went to the Federal Civil Service Commission, they told me they have just received the documents, they are going to see me later, and we have a meeting. After that meeting, they wrote office of the head of the service. They say we want you to sit down with your Senior Staff Committee and after that, you send it to the Ministry of Interior; that was used at that time because they were coerced which I later found out. The Senior Staff Committee was coerced by the then Head of Service, Mr. Isa Bello Sanni to make sure they send me out and packing because I had stopped the inflow of 5.2 billion monthly to the office of the Head of Service."
Meanwhile, Special Adviser on Media and Publicity to President Muhammadu Buhari, Femi Adesina, said he couldn't comment on the case.
"Please, like I have been telling your colleagues, any question you have on the case should be directed to the AGF."
Efforts by Caracal Reports to reach out to the AGF on the issue were not successful as his phone contact was not reachable.