The DREAMers Take On D.C: A First-Hand Account
On a chilly Wednesday morning in Washington D.C, the Rotunda of the Russell Senate Office was filled with reporters, adjusting their appearance, looking over notes and prepping for live television.
This is not unusual. The Rotunda is often used as a pseudo-pressroom for members of Congress to speak directly to news networks and, thusly, to their constituents. This day, however, the hall was not hustling and bustling with the usual string of Senate TV interviews. It was, instead, quiet.
There was a sense of anticipation in the room. One so palpable and curious that everyone who entered the Rotunda was naturally and inescapably driven to silence.
On this day, the room was not filled with just the usual faces of handsomely dressed members of Congress and reporters. No, the usual faces were outnumbered by hundreds of regular people, wearing orange hats that read "Dream Act Now!", carrying posters shaped like butterflies and, armed with their phones to record the pivotal event that was about to unfold.
Swiftly, about a hundred Jewish rabbis and activists walk into the very center of the Rotunda wearing prayer clothing and carrying banners that read "Pass the DREAM Act now" and "Let my people stay."
A woman draped in prayer clothing (later recognized as, Stosh Cotler, CEO of Bend the Arc, a Jewish activist organization) steps forward and proclaims:
"We stand with the DREAMers and their families to say that we demand a clean Dream Act now."
She and her comrades, hand-in-hand, sat on the floor and began to sing.
They sang "We Shall Not Be Moved," chanted proclamations and incanted the Hebrew spiritual "Olam Chesed Yibaneh" which translates to "We Will Build This World With Love."
Police quietly arrested one by one, each of the Jewish activists and taken away. The room remained quiet as this happened. With the exception of occasional chants of approval from the onlooking Dreamers, their families, and allies.
There was a desire to chant more and be closer to the sit-in; however, protest organizers and police warned onlookers; if they actively participated in the action, they would be promptly arrested.
This protest by Bend the Arc was one of the countless actions, in support of a Dream Act, which has taken place since the Trump administration rescinded DACA (Deferred Action For Childhood Arrivals) early last September.
Since that day, various organizations, namely, United We Dream, have organized and executed sit-ins, vigils and other forms of protests. Bussing, flying and transporting hundreds of Dreamers, their families, and allies to Washington D.C., the central location of the debate that would affect each of their lives in significant ways.
Most, if not all, taking time off work and school to voice their concerns, tell their stories and, be visible in a debate that often drives them to stay in the shadows for fear of deportation.
United We Dream is one of many organizations that has actively participated in this movement.
I was given the privilege of joining the Houston branch of United We Dream in their protests. I mention this to disclose my motivations fully. I do, in fact, support efforts for a Dream Act and was active in every action done in D.C. in the days preceding the government shutdown.
There is no better illustration of the passion and dedication of those involved in the protests than the fact that we spent 30 hours on a bus to Washington D.C., to wake up early the next day, to hit the ground running and use our voices, bodies and, time to implore members of Congress to not vote on a spending bill if it did not include a "Clean Dream Act."
Special care was taken to ask for a clean Dream Act, just because the Republican agenda is to use DACA recipients/Dreamers as bargaining chips in the debate surrounding immigration reform, border control and the infamous wall which President Trump has been propagating since his presidential candidacy announcement in June of 2015.
Immigration reform, in their eyes, does not mean providing a pathway to citizenship for those who have been in the country for many years. Instead, it means more funding for immigration detention centers and border surveillance that enables the government to criminalize undocumented immigrants further.
The Dream Act is an act that would go beyond temporary protection for those brought to the country as minors. The law would provide not only permission to work, but also a chance to benefit from government-funded programs such as FAFSA and Social Security as well as a pathway to citizenship.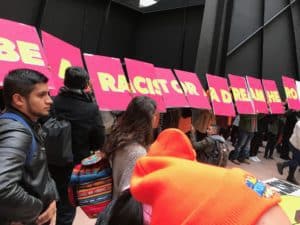 Considering the fact that most of the Dreamers came to this country as infants, have grown up in the culture, attended public schools, worked and paid taxes, these demands are far from immoderate.
One of the Dreamers, Daniella from Houston, said during a sit-in in Nebraska Senator Ben Sasse's office,
"We are American in every way but one so when people say 'go back home' it's confusing because this is our home."
This same sentiment was shared by everyone who participated in the actions. All of them had a story to tell. This fight was personal. Some participants were former DACA recipients who had their renewals denied for one reason or another and were at immediate risk of deportation. Amazingly, some of those at risk of immediate deportation volunteered to be arrested by Capitol Hill police during sit-ins.
All Dreamers involved seeing DACA as merely a temporary band-aid. Despite the recent court decision that DACA recipients are eligible to renew their status even if it has already expired, there is still a yearning for a law that ensures long-term protection and a pathway to citizenship. Dreamer, Saiid from Kansas said it best, "It's not okay to live the life dependent on short-term 'leases'."
"That's not a way to live life."
What the Dreamers want is assurance that they will forever be welcome in the only country they have called home. They want reassurance in the notion that the U.S government is run by people who do not share the same racist and xenophobic sentiments as President Donald Trump.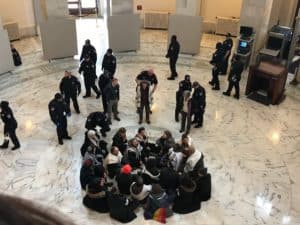 This was, in fact, one the of leading moral questions that protesters posed to Senators and their staffers; "Be racist or a Dream hero."
Protesters were met with disdain. They were kicked out of the very offices that they fund as taxpayers. Nevertheless, they persisted.
By the end of the week, United We Dream and its sister organizations had staged dozens of actions on Capitol Hill.
Protest organizers were so experienced that they seemingly knew their way around Congress buildings without having to look at a directory.
Congress staffers were admittedly tired, perhaps fearful whenever they saw those orange hats. They knew that they would be forced to listen, even for just the 5 minutes it took for police to come to the office and remove protesters.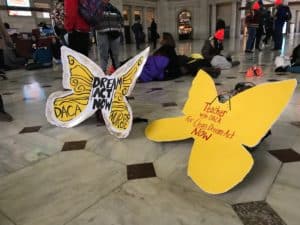 The stories told within those offices were powerful. There were tears and chants of affirmation. For many Dreamers, those actions were the first instances of them publicly stating their undocumented status.
Unfortunately, these actions will be continuing because the Republican-run government could not pass a spending bill that justifiably included a Dream Act. As of mid-afternoon Monday the 22nd, both Democrats and Republicans in the Senate voted to end the government shutdown without a decision on a Dream Act.
For people like Tania from Houston who took the time to travel to D.C and protest for herself and those just like her, the future remains in doubt. Her case exemplifies the irony of the Dream Act debate. She contributes to a system that does not favor her in the ways that matter.
"I teach the future of America yet my future is uncertain."