Nigeria: Obasanjo asks Senate to warn Buhari over lopsided appointment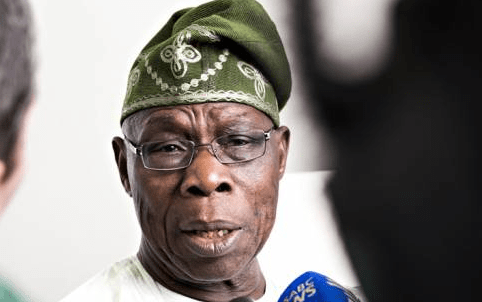 Apparently worried over what he described as a lopsided appointment in the current administration, former President Olusegun Obasanjo has asked the Senate to caution President Muhammadu Buhari.
Obasanjo who recently said the president was too weak to run the country. According to him, Buhari has shown that all he cared for is north because his major appointments concentrated on the part of the country.
He also said the Buhari's attitude to governance has violated the principle of federal character commission, especially in the appointment of key officers in the security agencies.  
Obasanjo, who championed a new movement to save the country from ruins, Coalition for Nigeria Movement(CNM), said the National Assembly and the federal character must both warn and also stop the Buhari's lopsided appointment, which has already supposedly ruined the country while violating the spirit of Nigeria's country.

Obasanjo also reflected on his letter to the president recently.

He said the letter was borne out of his concern about the state of the nation. He also added that the letter was in the interest of Nigerians.

He said, "Let me emphasise important areas, programmes, priorities or processes for improved attention. To start with, we seem to have taken nation building for granted. Nation building must be given continued attention to give every citizen a feeling of belonging and a stake in his or her country. For instance, the federal character principle, as espoused in our constitution, was to guide the leadership to search for competent holders of major offices to be distributed within the entire nation, and avoid concentration in a few ethnic hands or geographical places, as we currently have in the leadership of our security apparatus."

The former President also said, "To avoid such non-integrative situation, we have the national assembly and the Federal Character Commission, both institutions which must raise the alarm or call for correction of actions by the executive that violates the spirit of our constitution– Last week, I issued a statement which I did not do lightly or frivolously but out of deep concern for the situation of our country. I wonder why some Nigerians were worried why I had to pay respect to the Nigerian President at Addis Ababa. That's my own upbringing as a well-born and bred Yoruba boy. That doesn't mean that what I have said about the President, was said out of bitterness and hatred. It is evident that the president has performed, in some areas, good enough."
He, however, said "In other areas not good and a proper advice was given which he may take and he may not take. I didn't do that out of malice or out of 'bad belle.' I did it out of my respect for that office and my interest, and I hope, in your interest and the interest of Buhari in Nigeria."