Week in Review: North Korea Summit A Possibility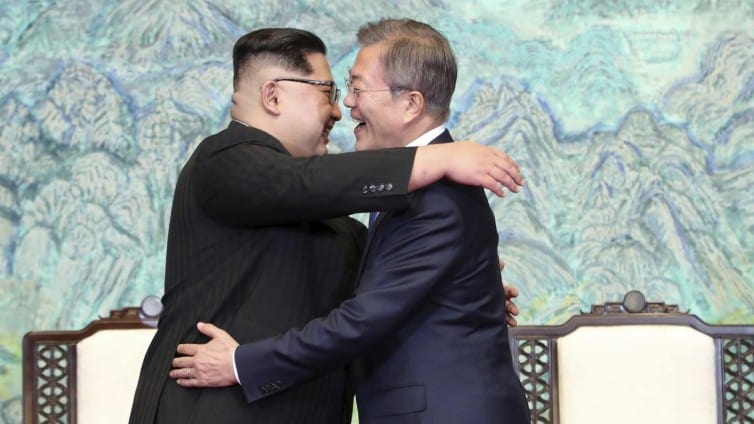 Posted:
May 27, 2018 at 9:14 pm / by
A.L. Long
/
In an efforts to salvage what was expected to be a landmark meeting between the United States and North Korea; a surprise second meeting between North Korean leader Kim Jong Un and South Korean President Moon Jae-in was held on Saturday.
It was unclear who proposed the two-hour meeting, which was only announced after it occurred and was held at a border "truce village," in the Demilitarized Zone that separates the two Korea's.
On Thursday, Mr. Trump noted "tremendous anger and open hostility" as one of the reasons for canceling the planned meeting with Mr. Kim. He then shifted his stance on Friday stating he was reconsidering the meeting.
After Mr. Trump's announcement, North Korea responded in a shocking conciliatory gesture asking him to reconsider saying they were ready to resume discussions.
According to the New York Times, "The two heads of state had a frank exchange of views on the implementation of the April 27 summit agreement and for the successful holding of the North Korea-United States summit," Mr. Moon said in a short message sent to reporters.
In efforts to resolve a long-standing dispute over North Korea's nuclear weapons program, Mr. Moon's government worked for months to facilitate the first meeting between the leaders of North Korea and the United States.
Trump tweeted early Saturday that if the summit with Kim were to happen, it would likely take place as initially planned on June 12 in Singapore. Details of the meeting between the leaders of the two Korea's will be released on Sunday according to the South Korean presidential spokesman Yoon Young-chan.
According to the Associated Press, on Saturday the White House said a team is still heading to Singapore this weekend to work on logistics for a possible summit between President Donald Trump and North Korean leader Kim Jong Un.
Trump vs. FBI, "Spygate" is born
Embattled for more than a year in a confrontation that has no precedent in the modern political era; President Trump in a new angle of attacks against the Federal Bureau of Investigation claimed he unearthed one of the most epic spy scandals in all of American history — incited by the FBI, not Russia.
Trump has dubbed his revelation "Spygate" — a "scandal the likes of which this country may never have seen before" as he continues to entangle himself into an investigation in which he is a subject.
The debate encircles American Stefan Halper, a retired university professor who is said to have been an FBI informant. Halper is alleged to have kept his eye on three Trump campaign advisers; Carter Page, Sam Clovis and George Papadopoulos.
After the New York Times article detailing the FBI's investigation origins under the code name "Crossfire Hurricane" and how the bureau became aware of possible infiltration by and collusion with the Russian government, Trump now ascertains a "spy" was placed inside his Presidential campaign.
Halper's was said to have been a secret FBI "informant." His identity was later outed by the press.
These secret meetings were said to be vital in confirming the real risks of Russian involvement and the possible widening of the FBI investigation.
Trump's allies contend he has the power to manage the executive branch and every reason to be outraged at the possible misconduct aimed at his campaign, but his continual pressure on the agency to reveal classified information puts the President and the autonomy of law enforcement investigations established under Watergate at risk.
Many law enforcement officials think he is wreaking untold damage on institutions that form the bulwark of a democratic society.
5 dead, 30 Missing after cyclone strikes Oman, Yemen
A cyclone more potent than any other on recorded rocked southern Oman, Yemen on Saturday resulting in the death of 5 people, more than 30 are reportedly still missing.
In a single day, dry creek beds were overcome with nearly three years' worth of rainfall officials said.
Flash flooding tore away entire roadways produced by cyclone Mekunu in Salalah, Oman's third largest city where three people; including a 12-year old girl died and two bodies were discovered on the Yemeni island of Socotra.
More than 30 people were reportedly still missing in Socotra, including Yemeni, Indian and Sudanese nationals.
According to Rageh Bakrit, the governor of al-Mahra province said strong winds had blown down houses and taken out communication lines and water services but that there were no fatalities in the province.
The "extremely severe" storm hit maximum sustained winds of 170-180 kilometers (105-111 miles per hour) with gusts of up to 200 kph (124 mph) according to India's Meteorological Department.
Venezuela releases imprisoned U.S. Citizen
Joshua Holt, a Utah man who has been detained in Venezuela since 2016 will return to the U.S. Saturday night according to an announcement from President Trump on Saturday.
Holt, who traveled to Venezuela in 2016 to marry Tamara Caleno, a woman he met on the internet, was arrested under allegations by the socialist government of stockpiling an assault rifle and grenades suggesting his case was linked to other unspecified U.S. attempts to undermine Maduro's rule amid vast political and economic upheaval.
The pair were arrested at her government complex on the outskirts of Caracas on June 30, 2016, and have been imprisoned for two years without trial in a notorious Caracas jail known to be run by secret police. The facility is rumored to house dozens of Maduro's top opponents who have been detained during the past several years of political unrest.
Senator Orrin Hatch, Republican Senator of Utah, said Mr. Holt's release, and that of his wife, was the result of a two-year effort working with Mr. Trump and former President Barack Obama, and the President of Venezuela, Nicolás Madura according to a statement posted on Twitter.
Holt was seen in a secretively shot video released last week of a rally against the Maduro government where he says his life was threatened in a prison riot.
In alleged retaliation, socialist party boss Diosdado Cabello, a powerful ally of Maduro, said on state television that Holt was the CIA's top spy in Latin America.
The Trump administration has previously threatened to destabilize oil sanctions on Venezuela for Maduro's decision to move forward with presidential elections last week, a move the U.S. called a "sham." The release of Holt sheds an unclear light as to if relations between the hostile governments are calming.
According to a statement released by Senator Marco Rubio, R-Florida, who has Trump's ear on Latin America, said the couple's "release will in no way change U.S. policy towards the dictatorship in Venezuela."
The Maduro government has yet to comment on the reasons for the release.
Syria receives warning from the U.S.
On Friday, the United States warned Syria it would execute "firm and appropriate measures" in response to ceasefire violations, saying it was concerned about reports of an impending military operation in a de-escalation zone in the country's southwest.
Syrian President Bashar al-Assad was also advised to refrain from expanding the conflict.
"As a guarantor of this de-escalation area with Russia and Jordan, the United States will take firm and appropriate measures in response to Assad regime violations," State Department spokeswoman Heather Nauert said in a statement late on Friday.
According to Reuters, the Britain-based Syrian Observatory for Human Rights, Syrian government forces fresh from their victory this week against an Islamic State pocket in south Damascus were moving into the southern province of Deraa.
Also, as many as 300 pro-Assad militia members, many of them believed to be Russian mercenaries were repelled by U.S. ground and air forces for more than four hours.
Russian warplanes backed Lebanon's Hezbollah in conjunction with ground forces from Iran and allied military; together they aided Assad's ability to drive rebels from Syria's biggest cities, granting him an unconquerable military position.
All remaining insurgent areas near Damascus have been recaptured including the densely populated area of Ghouta, along with large areas of central Syria.
Assad's aim of total control is still a ways off. However, these recent attacks have allowed the government to position itself in the most fierce position in the early months of the war in 2011.
Two large connected areas of the territory in the northwest remain under control of Anti-Assad rebels. The United States backed Kurdish Dan allied Arab militia hold the quarter of Syrian east of the Euphrates.
Ireland releases itself from the shackles of Catholic Conservatism, lifts Abortion Ban
Landmark news swept across Europe on Saturday marking a distinct division between Ireland and the firmly held Catholic conservative ideals that have long impacted abortion laws in the country.
Championed by Prime Minister Leo Varadkar, the vote brought about a 64 percent turnout; the highest for a referendum, "Today is a historic day for Ireland. A quiet revolution has taken place," he said in a speech after the vote.
The result turns over a new leaf in a season of change for a country which only legalized divorce in 1995, and even then by a tiny margin. Just three short years ago they became the first in the World to adopt gay marriage by popular vote.
Varadkar became Ireland's first openly gay prime minister last year
The outcome will allow for the government to bring about legislation by the end of the year.
In a campaign defined by women sharing their pain ridden experiences of leaving the country for procedures was said to have been a key reason why all but one of Ireland's 40 constituencies voted "Yes." For decades more than 3,000 women traveled to Britain annually to receive terminations.
Lawmakers who campaigned for a "No" vote said they would not seek to block the government's plans to allow abortions with no restriction up to 12 weeks into a pregnancy.
Myanmar Judge to allow evidence in press freedom case
In a what has become a monumental press freedom case; a Myanmar judge will allow the submission of evidence police claim to have obtained from the phones of two Reuters reporters; Wa Lone, 32 and Kyaw Soe Oo, 28 who have been charged for colonial-era Official Secrets Acts.
In a Yangoon court on Tuesday, Judge Ye Lwin ruled he would accept printed copies of documents as evidence from the phones after two hours of legal arguments. The documents are alleged to contain confidential government letters and plans for the development of an island off Myanmar's west coast for tourism.
The conviction penalty holds a maximum sentence of 14 years in prison and has been in legal proceedings since January. The prosecution has yet to disclose how the latest documents are related to the case against the two journalists since before now the case has been focused on documents police said the journalist were holding in their hands when they were arrested on Dec. 12.
Than Zaw, a lawyer for the defense argued the documents should not be submitted as evidence as it could not be confirmed who had access to the phones and whether proper procedures were followed during the extraction of the files. "It's a worrisome situation because anything could have happened when the accused were arrested, and they no longer possessed their phones."
The reporters were said to be investigating the killing of 10 Rohingya Muslim men and boys in a village in western Myanmar's Rakhine state at the time of their arrest.
Multiple Western countries along with United Nations and the global advocates for press freedom have rallied for the release of the journalists.