South Sudan! Move To End Crises In Limbo As Confusion Mar Power-Sharing Deal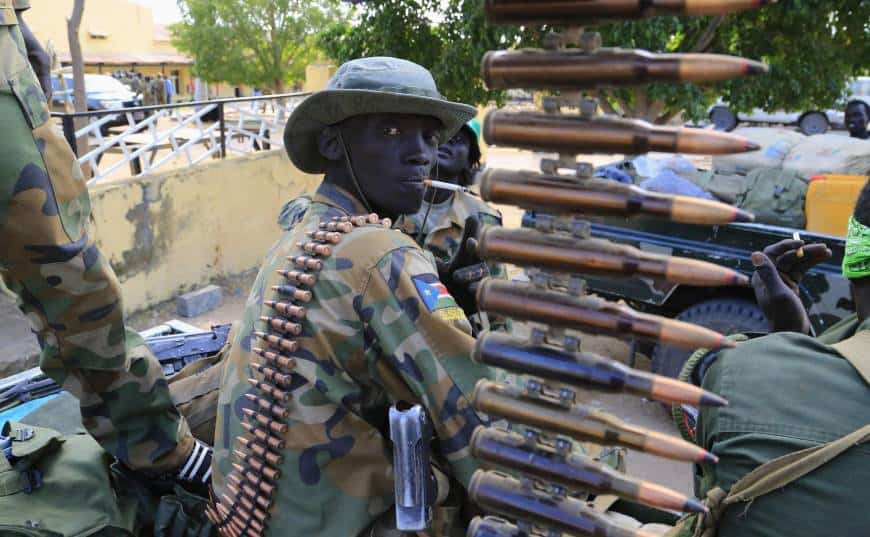 Posted:
July 10, 2018 at 6:57 am / by
James Ojo
/
There are indications that a recent ceasefire agreement struck between South Sudan's President Salva Kiir and rebel leader Riek Machar could yet hit the rock again, despite early optimism generated by the move.
CARACAL REPORTS had earlier reported how Machar and Kiir had on June 27 inked a deal towards ending the country's lingering civil war which started in 2013.
The event, held in Khartoum, the Sudanese capital, ended on a high note, with both political rivals pledging their commitments to bring about peace in the crisis-ravaged nation. They had also announced the withdrawal of their troops from cities.
Kiir and Machar met over the weekend in Uganda to further strengthen the momentum of peace finally returning to the country.
So far, however, recent moves to restore tranquility to the East African nation appear to be in doubt, with contradictory accounts emerging on the stance of both leaders as regards the power-sharing deal.
According to a statement by Kiir's press secretary, Linda Nabusayi, the meeting ended in a stalemate without any of the parties reaching a conclusive agreement on how to share power.
However, Sudanese Foreign Minister Al-Dirdiri Mohamed Ahmed told reporters that Kiir had agreed in full and Machar had agreed "in principle" to a power-sharing agreement that would return Machar to the role of vice president.
"It has been agreed that there will be four vice presidents: the current two vice presidents, plus Riek Machar [who] will assume the position of first vice president, and then the fourth position will be allocated to a woman from the opposition," Agence France-Presse, AFP, quoted him as saying.
The ceasefire has already been violated, barely few hours after the agreement was reached.  An official, Lam Paul Gabriel blamed the development on retaliatory attacks by government forces and rebel militias.
According to him, "the fight is still ongoing as I write" and called on the UN peacekeeping mission and ceasefire monitors to investigate, adding that the opposition reserves the right to self-defense.
Meanwhile, government spokesman Ateny Wek Ateny told news agency AP that it was the opposition who attacked first.
This is not the first time, and a ceasefire deal would collapse in the country. In 2015, a peace deal was signed that included a power-sharing agreement, but the accord quickly fell apart amid continued fighting between government and rebel forces
The last ceasefire between the two warring groups in December 2017 was also violated within hours, which led the international community to threaten UN and regional sanctions against those blocking the path to peace.
The ongoing crisis in South Sudan started in 2013, two years after it gained independence from Sudan, following an allegation by Kiir that Machar was plotting to oust him from power. This degenerated to a massive political war that has nearly reduced the East African nation to rubbles.
According to Nabusayi and Ahmed, a comprehensive talks on the power-sharing deal would continue at planned summits in the Sudanese capital, Khartoum, and Kenya.
South Sudan! Confusion Over Power-Sharing Deal As Move To End Crisis Is In Limbo
Move To End Crises In Limbo As confusion mars power-sharing deal