Trump's Performance In Helsinki Prompt Rebukes From Both Sides Of The Aisle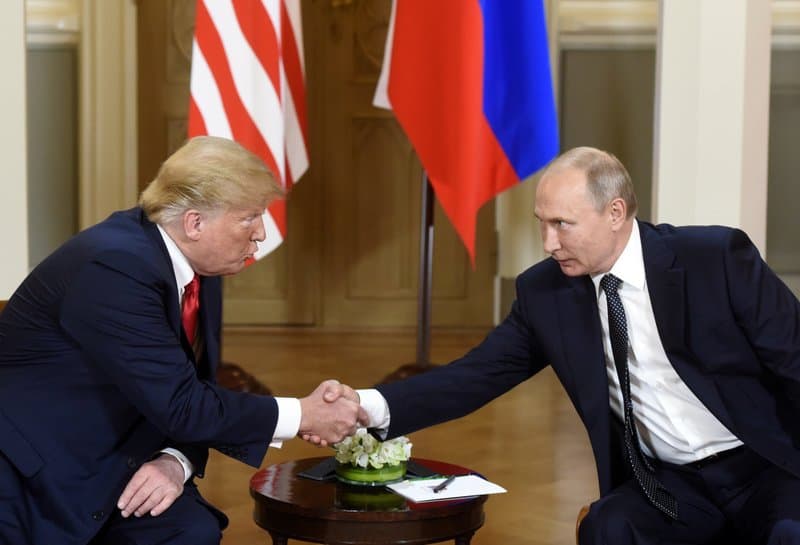 President Donald Trump faced harsh rebuke from Democrats on Capitol Hill as well a growing chorus of critical, Republican voices after his joint news conference with Vladimir Putin in Helsinki, Finland.
Former CIA Director John Brennen, a Democrat, called Trump's behavior "nothing short of treasonous."
Adam Schiff (D-CA) urged his Republican colleagues to take action against the president. Schiff tweeted, "President Trump's performance today was the most damaging and shameful surrender of American values and interests in modern history. I say again to my Republican colleagues: Wake up."
Senator John McCain called Trump's performance "one of the most disgraceful by an American president in memory."
"President Trump proved not only unable but unwilling to stand up to Putin," McCain said in a written statement. "He and Putin seemed to be speaking from the same script as the president made a conscious choice to defend a tyrant against the fair questions of a free press, and to grant Putin an uncontested platform to spew propaganda and lies to the world."
Speaker of the House Paul Ryan, often reluctant to criticize Trump in public, directly contradicted Trump's assertion that Russia did not meddle in the 2016 election.
"There is no question that Russia interfered in our election and continues attempts to undermine democracy here and around the world," Ryan said in a statement. "There is no moral equivalence between the United States and Russia, which remains hostile to our most basic values and ideals. The United States must be focused on holding Russia accountable and putting an end to its vile attacks on democracy."
Senator Jeff Flake (R-AZ) tweeted, "I never thought I would see the day when our American President would stand on the stage with the Russian President and place blame on the United States for Russian aggression. This is shameful."
Senator Lindsay Graham (R-SC) tweeted, "Missed opportunity by President Trump to firmly hold Russia accountable for 2016 meddling and deliver a strong warning regarding future elections. This answer by President Trump will be seen by Russia as a sign of weakness and create far more problems than it solves."
Senator Ben Sasse (R-NE) said, "When the President plays these moral equivalence games, he gives Putin a propaganda win he desperately needs."
Senator Susan Collins (R-ME) wrote in a statement, "The President's statements today in Helsinki demonstrate his continued refusal to accept the unanimous conclusions of U.S. intelligence leaders and the bipartisan findings of the Senate Intelligence Committee."
Congress Trey Gowdy (R-SC) challenged Trump's assertion that the Russia investigation is a democratic ruse to distract from his 2016 electoral victory.
In a written statement Gowdy said, "Russia is not our friend. Russia attempted to undermine the fundamentals of our democracy, impugn the reliability of the 2016 election, and sow the seeds of discord among Americans."
Gowdy added, "I am confident former CIA Director and current Secretary of State Mike Pompeo, DNI Dan Coats, Ambassador Nikki Haley, FBI Director Chris Wrey, Attorney General Jeff Sessions and others will be able to communicate to the President. it is possible to conclude Russia interfered with our election in 2016 without delegitimizing his electoral success."
Trump faced pressure at home to cancel the summit after special counsel Robert Mueller's indictments of 12 Russian nationals last week.
At a press conference after Trump's private meeting with Putin on Monday, the President defended his decision to move ahead.
"But, our relationship (Russia and the US) has never been worse then it is now. However, that changed as of about four hours ago. I really believe that" Trump said. "Nothing would be easier politically than to refuse to meet, to refuse to engage, but that would not accomplish anything. As President, I cannot make decisions on foreign policy in a futile effort to appease partisan critics or the media, or Democrats that want to do nothing but resist and obstruct," Trump added.
Reuters reporter Jeff Mason asked Trump if he held Russia "accountable for anything in particular."
Trump dodged the question, claiming both countries were responsible and repeated his claim that the Trump campaign did not collude with Russia in the 2016 election.
Trump said, "I hold both countries responsible. I think that the United States has been foolish. I think we've all been foolish. We should have had this dialogue a long time ago. A long time frankly before I got to the office. And I think we're all to blame."
"I think that the probe is a disaster for our country. I think it's kept us apart. Its kept us separated. There was no collusion at all. Everybody knows it," Trump added. "I beat Hillary Clinton easily, and frankly we beat her…and I'm not even saying from the standpoint…we won that race, and its a shame there can even be a little bit of a cloud over it. People know that. People understand it but the main thing and we discussed this also, is zero collusion. And it has had a negative impact on the relationship of the two largest nuclear powers in the world."
AP Reporter Jonathan Lemire asked Trump, "Just now, President Putin denied having anything to do with the election interference in 2016. Every U.S. intelligence agency has concluded that Russia did….my first question for you, sir, is who do you believe?"
Trump immediately asked Lemire why the FBI never took custody of Hillary Clinton's email server. He then implied Putin is telling the truth while US Director of National Intelligence Dan Coats is not. Trump also said the Russians wouldn't have lost Hillary Clinton's emails.
"You have groups that are wondering why the FBI never took the server — haven't they taken the server. Why was the FBI told to leave the office of the Democratic National Committee," Trump asked.
Trump added, "My people came to me, Dan Coates came to me and some others, they said they think it's Russia. I have President Putin; he just said it's not Russia. I will say this: I don't see any reason why it would be."
Trump continued, "What happened to the servers of the Pakistani gentleman that worked on the DNC? Where are those servers? They're missing; where are they? What happened to Hillary Clinton's e-mails? 33,000 e-mails are gone — just gone. I think in Russia they wouldn't be gone so easily. I think it's a disgrace that we can't get Hillary Clinton's 33,000 e-mails."