Rick Gates Said Manafort Instructed Him To Commit Crimes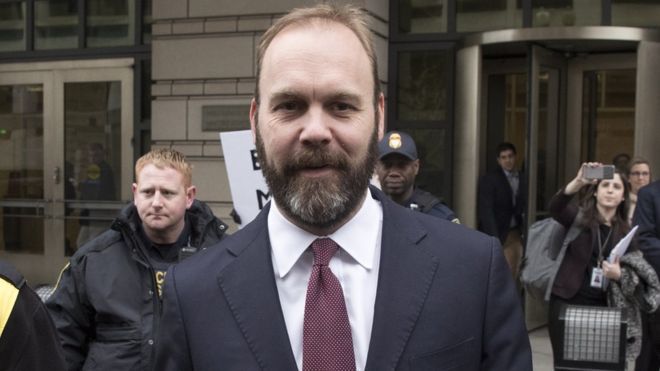 Rick Gates, the former aide to the 2016 Trump campaign and partner of Paul Manafort told a jury on Monday that he committed crimes with Manafort.
Gates was called to testify for the prosecution on day five of the Manafort bank fraud and tax evasion trial.
Prosecutor Greg Andres asked Gates, "Did you commit any crimes with Mr. Manafort?" Gates answered, "Yes."
CNN reported that Gates, who testified that Manafort viewed him as an employee, said that he and the defendant maintained 15 foreign accounts that were not reported to the federal government. Gates said he knew it was illegal and neglected to submit appropriate forms for the accounts "at Mr. Manafort's direction."
Reviewing his plea deal with the jury and possibly adding some credibility to arguments for the defense, Gates admitted that he stole "several hundred thousand dollars" from Manafort. Gates provided Manafort false expense reports for reimbursements paid from the illegal bank accounts in Cyprus. Gates also said he lied to his accountant and overreported income on credit card and mortgage applications.
In additional testimony Gates said that Manafort directed him to lie to the firm's accountants to help the defendant file false tax returns.
According to Gates, several years ago Manafort instructed the witness lie in a deposition related to a lawsuit. Gates said that Manafort "asked me not to include" certain things in the deposition.
Judge T.S. Ellis adjourned the trail at 5:34 pm, excusing the jury for the day.
Manafort's attorneys are expected to cross exam Gates in subsequent testimony aggressively.
Today's proceedings were a blow to the defense with Gates painting Manafort as the criminal mastermind who called all the shots.
In opening statements last week Manafort's lawyers laid out a narrative that held Gates accountable for any wrongdoing. They hope to convince the jury that Gates is a liar who stole millions of dollars from the defendant and is to blame for crimes attributed to Manafort.