U.S. United Nations Ambassador Nikki Haley, Resigns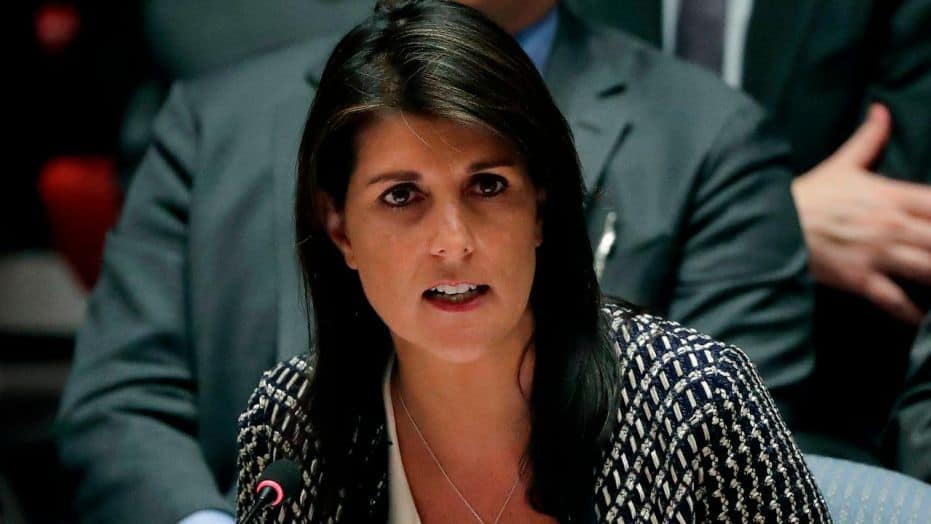 Posted:
October 9, 2018 at 2:54 pm / by
A.L. Long
/
Less than a month after the United Nations General Assembly in New York City, U.S. United Nations Ambassador Nikki Haley resigned Tuesday. 
During a staged Oval Office send off, President Trump praised Haley as a "very special" person, adding she told him six months ago she might want to take time off. 
Haley, the high reset ranking female in the Trump administration joins a long list of high profile departures from the administration, citing her 18-month stint at the United Nations as "an honor of a lifetime." 
Haley's exit comes at a turbulent time merely weeks before the November midterm elections. 
"There is no personal reason; I think that it's just very important for government officials to understand when it's time to step aside," she said.
Speculation about Haley's aspirations for higher office was put to rest when she said: "No I'm not running in 2020."
Haley, 46, was appointed to the U.N. in November of 2016. 
Widely noted as a rookie to international political affairs, the former South Carolina governor was an unsightly selection to be the U.N. envoy. 
"It was a blessing to go into the U.N. every day with body armor," Haley said. 
As a US ambassador to the U.N., Haley aided the Trump administrations efforts to thwart alleged anti-American and anti-Israel actions by the international body. 
According to Mr. Trump, a successor to the U.N. position could be selected within two to three weeks. 
Haley wrote about her policy disagreements in a Washington Post op-ed article where she also stated she held great pride in working for THE Trump administration. 
"I proudly serve this administration, and I enthusiastically support most of its decisions and the direction it is taking the country," Haley wrote. "But I don't agree with the President on everything." 
The op-ed was a response to the anonymous essay in the New York Times by a senior administration official. 
As the daughter of Indian immigrants, Haley collided with Trump during the 2016 campaign, denouncing "the siren call of the angriest voices" who disrespected America's immigrants. Trump then tweeted, "The people of South Carolina are embarrassed by Nikki Haley." 
In December of 2017, Haley said women who had accused Mr. Trump of sexual misconduct "should be heard," a break from the administrations long-standing declaration that the accusations were false and they were rightly dismissed when they elected Mr. Trump. 
"They should be heard, and they should be dealt with, Ms. Haley told CBS. "And I think we heard from them prior to the election. And I think any woman who has felt violated or felt mistreated in any way, they have every right to speak up." 
Haley often sparred with her former boss, Secretary of State Rex W. Tillerson, who requested she clear her public statements with Washington. 
Prior to her post at the U.N., Haley was the first female governor of South Carolina and was re-elected in 2014. 
As governor, she developed a national reputation while leading the way to bring down the Confederate flag at the Statehouse and guided South Carolina through the aftermath of one of its darkest moments, a massacre at a black church.