Trump Chaotic Week In Review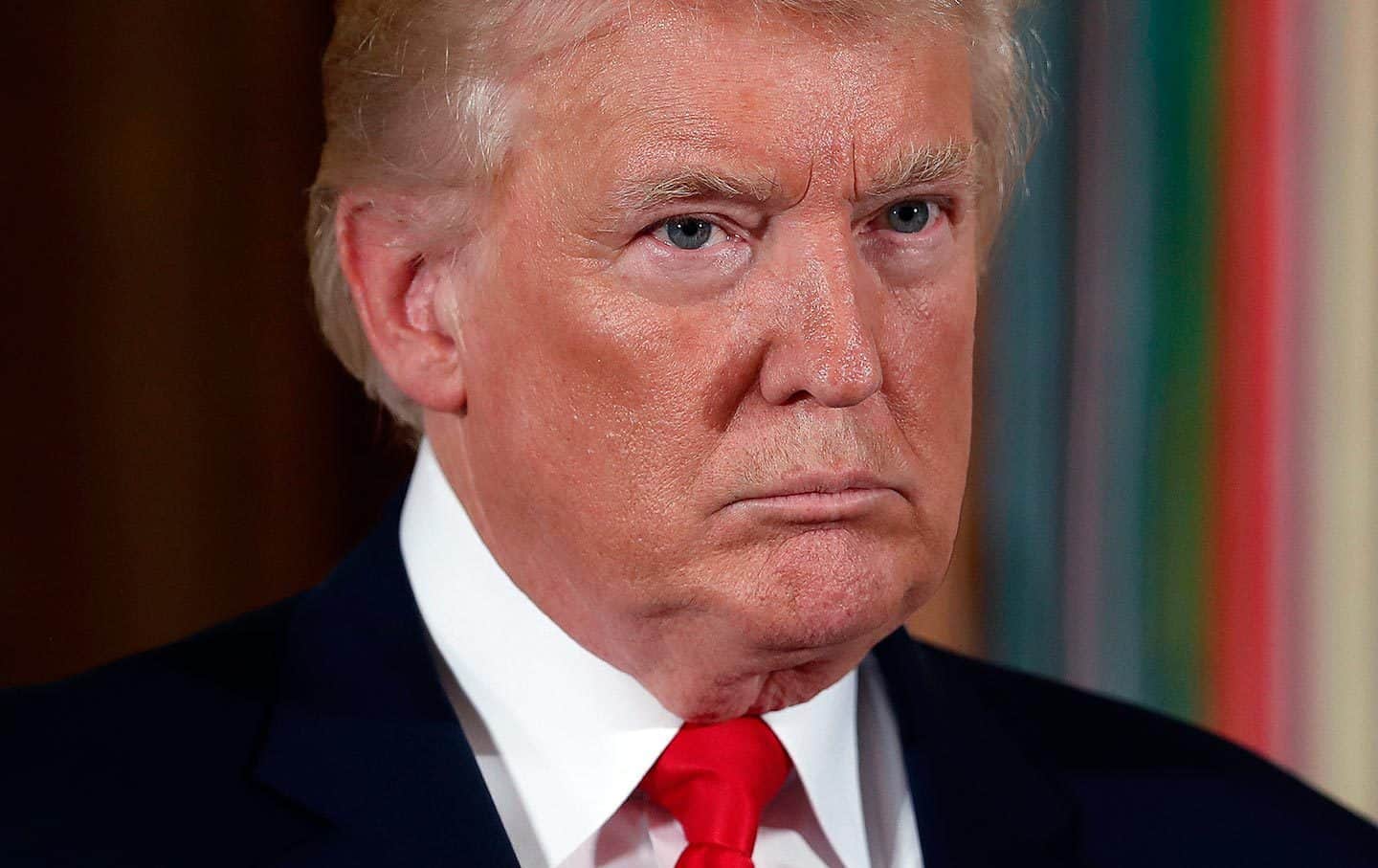 In a busy week which has included getting parodied by Saturday Night Live to the point of threatening legal action and grabbing headlines for another typo on Twitter, Donald Trump has arguably had more lows than highs. The Trump Foundation will be dissolved due to illegal activity — which leaves Trump and his eldest children looking at the possibility of owing millions in fines and restitution and being banned from overseeing any New York charities. The decision by a U.S. District Judge to consider jail time for former Trump aide Michael Flynn further proves the Mueller investigation is more than a witch hunt, in spite of Trump's continued insistence otherwise. The president has thus far failed to secure funding for construction of his promised border wall, and some supporters are beginning to lose faith. Trump followed through on a ban of bump stocks promised earlier in the year, angering owners of the devices who will now have to destroy or surrender them and prompting a lawsuit from Gun Owners of America. Trump announced he is withdrawing U.S. troops from Syria in a shocking decision which is being protested by Congress and top national security officials, and his administration is lifting sanctions on companies which were penalized due to the actions of their Russian owner.
Dissolution of The Trump Foundation
As part of an ongoing investigation and lawsuit by New York Attorney General Barbara Underwood, The Donald J. Trump Foundation has agreed to dissolve under court supervision. The foundation has been accused of serving as little more than a charitable disguise for Trump's other interests by engaging in a pattern of illegal conduct which included unlawful coordination with his 2016 presidential campaign. Attorney General Underwood seeks to prohibit the President and his three oldest children, Eric Trump, Ivanka Trump, and Donald Trump, Jr., from sitting on boards of other charities in New York for one to ten years and recommends they pay restitution plus penalties. The petition alleges that President Trump used the foundation to pay for legal obligations, to promote Trump businesses, and even to buy personal items.
The attorney general's investigation found that from The Trump Foundation's donated funds:
$2.8 million dollars was used to influence the 2016 presidential election, including through five or more $100,000 grants which were dispersed to nonprofit groups in Iowa immediately before state caucuses
$100,000 was used to settle legal claims against the Mar-A-Lago resort
$158,000 was used to settle legal claims against Trump National Golf Club
$10,000 was used to buy a painting of Trump from a charity auction to display at a Trump hotel in Miami
The investigation also found that the foundation's board of directors, which consisted of Donald Trump and his three eldest children, existed in name alone and had not held a meeting since 1999, allowing Trump to independently make all decisions on foundation policy, grant recipients and approvals. The lawsuit seeks to find them all in breach of their fiduciary duties, requiring them to pay restitution for resulting harm, as well as penalties in an amount which could be up to double what Trump used from foundation funds.
Attorney General Underwood recommends prohibiting Trump from serving as director, officer, or trustee of a New York nonprofit for ten years, and the Trump children for one year or until they are properly trained in required duties. The Office of the Attorney General previously sent referral letters to the Federal Election Commission and the Internal Revenue Service to specify in detail "the underlying facts that have led the Attorney General to conclude that additional investigation and potential further legal action by these federal authorities are warranted".
Michael Flynn in Court
U.S. District Judge Emmet G. Sullivan chose to deviatefrom special counsel Robert Mueller's recommendation that former national security adviser Michael Flynn should not serve time in prison due to substantial assistance he provided to the Russia investigation. Flynn is one of five of the president's former aides to plead guilty in the investigation so far, and after he admitted to lying to federal agents about his contactswith a Russian ambassador, he began cooperating with investigators to the point of earning good credit from Mueller. Nevertheless, Judge Sullivan accused Flynn of being an "unregistered agent of a foreign country, while serving as the national security adviser to the president of the United States" and of selling America out. He postponed sentencing while reserving the right to send Flynn to jail.
President Trump offered luck to Flynn before his appearance in court in a tweet which again asserted that there was no collusionwith Russia in his "highly successful" political campaign. Trump and his team continue to call Mueller's investigation a witch hunt in spite of the special counsel's continued success in court, which includes Trump's former attorney Michael Cohen admitting while pleading guilty that he spoke with Trump to some extent about a proposed Trump Tower project in Moscow. Cohen also alleged that he initially lied about those conversations at the president's request and complied in an attempt to protect Trump out of loyalty.
The Ongoing Fight for the Border Wall
President Trump recently said he would be "proud to shut down the government for border security" and has threatenedto boycott legislation from Democrats if they do not discontinue their fight against his border wall. In spite of such ongoing threats, Trump supporters are beginning to grow angryover his unfaltering failure to deliver on his key campaign promise. His request to the Senate for $5 billion in funding for construction of a wall on the southern border was again denied. Ann Coulter predicted Trump will not be reelected, Laura Ingraham expressed her disappointmentby way of Twitter, and conservative media outlets have accused him of caving and retreating.
Today, Trump rejectedthe Senate's bill which would prevent a government shutdown because he says it does not include enough money for the wall. The bill also funds nine federal departments and other smaller agencies through early February, and resources to keep the government open will run out tomorrow (December 21) at midnight unless the White House can reach a deal with Congress. Trump has stated he will not sign anything that does not grant his request for $5 billion in border wall funding, increasing the probability of a holiday shutdown.
Meanwhile, a veteran and Trump supporter started a GoFundMewith the goal of raising $1 billion to fund construction of the border wall, and he succeeded in raising over $5 million in three days. However, even if the goal is reached and the money is given to the Department of Homeland Security, it would be considered a gift and could not be given with an explicit intent to build the wall — meaning Congress would need to vote to approve its use.
The Bump Stock Ban
Trump's administration bannedbump stocks on Tuesday, giving owners until next March to either destroy their devices or surrender them to proper authorities before possession becomes illegal. Trump had originally promised the ban in March in the wake of the February school shooting at Marjory Stoneman Douglas High in Florida and the mass shooting in Las Vegas in October 2017. Of more than 186,000 public commentsreceived on the new rule to ban bump stocks, over 119,000 were in favor of the ban.
Still, this decision leaves some gun rights advocates angry, and many have stated that they are unwillingto give up their devices. Oklahoma 2nd Amendment Associationpresident Don Spencer stated he believes Trump made the wrong decision and has opened the door to the possibility of another civil war, declaring the decision an assault on second amendment rights. Gun Owners of America immediately announced their intentionto file a lawsuit against the Bureau of Alcohol, Tobacco, Firearms & Explosives and the Department of Justice, alleging the ban to be illegal and arbitrary with unfair implications for lawful bump stock owners in America.
Withdrawal from Syria and Sanctions on Russian Oligarch
On Wednesday, Trump declared "we have won against ISIS" and ordered the withdrawalof 2,000 troops from Syria in a decision which overrules the advice of his military generals and civilian advisers and leaves Kurdish fighters — who were faithful allies to U.S. troops — vulnerable to attack. Officials also advised Trump that abandoning those allies would be of detriment to future efforts to gain support in counterterrorism operations, extending to Afghanistan, Yemen, and Somalia. Trump has diminished U.S. involvement in Syria to being focused solely on defeating the Islamic State, and military commanders are concerned that his decision will risk the security of previous territorial gains made against ISIS.
In a letterto the president dated December 19, a group of U.S. Senators including Lindsey Graham explicitly expressed their concern over the withdrawal. After deeming the action a "premature and costly mistake" which would threaten the safety of the U.S. and further embolden ISIS, they stated their worries that the withdrawal of American troops would encourage Iran and Russia to increase their presence and influence in the region.
Russian president Vladimir Putin supports Trump in the decision and agreedwith him by stating "Donald's right" to pull U.S. troops from Syria as he believes ISIS has been defeated in the area through "major blows and advances" against them. Interestingly, Putin has also previously saidthat the presence of U.S. troops in Syria was "not helpful" to Russia in attempts for achieving a political settlement with Syrian President Bashar al-Assad to an ongoing civil war.
In more good news to Russia, the Trump administration announced intentions tolift sanctions against companies belonging to Russian oligarch Oleg V. Deripaska, who was penalized along with his businesses in April as punishment for interference in the 2016 election. The Treasury Department released a statement attempting to rationalize the decision by explaining the agreement was reached with the companies through negotiations with lawyers and other representatives which lasted eight months, and alleging the companies had been unduly punished for the conduct of their owner. Still, critics are concerned this decision will send the wrong signal to Putin about Russia's conduct towards other countries. Representative Lloyd Doggett — a Democrat from Texas — said Trump is "sliding another big gift under Vladimir Putin's Christmas tree" by lifting sanctions on the companies.
Defense Secretary Jim Mattis announced his resignationthis evening, citing a need for a "resolute and unambiguous" approach to countries with interests conflicting with those of America, such as Russia. He recommended Trump find a Secretary of Defense "whose views are better aligned" with his own.